United Italian Trading Corporation (UITC) has recently introduced Crampeze – formulated with key ingredients such as Homoeopathic copper, Magnesium, Feverfew Extract and Vitamin B complex to helps relieve muscle cramps, spasms, and tired legs.
Developed by LaCorium Health, each box of Crampeze contains 30 tablets and is suitable for daily consumption.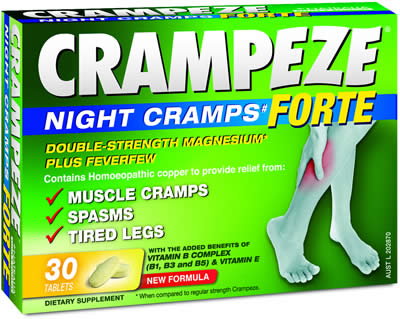 Two tablets a day is all you need for a good night's rest, free of muscle or leg cramps.
Night leg cramps and why they occur
Night-time leg cramps are usually sudden spasms or tightening of muscles that happen at night. It usually occurs in the calf muscles, although it can affect any part of your leg, including your feet and thighs. Low levels of certain mineral types such as electrolytes – magnesium, potassium, calcium and sodium have long been linked to leg cramps.
Although muscle cramps are more predominant among individuals over the age of 60, some of the common causes can stem from an imbalance of electrolytes and dehydration, low levels of magnesium, vitamin deficiencies and/or over exertion of muscles as a result of lactid acid build up.
Cramps Away with Crampeze
To stimulate muscle function, reduce tension and clear build-up of lactic acids, Crampeze has been formulated with key ingredients such as Homoeopathic copper, Magnesium, Feverfew Extract, Vitamin B Complex, D & E. This innovative product is a unique natural formulation that helps relieve muscle cramps, spasms and tired legs.
Magnesium – Cramp Relief; Nerve & Muscle Relaxation
Vitamin E – Cramp Relief
Fever Few Extract – Antispasmodic and pain reliving effect
Vitamin D – Helps to increase Magnesium absorption
Vitamin B3 – Clears the lactic acid build up which can cause muscular cramps.
Dosage
Crampeze Forte is suitable for adults above 18 years old (not suitable for expectant moms without direct supervision of your healthcare practitioner)
Take 1 tablet, twice a day
Availability & Price
Crampeze retails for S$29.90 at Guardian, Watsons and NTUC Unity.
Get $120 cashback when you apply for a Citibank card at www.citibank.com.sg!