If you are looking to get a air purifier for your home, it is recommended checking out Lazada's offers at www.lazada.sg which promise fast delivery, sometimes as fast as 24 hours
As advised by www.haze.gov.sg, you should look for air purifiers which use High Efficiency Particulate Absolute or HEPA- air cleaners. These devices remove particles by mechanical filtration and diffusion.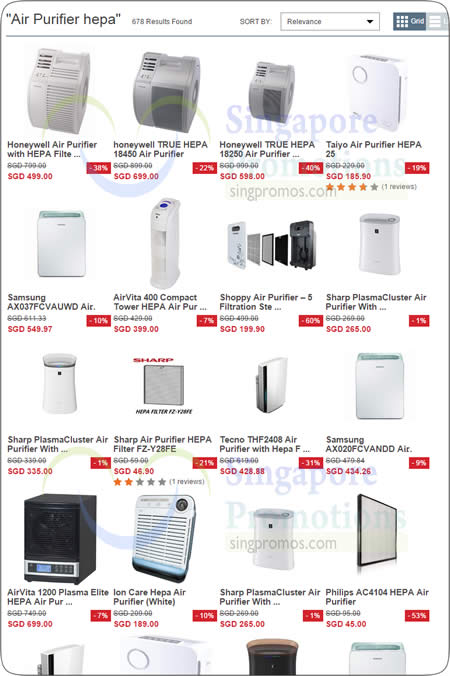 After narrowing down the model, you may want to cross check with www.haze.gov.sg's List of Portable Air Cleaners (For Smoke Haze) and Suppliers to find out if your model of air cleaners is certified to be able to reduce the level of fine particles in a typical bedroom to an acceptable level during a smoke haze, such as that experienced by Singapore in 1997.
The listed air cleaners in the link will be able to provide adequate protection to a typical HDB bedroom with its doors and windows closed, except for occasional opening and closing of doors. Doors and windows should be opened up occasionally, or at least once a day, to ventilate the room.
Offers as of 16 Sep include (latest prices at www.lazada.sg):
3M Filtrete Ultra Pure Air Purifier MFAC
AirVita 1200 Plasma Elite HEPA Air Purifier
AirVita 250 Plasma Wave HEPA Air Purifier
AirVita 400 Compact Tower HEPA Air Purifier
AirVita Plasma Air Purifier
Amazing Air V1 Purifier White
Clair Air purifier TD1866
Clean Air ATS-CA01 Air Purifier
Coway AP-1008DH Air Purifier
Coway AP-1511FH Lombok II Air Purifier
Coway AP1008CH Air Purifier White
Coway Air Purifier
Electrolux Eac315 Air Purifiers
Ion Care Hepa Air Purifier
Moral Ion tower air purifier
Novita 3-in-1 Air Purifier NAP2000H
Philips AC4103 Active Charcoal Air Purifier
Philips AC4104 HEPA Air Purifier
Premium Luxury Air Purifier AP-888
PurAir 200 Air Purifier
PurAir 400 Air Purifier
Samsung AX020FCVANDD Air Purifier Anti-Virus + A29 Allergy HAZE Air Purifier/Cleaner HEPA Filters
Samsung AX037FCVAUWD 3 Steps Hepa Filters Anti-Virus Air Purifier Cleaner
Samsung AX037FCVAUWD Air Purifier Anti-Virus + A29 Allergy HAZE Air Purifier/Cleaner HEPA Filters
Samsung AX041 Air Purifier White
Samsung AX041FCVAUW Air Purifier White
Sharp KC-D40E-B Air Purifier Black
Taiyo HEPA12 Air Purifier
Tecno Air Purifier with HEPA filter THF2408
Tecno THF2408 Air Purifier with Hepa Filter
Tefal PU4025 Air Purifier Intense Pure Air Auto White
The Winix WAC9500 Ultimate Pet Air Cleaner with True-HEPA Filter and PlasmaWave
Water Air Purifier
Water Air Purifier 606A
Water Air Purifier 606E
Winix PlasmaWave 5500 Air Purifier
For more info and to order, visit www.lazada.sg and www.haze.gov.sg.
Other terms and conditions apply.
Get $120 cashback when you apply for a Citibank card at www.citibank.com.sg!