We are now on Telegram
Samsung has announced new additions to its award-winning family of EcoBubble washing machines. Popular modern fabrics are sometimes so delicate that they require cold washing with very gentle mechanical action.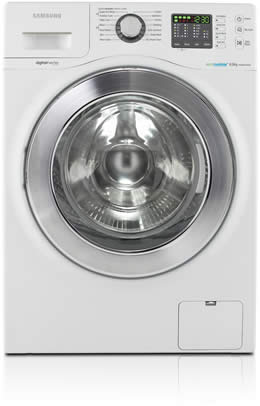 However, most people still prefer the convenience of automatic washing machines rather than hand washing. Samsung EcoBubble™ technology delivers advanced fabric care as well as perfect cleanliness by minimizing damages even with delicate clothes, with these features:
Samsung Ecobubble™ Technology remarkably enhances washing performance, especially when washing fabrics in cool temperatures. It generates bubbles by dissolving detergent with air and water, allowing for the quick penetration of micro bubbles into fabric, thereby washing off dirt and stains easily and effectively.
The bubble cushions generated also protect water-repellent fabric, allowing them to keep their coating in good condition for a longer period of time.
Washing in cold water also uses less energy than a conventional washing cycle that needs to heat the water up, and the EcoBubble cycle matches the performance and time of the warmer wash. This technology also provides greater protection against thermal damage.
Additional features on the EcoBubble washer range include the Digital Inverter Motor. It operates without the brushes found in conventional washer motors, reducing noise levels while doing laundry. Its streamlined design also means that there is less friction between moving parts, allowing for less wear and providing households with longer-lasting clothes-cleaning excellence.
With Diamond Drum in Samsung Ecobubble™ Washers, fabrics are kept free from snags due to its unique diamond-shaped exit holes. Furthermore, with a wide range of specific modes such as Denim, Hand Wash, Baby Care and many more, Samsung new range of washers can cater to your every fabric need.
The new range of EcoBubbleTM washers, WF702, WF752, WF806 and WF906, caters to the diverse lifestyles of today's consumers, providing higher durability and efficiency while delivering powerful performance. The energy efficient cleaning performance is active across all of Samsung's EcoBubbleTM capacity options, with the 7kg – 9kg capacities being a popular choice for families with children.
The new Samsung EcoBubbleTM washers will be available in Singapore in September 2012 at the following prices:
Samsung WF702 Washer – $999
Samsung WF752 Washer – $1,099
Samsung WF806 Washer – $1,399
Samsung WF906 Washer – $1,499