Samsung has launched the Samsung Wobble washing machine (WA11F5S9) – in Singapore. The new durable top-loading appliance with Wobble Technology transforms the laundry experience by preserving clothing quality while cleaning effectively.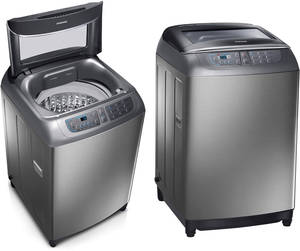 "The Wobble technology is another example of Samsung's commitment to designing products that feature superior, cutting-edge innovation that best assist consumers in their household chores," said Irene Ng, Vice-President, Marketing, Samsung Asia Pte Ltd.
"Our new top-load washer is one of the most durable in its class that maintains the quality of clothes and offers optimal washing performance."
More Fabric Care with Fewer Tangles and Less Damage through Wobble Technology
The new washing machine features Samsung's newly developed Wobble Technology that prevents fabric damage caused by friction without compromising washing performance. The machine boasts specially-shaped fins and built-in rollers around the drum to create a multi-directional washing flow resulting in cleaner clothes.
The unique structure of the Wobble pulsator creates both left and right, and upward and downward flows, creating three-dimensional dynamic water currents. Cycles are powerful enough to thoroughly clean the heaviest of stains, yet gentle enough on fabrics.
In addition to the Wobble Technology's water control innovations that bring enhanced fabric-protection performance, the new washer also features:
Second Generation Diamond Drum: Uniquely-designed drum holes located on the sides of the washer and embossed in a diamond shape, creating the perfect environment for gentle yet effective washing. The design prevents fabrics from getting caught in the drum.
Air Turbo Drying System: Powerful dual-air intake rapidly rotates the drum to remove more water from the clothing load, significantly reducing drying time.
Waterfall Cascade: A gentle cascading water flow comes upwards through the middle of the drum, providing a gentle cycle for clothes.
Digital Inverter Motor Gives the Washer a Longer Lifetime
The Wobble Washer incorporates Samsung's innovative Digital Inverter Motor (DIM), an advanced technology that contributes to long-lasting durability and extends the washer's lifetime. The DIM is brushless and contains minimal moving parts, so there is less chance of parts wearing out or breaking. For these reasons, Samsung guarantees the washer's motor with an 11-year warranty.
The washer also features other components that complement its unmatched durability:
Magic Filter: A build-up of lint is often to blame for washer malfunction. This special feature gathers and automatically cleans out lint and other objects in case the user does not remove lint after every use.
Eco Tub Clean: The washer is specially designed to remove dirt and other build-up within the drum without the need for a special chemical detergent. It keeps the drum clean through a special soaking and spinning water motion.
Seamless Design
The ergonomic design of the Wobble Washer makes it easy to use as well as aesthetically-pleasing against the backdrop of any home. It features a round-edged design with smooth, gentle curves and a sleek chrome finish. Other features of its cutting-edge design include:
Dual Cluster Control Panel: The intuitive Dual Cluster Control Panel allows users to easily choose specific modes with the touch of a button.
Larger Detergent Container: A larger detergent container allows users to neatly fill detergent for even the most demanding of wash cycles.
Durable Tempered Glass: As another testament to its durability, the top panel is made of scratch-free tempered glass designed to withstand the demands of repeated use as well as wear and tear.
The Samsung Wobble Washer is a smart investment for any home and lifestyle. It is durable yet gently cleans an assortment of loads with the utmost care.
The Samsung Wobble washing machine (WA11F5S9, 11kg) will be available in Singapore from May 2013 at a Recommended Retail Price of $1,099 at all major electronics stores. The model is also available in 8kg and 9kg capacities.
Get $120 cashback when you apply for a Citibank card at www.citibank.com.sg. Plus get additional welcome vouchers when you apply for a Citibank Rewards Visa Card!