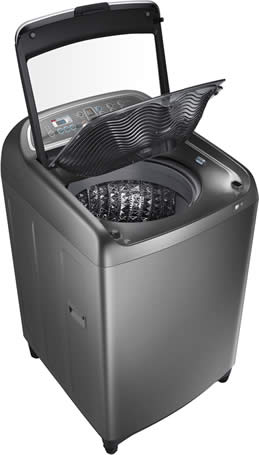 Samsung's has launched its 2015 line-up of digital appliances
WA6700 Activ Dualwash washing machine that eliminates the stresses of doing laundry
POWERbot VR9000 robot vacuum cleaner that delivers power cleaning like you have never experienced before
Click on a link to jump to a specific section
WA6700 Activ Dualwash Washing Machine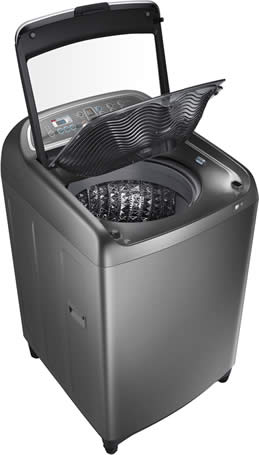 Based on various consumer studies, Samsung found that many users do pre-wash or hand-wash before using their automatic washing machine.
While doing the laundry in small living spaces can be challenging, many consumers still chose to pre-wash heavily stained clothes with their own hands for themselves and their families.
Samsung's new Activ Dualwash washing machine makes this everyday chore much easier. The Activ Dualwash has an innovative design which includes a built-in sink and side water-jet system, providing a convenient place to hand-wash delicate items and pre-treat heavily soiled clothes. Simply soak, scrub and slide wet items into the washing machine's tub below after pre-washing clothes using the built-in sink.
Not only is the washing process simplified and more convenient, it is technically proven to help prevent users' from the physical aches associated with pre-washing and hand-washing. Test results have shown that 31 per cent of compressive force and 54 per cent of shear force on the lumbar nerve decreases, and average 43 per cent of muscle tension decreases by using Activ Dualwash instead of the typical hand-wash process.
Its Magic dispenser and Wobble technology ensures a perfect wash. With the Magic dispenser, there is no need to worry about residual detergent on the fabric as it creates a powerful water vortex that dissolves both powder and liquid detergent and disperses it evenly before the wash cycle starts.
There is no need to wash twice and you can be confident that the fabric is completely clean of detergent, making it perfect for those with sensitive skin. Wobble technology gently cares for fabrics without compromising washing performance. This system washes garments gently to keep them in good condition. Wobble pulsators generate a dynamic, multidirectional washing flow that prevent tangles and increase washing power.
The Activ Dualwash will be available by Q1 this year at all major consumer electronic stores, at a range of $999 to $1,399 (depending on model selection).
POWERbot VR9000 Robot Vacuum Cleaner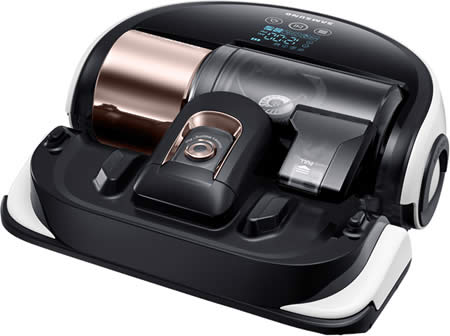 The new Samsung POWERbot VR9000 robot vacuum cleaner will surprise and delight. Its unbeatable suction power delivers thorough cleaning for a sparkling home. This latest innovation in cleaning promises greater suction power, 60 times** more powerful than a conventional Samsung vacuum cleaner, whilst an intelligent FullView Sensor detects small obstacles for fewer "blind spots" and a better clean***.
Its CycloneForce technology maintains suction power by minimizing the risk of filters clogging. Its centrifugal force separates dust and debris so the filter is always clean, ensuring extreme cleaning power every time.
This machine is differentiated from other vacuums on the market by its unique cleaning modes, which help consumers maintain a comfortable clean home easily and quickly.
If there's a particularly dusty spot, consumers can quickly lead the POWERbot VR9000 there with a wave of their hand using the Point Cleaning controller. Consumers don't have to stop the vacuum, pick it up and move it to clean a specific area. Instead you simply point the light in front of the POWERbot VR9000 and it will follow the beam and clean on-the-go.
The 105mm wide wheels move over obstacles smoothly so the POWERbot VR9000 keeps working even when consumers are not at home. Its body is 155mm off the ground which means it's less likely to stop and be blocked off by obstacles. The Visionary Mapping Plus System finds and leads it on the optimal path for fast-track cleaning. Using its high performance 10 sensors and onboard digital camera, it creates a complete map of the home and calculates the most efficient cleaning path.
The POWERbot VR9000 also has Seven Cleaning Modes, so consumers can choose the best way to clean in different situations, and two scheduling modes. A timer allows consumers to set it to start automatically at a particular time, while the daily mode sets it to clean at the same time every day. Life just got a whole lot easier thanks to Samsung!
The POWERbot VR9000 will be available by Q1 this year at all major consumer electronic stores at $1,499.
* Depending on model selection
** Compared with Samsung SR10F71UC
*** Tested on the Samsung VR9000 and Samsung conventional SR10F71UC. Based on internal test.
Get $120 cashback when you apply for a Citibank card at www.citibank.com.sg!