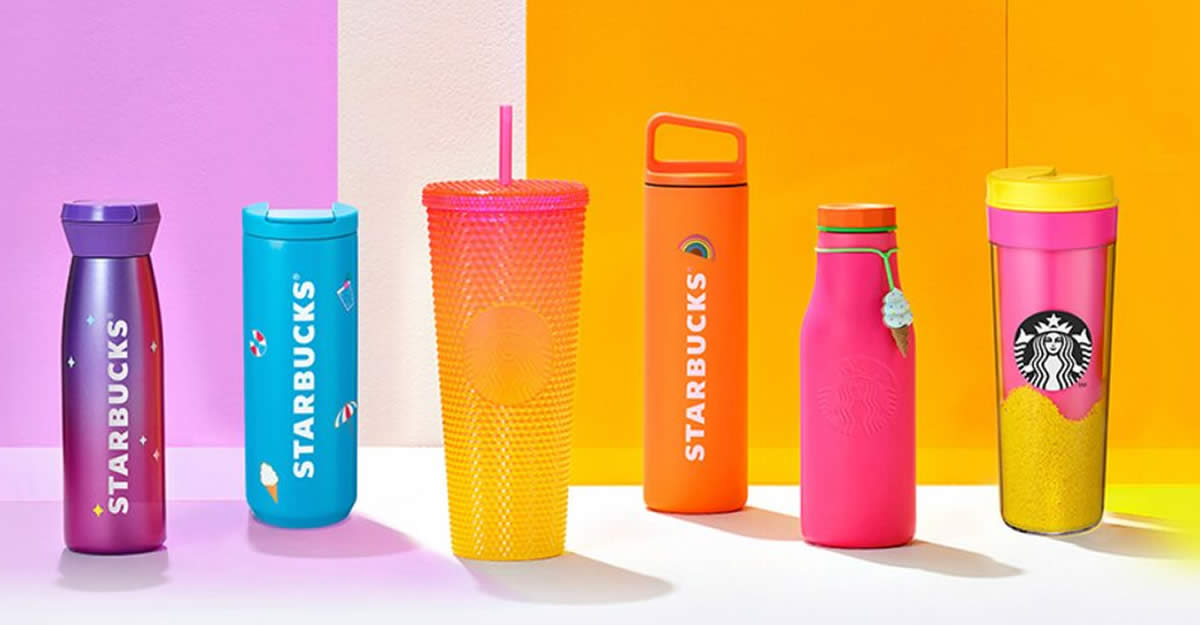 We are now on Telegram
Colourful drinkware and accessories that you can take with you on your next trip to the beach.
Available in stores, on the Starbucks Online Store, LazMall and Shopee Mall on 20 Apr.
Click on a link to jump to a specific section
Starbucks Neon Yellow Stainless Steel Water Bottle with Palm Tree Charm 16oz
$49.90
Handy summer bottle for your next pool adventure.
16oz (473ml)
7cm length x 7cm width x 21.5cm height
4.5cm length x 0.5cm width x 4.5cm height (charm)
Made from stainless steel (body) and PP (lid)
Double wall feature keeps beverage at optimal temperature and reduces condensation
Allows safe holding of warm drinks
Comes with 3D palm tree silicone charm
Do not microwave
Hand wash only
Suitable for hot and cold beverages
Also available in selected stores^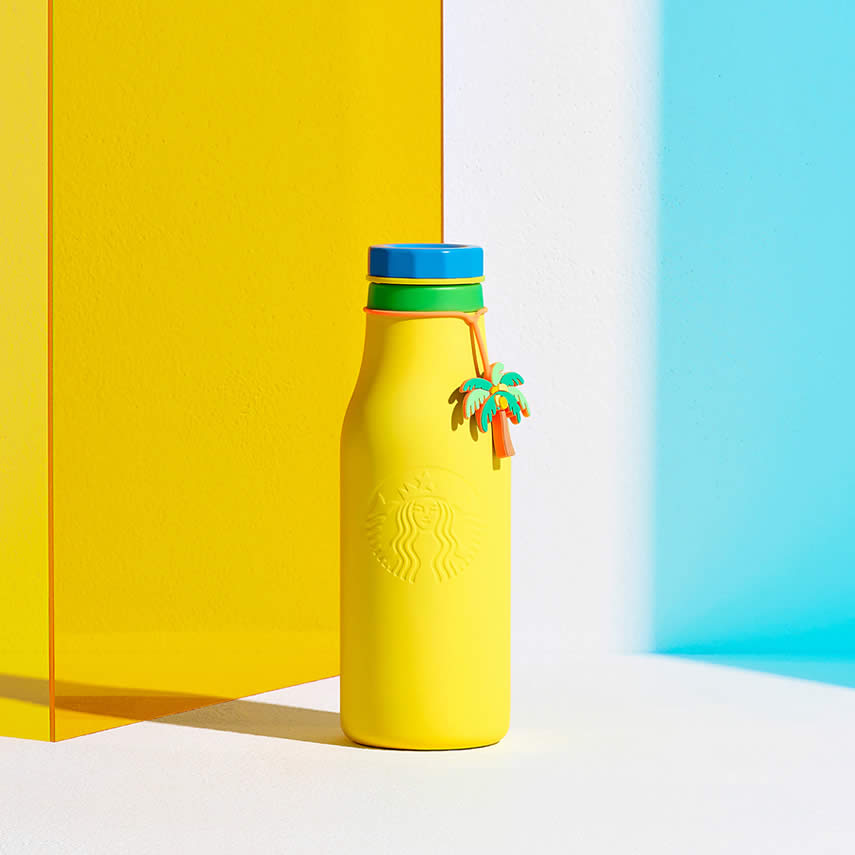 Starbucks Galaxy Ombre Tumbler 12oz
$24.90
A cool ombre tumbler for your beach hangs.
12oz (355ml)
8cm length x 8cm width x 19cm height
Made from SAN (body) and PP (lid)
Double wall feature keeps beverage at optimal temperature and reduces condensation
Allows safe holding of warm drinks
Twist off leak-proof lid
Do not microwave
Hand wash only
Suitable for hot and cold beverages
Starbucks® Rewards Member Exclusive: Receive a Free Drink digital voucher with your Tumbler purchase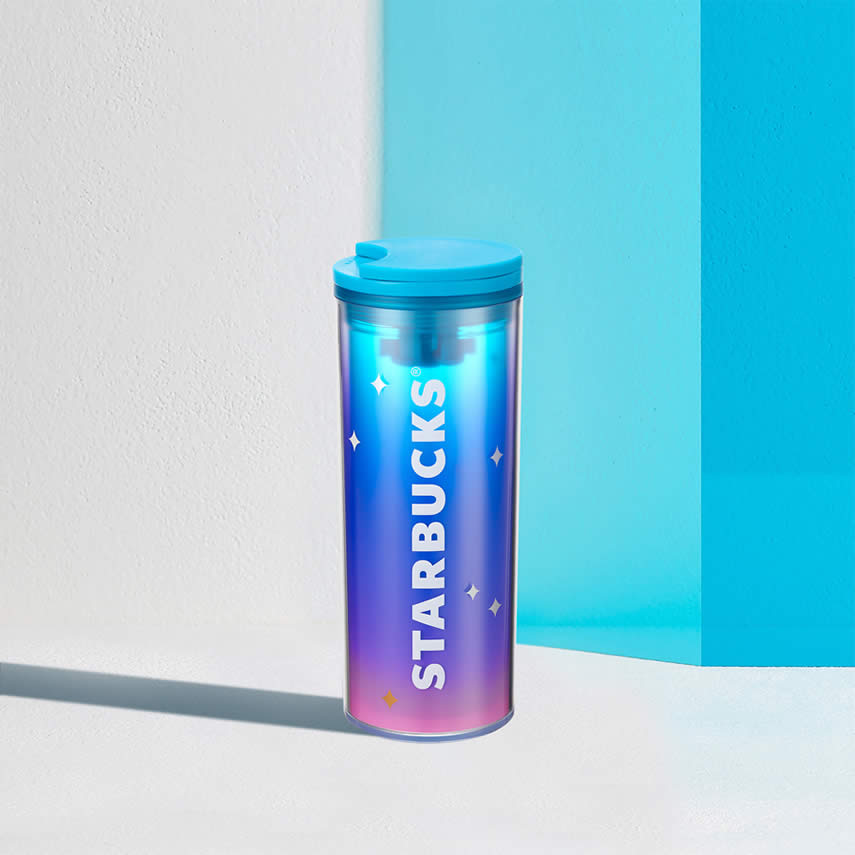 Starbucks Summer Palm Tree Tumbler 12oz
$24.90
Chill out underneath the palm tree with your summer drinks.
12oz (355ml)
7cm length x 7cm width x 20.5cm height
Made from SAN (body) and PP (lid)
Double wall feature keeps beverage at optimal temperature and reduces condensation
Allows safe holding of warm drinks
Screw lid sliding closure
Do not microwave
Hand wash only with a non-abrasive scrubber
Do not freeze or wash with bleach or chlorine
Suitable for hot and cold beverages
Starbucks® Rewards Member Exclusive: Receive a Free Drink digital voucher with your Tumbler purchase
Also available in selected stores*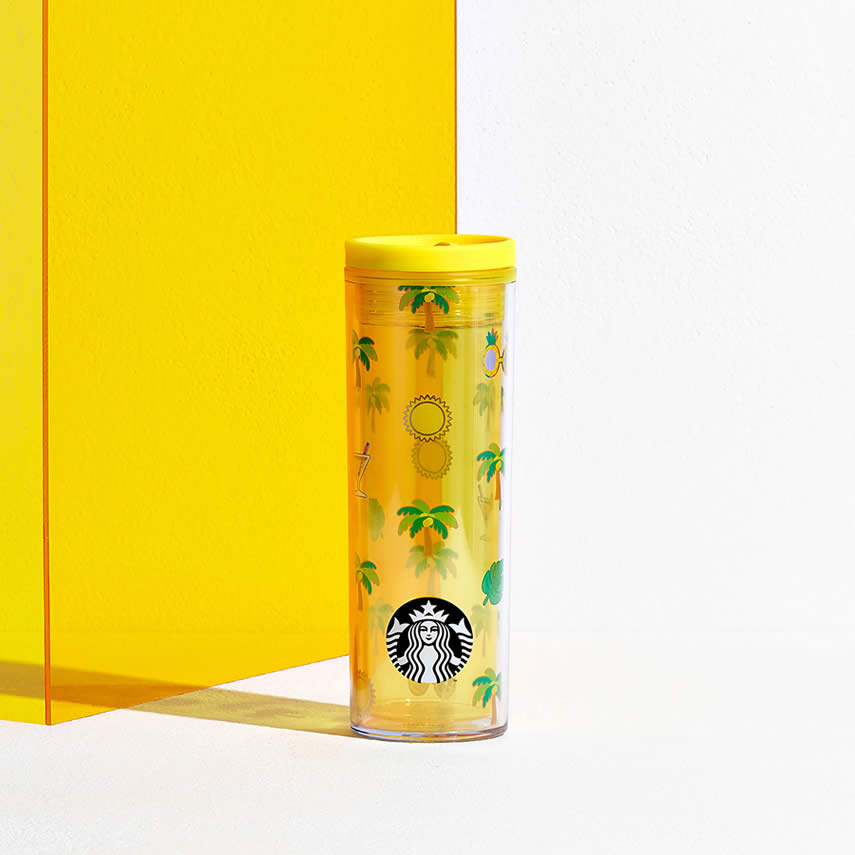 Starbucks Orange Summer Stainless Steel Water Bottle 20oz
$55.90
Hydrate with your fun orange bottle.
20oz (591ml)
7.5cm length x 7.5cm width x 27cm height
Starbucks® + MiiR
Made from stainless steel (body) and PP (lid)
Thermo 3D® double wall vacuum insulation
Double wall feature keeps beverage at optimal temperature and reduces condensation
Allows safe holding of warm drinks
Screw on lid
Do not microwave
Hand wash only
Do not freeze or wash with bleach or chlorine
Suitable for hot and cold beverages
Also available in selected stores^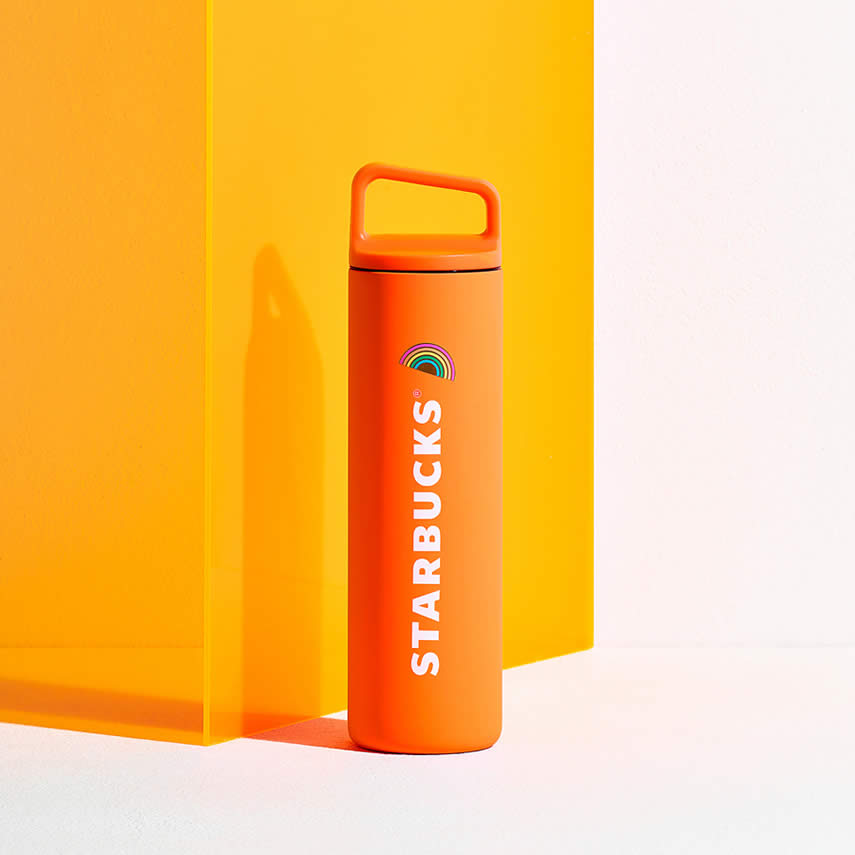 Starbucks Neon Pink Stainless Steel Water Bottle with Ice Cream Charm 16oz
$49.90
Enjoy cool sips with a fancy pink bottle.
16oz (473ml)
7cm length x 7cm width x 21.5cm height
4cm length x 0.5cm width x 6cm height (charm)
Made from stainless steel (body) and PP (lid)
Double wall feature keeps beverage at optimal temperature and reduces condensation
Allows safe holding of warm drinks
Comes with 3D ice cream silicone charm
Do not microwave
Hand wash only
Suitable for hot and cold beverages
Also available in selected stores*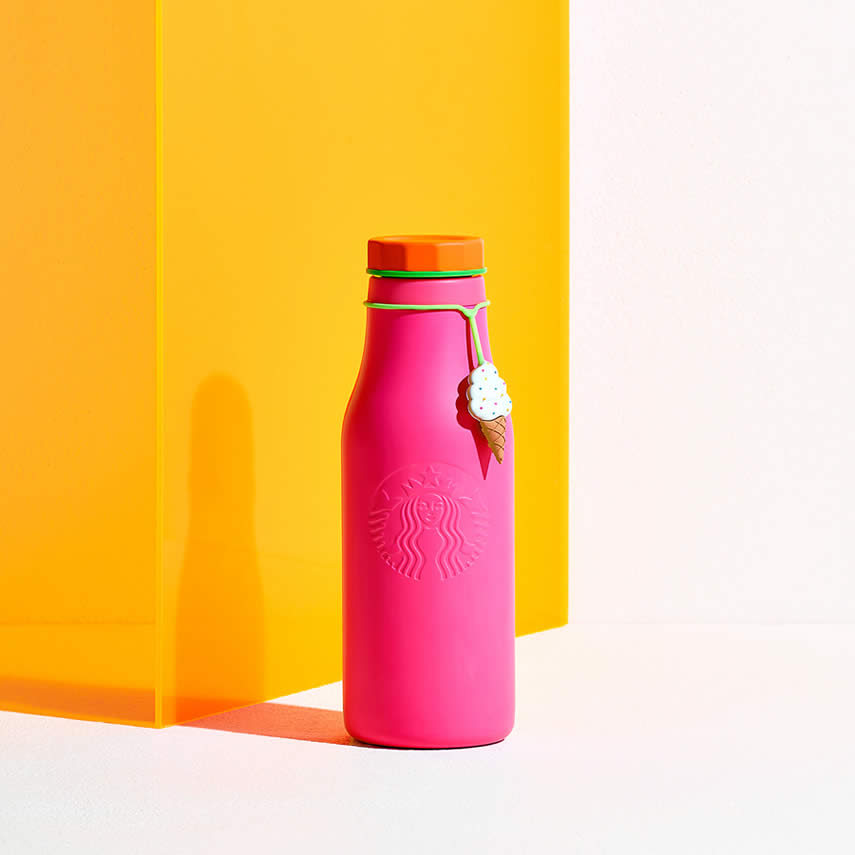 Starbucks Bling Pink and Yellow Studded Cold Cup 24oz
$35.90
Cool sips for your summer party fun.
24oz (681ml)
11cm length x 11cm width x 29cm height
28.5cm (straw)
Made from SAN (cold cup) and PP (straw)
Double wall feature keeps beverage at optimal temperature and reduces condensation
Do not microwave
Hand wash only
Suitable for cold beverages only
Starbucks® Rewards Member Exclusive: Receive a Free Drink digital voucher with your Tumbler purchase
Also available in selected stores*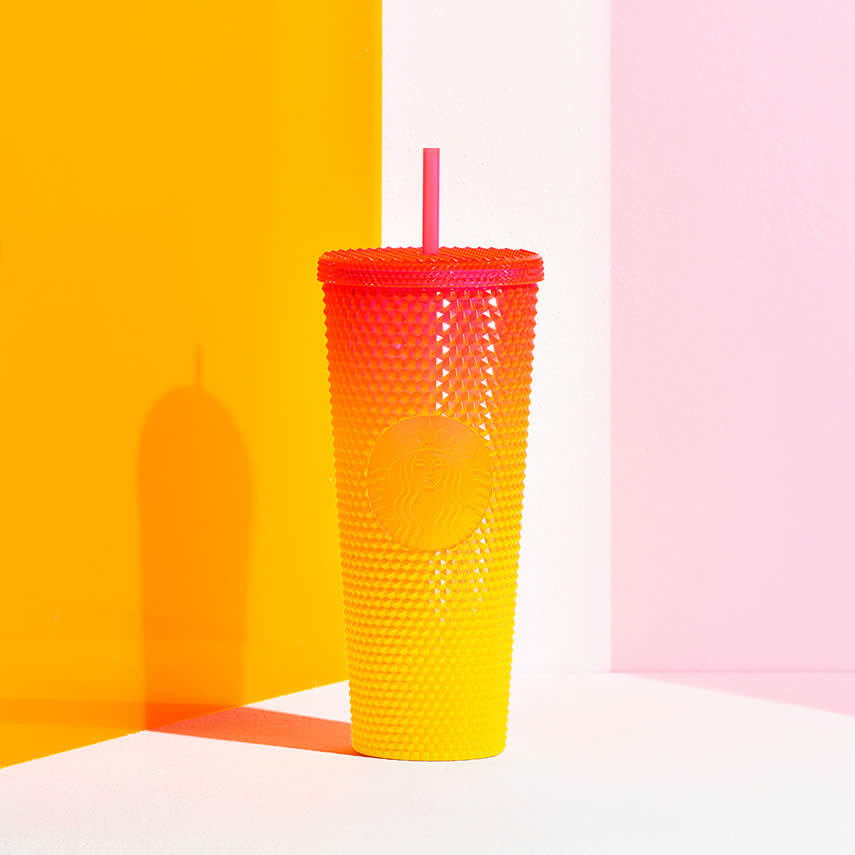 Starbucks Color-Changing Reusable Cup 12oz (x4) with Summer Bag Set
$36.90
A set of super-fun, color-changing cups for your next beach or pool adventure.
12oz (355ml)
10.5cm length x 10.5cm width x 31cm height (bag)
8.5cm length x 8.5cm width x 13.5cm height (cup)
Made from PP (cup) and PVC/Nylon (bag)
Comes in a set of 4 stackable cups
Special color changing effect when filled with a cold beverage of below 10°C
Do not microwave
Hand wash only
Suitable for cold beverages only
Starbucks® Rewards Member Exclusive: Receive a Free Drink digital voucher with your Tumbler purchase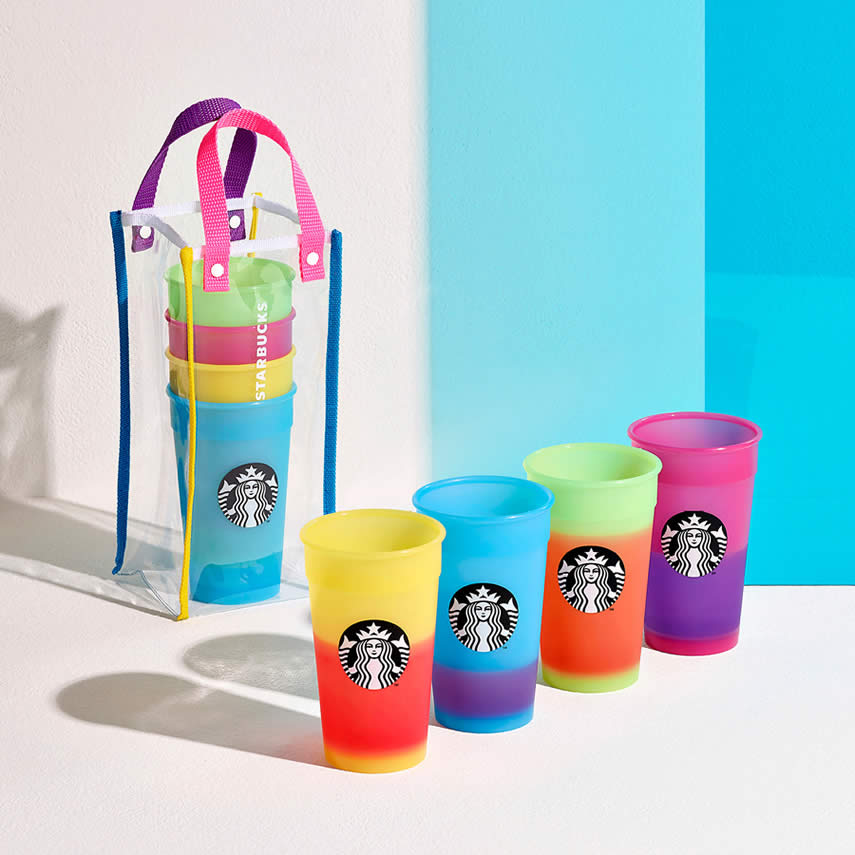 Starbucks Summer Violet Mug 12oz
$32.90
An extra pretty mug for an extra beautiful day.
12oz (355ml)
12.5cm length x 8.5cm width x 11cm height
Made from new bone china
Do not microwave
Hand wash only
Suitable for hot and cold beverages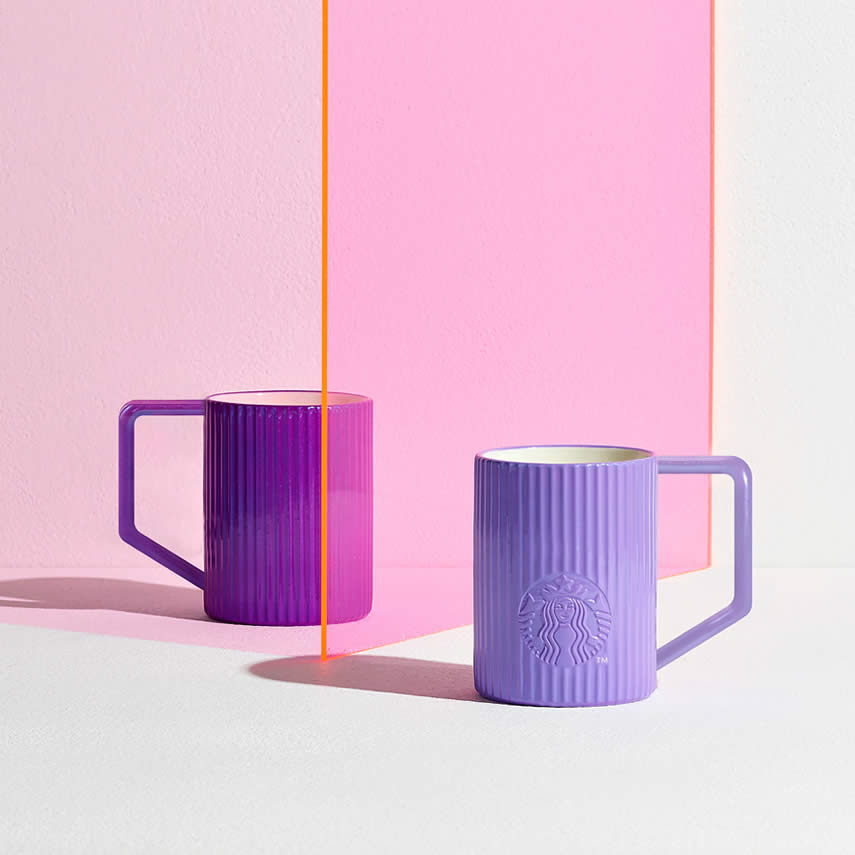 Starbucks Pink Sand Tumbler 16oz
$27.90
Surf, sand, and a drink in hand.
16oz (473ml)
9cm length x 9cm width x 23cm height
Made from AS (body) and PP (lid)
Double wall feature keeps beverage at optimal temperature and reduces condensation
Allows safe holding of warm drinks
Slide and lock lid
Movable quartz sand between inner and outer cup for added summer fun
Do not microwave
Hand wash only
Suitable for hot and cold beverages
Starbucks® Rewards Member Exclusive: Receive a Free Drink digital voucher with your Tumbler purchase
Also available in selected stores#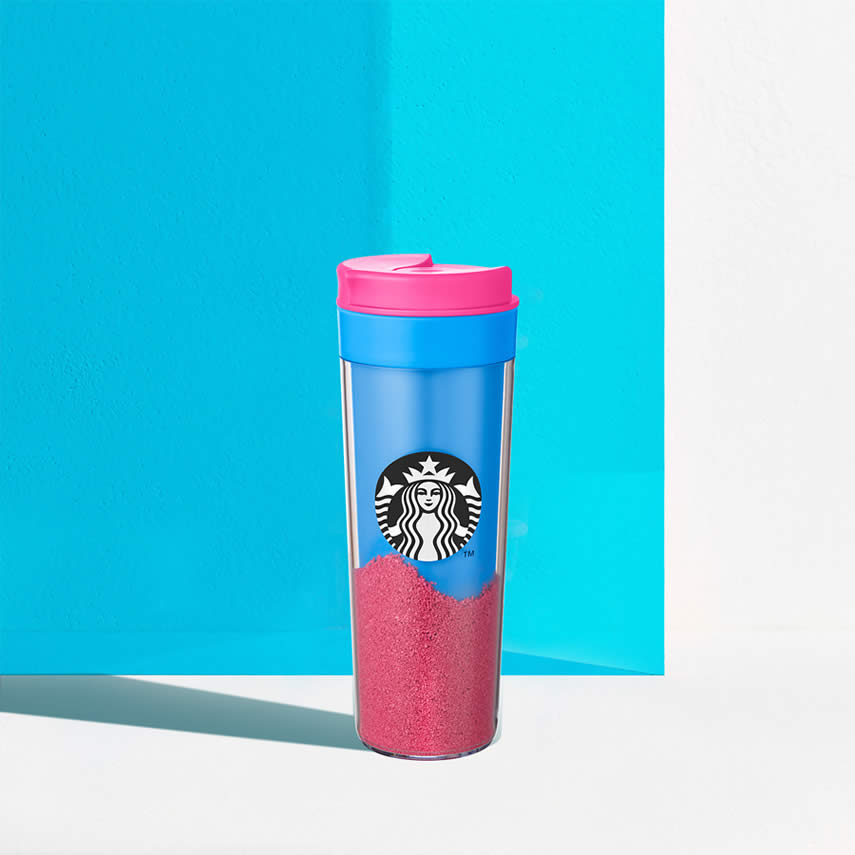 Starbucks Beachside Stainless Steel Tumbler 16oz
$45.90
A splashing adventure with this cool looking tumbler.
16oz (473ml)
8cm length x 7.5cm width x 20.5cm height
Made from stainless steel (body) and PP (lid)
Double wall feature keeps beverage at optimal temperature and reduces condensation
Allows safe holding of warm drinks
Do not microwave
Hand wash only
Suitable for hot and cold beverages
Starbucks® Rewards Member Exclusive: Receive a Free Drink digital voucher with your Tumbler purchase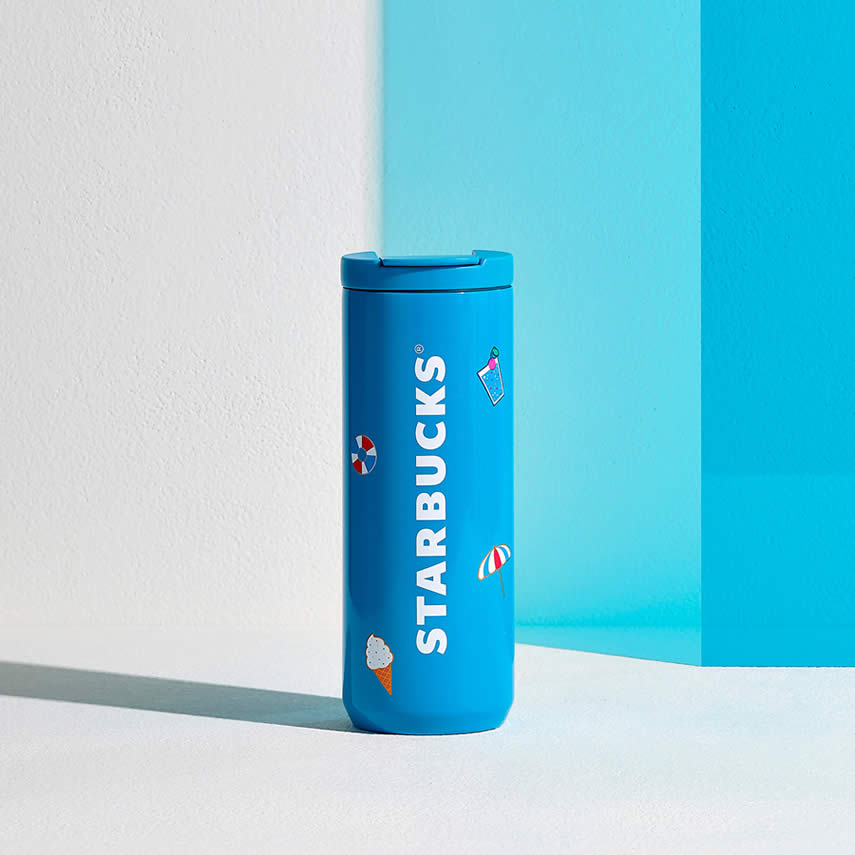 Starbucks Beachside Party Water Bottle 18oz
$27.90
Good times with your coffee by the beach.
18oz (533ml)
7cm length x 7cm width x 28cm height
Made from PCT-G (body) and PP (lid)
Trusted leak proof lid
Do not microwave
Hand wash only with a non-abrasive scrubber
Do not freeze or wash with bleach or chlorine
Suitable for cold beverages only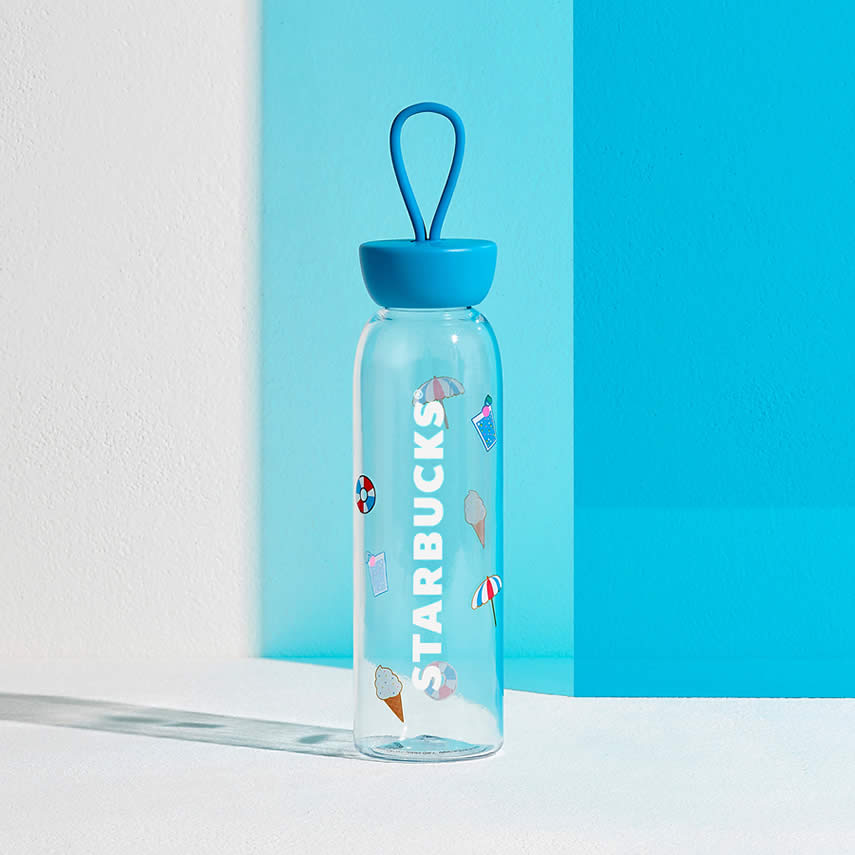 Starbucks Summer Siren Pouch
$16.90
Carry along your shades and accessories for your beach hangouts
18cm length x 3.5cm width x 11cm height
Made from Burlap 100% polyester (pouch) and PU (logo/zipper)
Burlap woven pouch with neon zipper
Do not place sharp objects
Do not wash with temperature above 40°C
Do not dry clean or bleach
Line dry in shade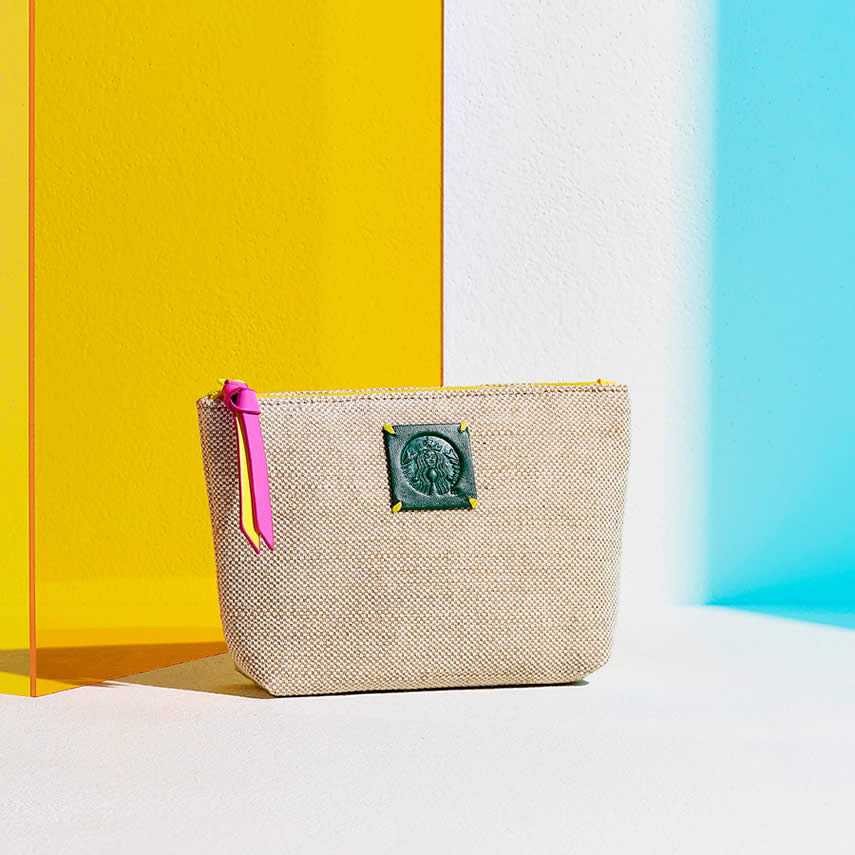 Starbucks Galaxy Ombre Stainless Steel Water Bottle 14oz
$45.90
Cool vibes all year round with a handy water bottle.
14oz (414ml)
6.5cm length x 6.5cm width x 22cm height
Made from stainless steel (body) and PP (lid)
Double wall feature keeps beverage at optimal temperature and reduces condensation
Allows safe holding of warm drinks
Screw on lid with handle to prevent leaks
Do not microwave
Hand wash only with a non-abrasive scrubber
Do not freeze or wash with bleach or chlorine
Suitable for hot and cold beverages
Also available in selected stores#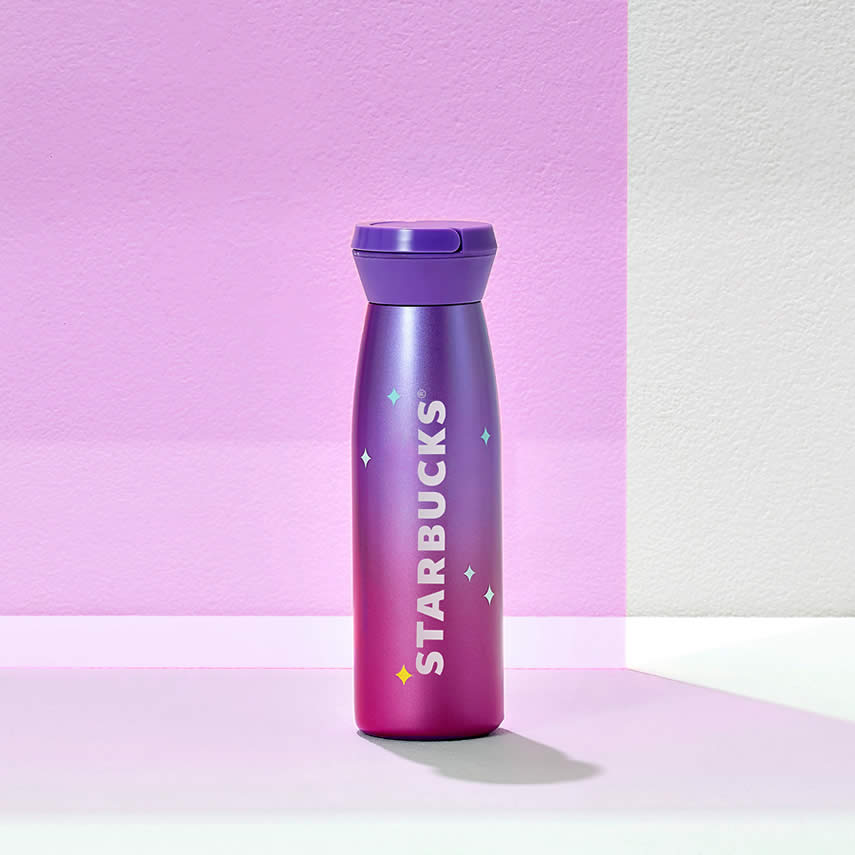 Starbucks Yellow Sand Tumbler 16oz
$27.90
Surf, sand, and a drink in hand.
16oz (473ml)
9cm length x 9cm width x 23cm height
Made from AS (body) and PP (lid)
Double wall feature keeps beverage at optimal temperature and reduces condensation
Allows safe holding of warm drinks
Slide and lock lid
Movable quartz sand between inner and outer cup for added summer fun
Do not microwave
Hand wash only
Suitable for hot and cold beverages
Starbucks® Rewards Member Exclusive: Receive a Free Drink digital voucher with your Tumbler purchase
Also available in selected stores^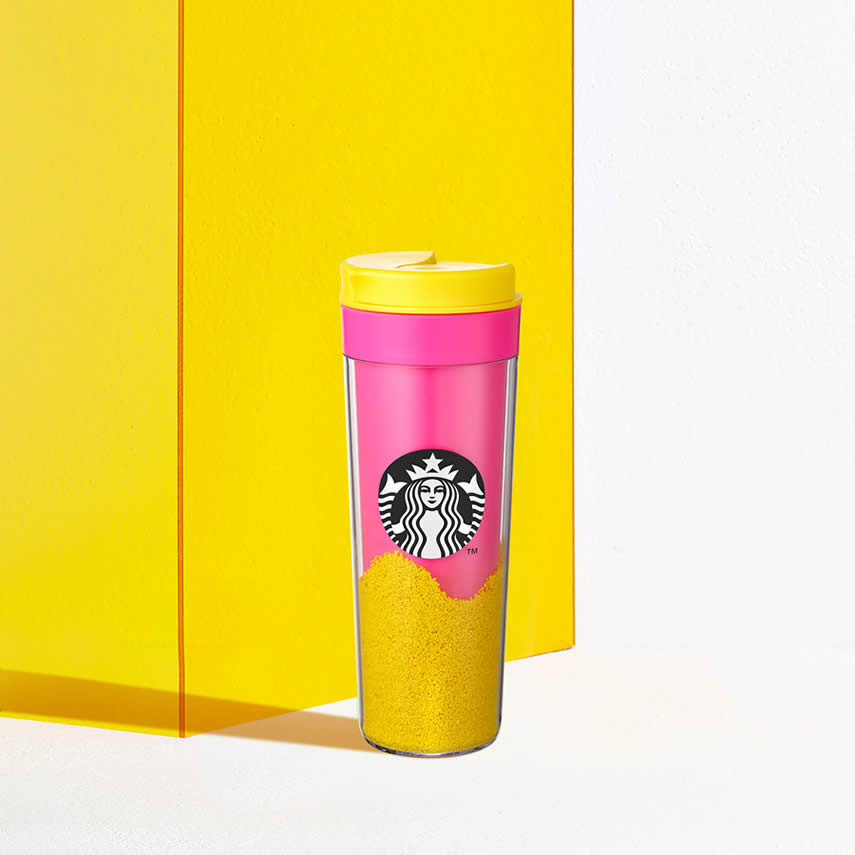 Find your nearest Starbucks store here. For more info, click here