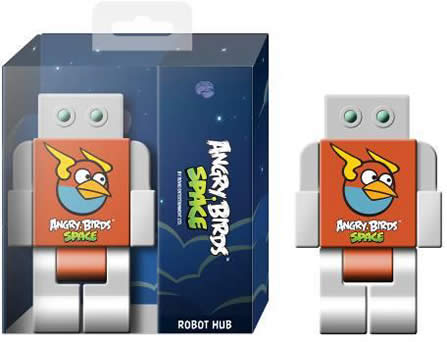 We are now on Telegram
Calling all Angry Birds fans! If you're one of those who just can't get enough of all things Angry Birds, you'll be pleased to know that Asia's leading health and beauty retailer Watsons sets to bring an element of fun to your work desk via a wide range of digital necessities from the brand new and increasingly popular gaming app Angry Birds Space.
Exclusively available at selected Watsons stores, the range carries items from cord holders and portable chargers, to thumb drives and robot hubs, all up-for-grabs from September 2012 at prices starting from just $4.90!
The Angry Birds Space Story
After millions of downloads, additional levels and standalone versions of the increasingly popular game, Angry Birds is still flying high and ready to conquer your hearts with its cute and perennially pissed-off characters through their latest line of digital items.
Continuing the success of Angry Birds, the game's creator Rovio Entertainment has developed a brand new series Angry Birds Space, which by its name suggests takes place in space. From floating through space to using the gravity of nearby planets to set up spectacular trick shots, Angry Birds Space take the game-play that fans already know and love to a whole new level. With brand new birds, new superpowers and a whole galaxy to explore, the sky is no longer the limit with the extension of the global gaming phenomenon.
Here are some gadgets direct from Rovio Entertainment that will help brighten up ordinary and boring digital necessities:
Multi-tasking between peripheral devices connected to your computer is loads of fun, but managing the wires that go between them can be a hassle. As these wires sit in a conspicuous spot on the computer table, why not opt for the bright and delightful Angry Birds Space Cord Holder that does the job by cutely holding up your cable wires in place. Retails at $4.90.
Love playing mobile games, but frustrated each time your battery goes flat? Then, Angry Birds Space Portable Phone Charger is the solution for you. Compatible with both iPhone and iPad, this portable phone charger has a capacity of 1900 mAh that allows you to play the fun app while your battery charges. Retails at $25.
Spice up your phone with this Angry Birds Space Dust Cap that not only gives your phone an edgy exterior but also prevents dust from entering the device. Easy to install, this unique dust cap fits all generations of iPhone, Androids and iPad. Retails at $4.90.
Why not squawk as you climb aboard the Angry Birds bandwagon with these cute Angry Birds Space Thumb Drive. Modelled on various characters from the world's favourite gaming app, these high quality rubberised critters double up at USB friendly 4GB flash drives. Use them to store and transfer all manner of info, from music and video clips to photos of the Mighty Eagle and devious piggy structures. Retails at $25.
Show your allegiance to the bird army with these fierce Angry Birds Space Stereo Earphones. The headphones come in a variety of different designs based on the iconic characters, making them instantly recognizable. Wear them while you're playing the signature game! Retails at $9.90.
Why settle for boring USB hubs when you can opt for the new and functional Angry Birds Space Robot Hub that might make your colleagues chuckle, while plugging in your peripherals. Doubling up as an entertaining toy, this robot hub not only provides multiple USB entries for various connections but also instantly brightens up your desk. No one can call you a bird-brain now! Retails at $14.90.
Availability
Angry Bird Space digital products can be found exclusively at all Watsons Personal Care Stores, excluding the airport stores from 1 September.
See images for more details
Click on thumbnail[s] to enlarge.