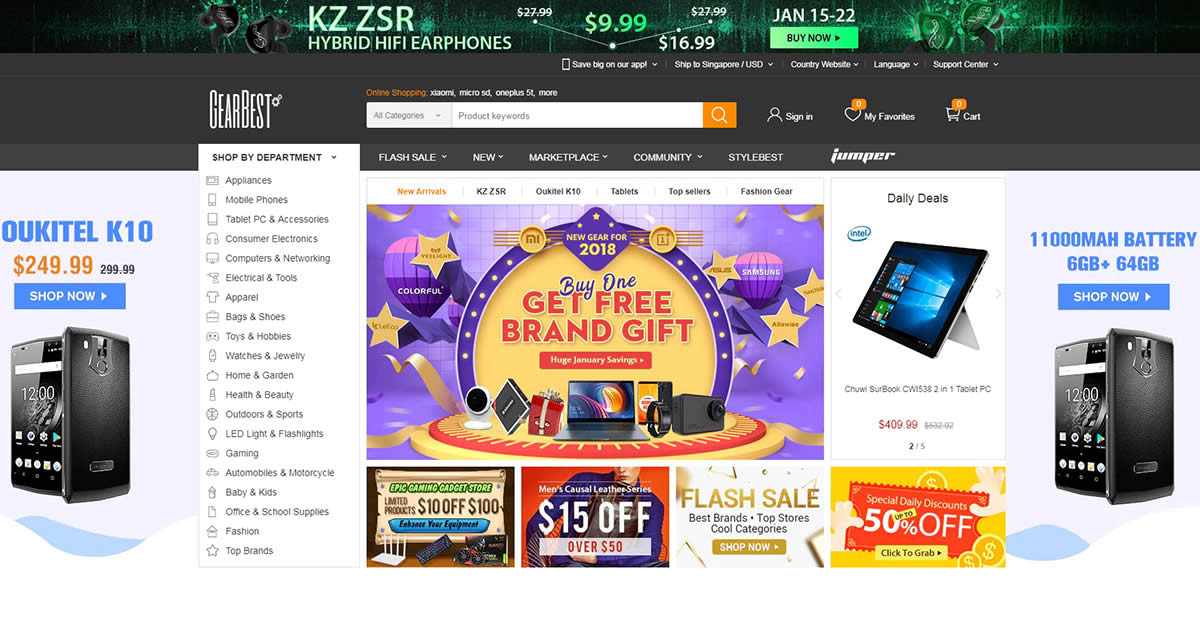 Due to COVID-19, some offers may no longer be valid or temporarily suspended. Please verify the validity (even if it says "ON TODAY" below) before heading down

SINGPromos is now on Telegram. Click here to follow us now
Gearbest is a well-known online e-shop with a vast variety of almost could say everything, except perhaps spaceships. perhaps yet!
GearBest vision is to become the premier online electronics seller by providing an unparalleled selection of the very best gadgets, an unbeatable shopping experience, prompt shipping and exceptional customer service that exceeds expectations.
For Gearbest, the customer is always king. Gearbest total commitment to customers empowers the company to work closely together with every customer. When you buy from Gearbest, the sale is not complete when we ship your order, it is complete when you are totally satisfied.
GearBest specializes in consumer electronics, gadgets and men's fashion. The online catalog that they have is constantly expanding with the very latest and the coolest gadgets added every day to ensure you get your tech fix. So let us see how can you buy all these wonderful things mentioned, with safety!
Top 3 product best selling for Singapore
How to get 8%OFF for all gadgets from Gearbest SG?
Congratulations! Here you can get coupon GBSG8%OFF to get 8%OFF for all gadgets from Gearbest.
(PS: Except for flash sales price)
Make account
First it is better to make an account. If you already have one, you can easily log-in and see the status of your orders, items you have put in wishing list and many other that will show later. If you don't, there are 3 options to make a new account: 1) Using your FB account, 2) Your Google+ account, 3) using email and password to create the account. My opinion is use the third option. It might be not the easiest, but you can access your account from anywhere, even your job where FB might be blocked.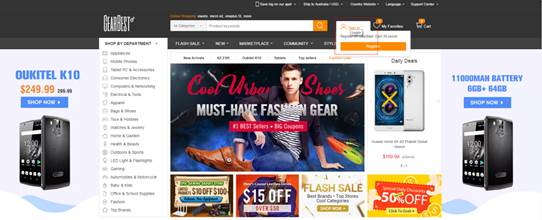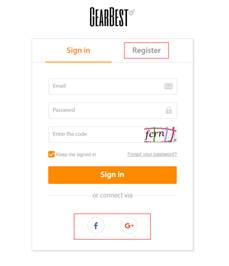 After you fill all needed data, you are ready to enter the Gearbest eshop. When you sign-up for the first time, you will get 50 Points for getting in your email their Cool Newsletter. When you enter you see this.


The points here can be used as real money. The more money you spend, the more points you get. 50 Points = $1.00. You can use points for discount if you have at least 50 points. The discount (from the Points) cannot exceed 30% of the item sub-total cost. Coupons cannot be used together with Points to reduce prices. Taking cash from "My GB Wallet" costs 5X Points value. For example: $5 will cost 25 Points.
Make my first order
Now that you have a Gearbest account, all you must have is and a PayPal account. This is better for you. PayPal gives you the means to get justified in the unique case something goes wrong and in 180 you want a partial or full refund for your order. Don't get afraid. If you make the order through us, you can contact us to help you in case something happens. Now that we have both accounts, we search to see what we liked from SINGpromos, that we read in a article, want to buy it. So, we go to the article and click on the links. The link will redirect you directly to the page of the item you want. Don't forget to write down the coupon included, to use it to get it at a reduced price.
For our example we are going to buy the Xiaomi mijia 3.5K Panorama Action Camera international version. So we click on the link and we get transferred on the page of the camera at Gearbest. There all we have to do is to check first if we are logged in. If not, better login. Then we click on the Add to cart

We will see that our order is transferred to our cart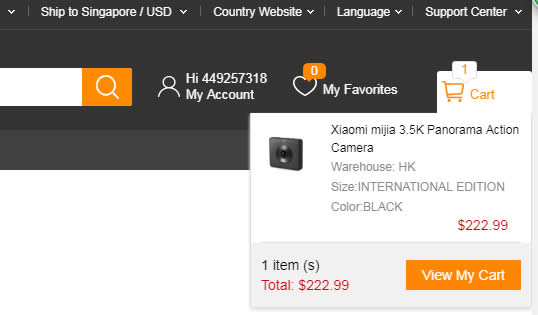 Now we press View My Cart and we are transferred to our Cart page. There we see our order/s. As you can see the price of the camera we choose to buy is 222.99$. If you have a coupon, you can added at the area mentioned in the picture as Promotion Code. By this way you will get an even lower price. For this mobile is no needed, as it is one of the lowest in the market.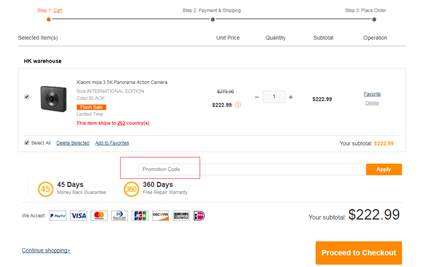 Then the only thing you need to do is fill in the form below your personal information. Be careful to fill correct information: Your name, address, Zip code.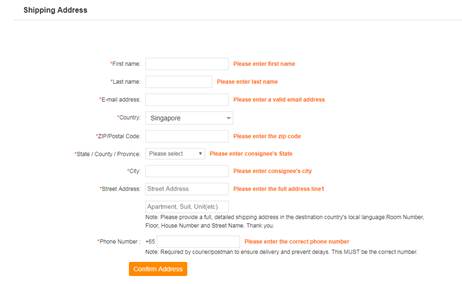 After all, click the button PLACE TO ORDER. Then, when it finishes, you will review all information that you have filled in the blank and make sure it is right.
How to choose shipping method?
We have 4 option for you, we recommend you to choose option 3 or 4. Sometime the cost so high, you have to choose 2.
Remember and caution: Better not to choose Unregistered Air Mail, If you choose this option and you lost your product, and you will never find it.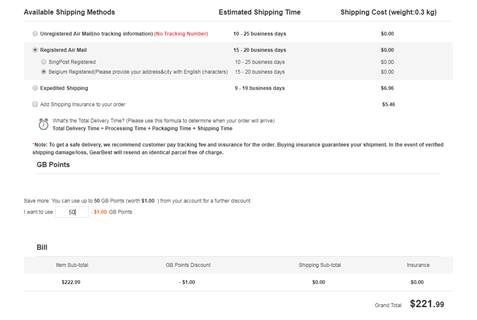 Unregistered Air Mail 10 – 25 business days $0.00 (No tracking number, very difficult to search it)
Registered Air Mail 15 – 20 business days $0.00 (Recommend for product what is lower $50)
Expedited Shipping 9 – 19 business days $6.96 (Recommend for any location). There may have the tax cost when you choose this shipping method.
Cautions:
More to the point, you have to check your shipping cost because most of the products are free ship but some of them may cost you a bit. So, be careful.
If you want your camera to be shipped faster, you should pay a small amount of money for that, because it just takes 10 days around, faster than 1 month. Right? Furthermore, if you choose free shipping, maybe your local shipping company will take some shipping money from you, because Gearbest just applies free ship from the warehouse to your frontier. And when it comes to the customs, you will have to pay for the fee.
How to choose the payment?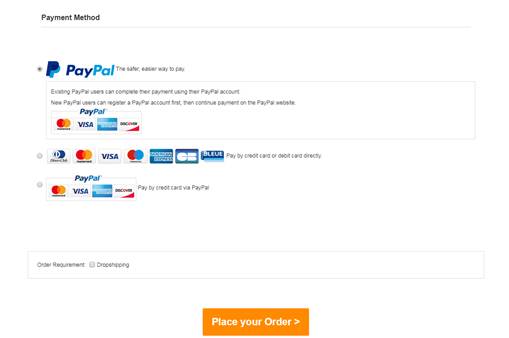 We have 3 choose for Singapore to payment (Another country will different method, please check it):
Payment via PayPal account (You have to login to PayPal account)
Pay by credit card or debit card directly.
Pay by credit card via PayPal (You have to login to PayPal account)
Please choose what is easy for you, we recommend PayPal account or Visa MasterCard. Then click PLACE TO ORDER and payment to finish order.
After that you just need to payment follow the method what you choose before
Now you just wait for the finish and waiting Gearbest for shipping (Normal is within 3 days processing)
Tax of shipping to Singapore?
When your price of items over USD$300 in total, you may have to pay the tax when you receive the parcel.
FAQ (You should read before buy anything)
This below is some FAQ for new customer who never buy anything on Gearbest, please check it before you decide to buy any product in this website:
Filled wrong address?
Go the MY TICKET and send information to GB ASAP. Please see below image for more detail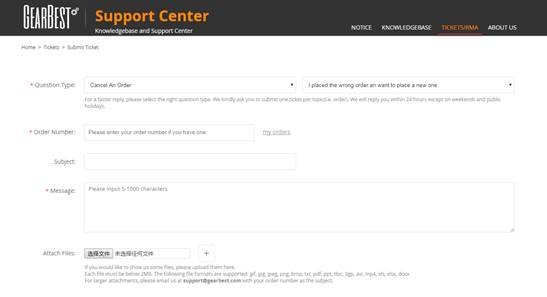 How much time to shipping to Singapore?
Normally 30 days around for Registered Air Mail shipping method and Unregistered Air Mail shipping method (Not include 3 days processing)
Priority Line – 15 to 20 business days (Not include 3 days processing)
DHL – 2 to 7 business days (Not include 3 days processing)
Your product still not shipped out yet?
Sometime when you ordered, your product has been out of stock. So what you should do?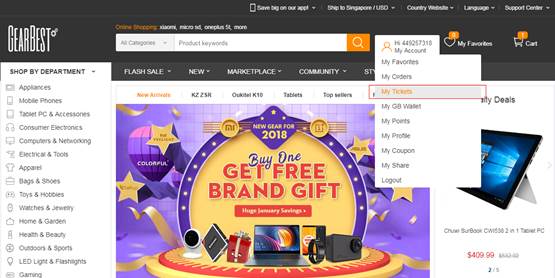 Please go to TICKET and send information to GB if it not shipped out yet after 1-2 days working as bellow picture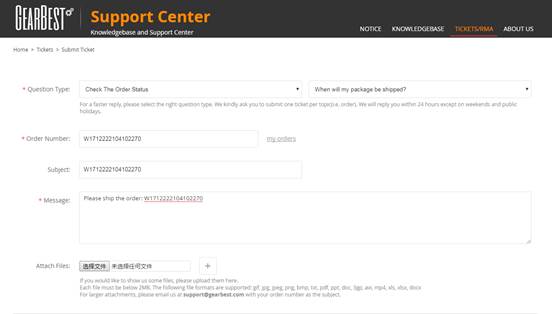 You will have answer after 1 days, so just send information and relax.
Your product shipped over estimated delivery time and still not received yet?
Don't worry about it, please go to MY TICKET and send information to GB as below picture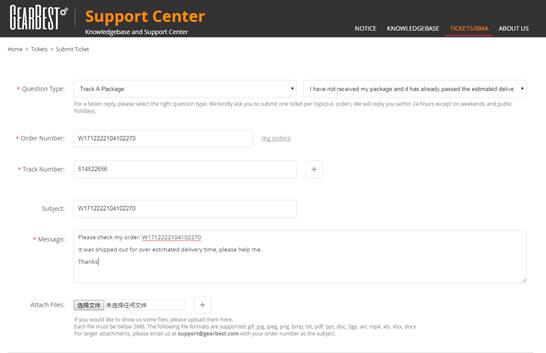 Warranty and returns
If you have some trouble with your product, please go the TICKET and send information as below:
You have to send full information as below form:
Description: What is trouble
Order number:
What you did try to fix it: step by step what you did (If you don't know, just tell them you don't know)
Image or video of trouble:
Gearbest will process your trouble in 1 day and send feedback to you, this is some example and option for you for cheap product what I have send in the past (Higher price is different)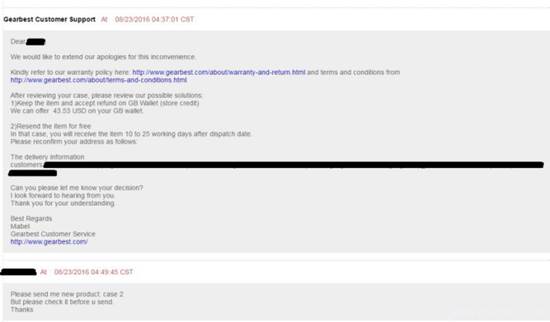 Example for faulty product what we send to Gearbest before
They give me 2 choose:
After reviewing your case, please review our possible solutions:

Keep the item and accept refund on GB Wallet (store credit). We can offer 43.53 USD on your GB wallet.
Resend the item for free. In that case, you will receive the item 10 to 25 working days after dispatch date.
3 Day Dead on Arrival (DOA) Guarantee
If your item arrives damaged or is not working, please follow the warranty process and contact our Support Center for RMA authorization within 3 days of the order being received. The associated item will be exchanged with a new product free of charge (we will reimburse the return shipping cost), or you can choose to receive a full refund. Enjoy total peace of mind: every single purchase is 100% risk-free each time you shop at GearBest.
45 Day Money Back Guarantee
For most items, in the unlikely situation that your product is faulty, you can send it back to us for a refund or item exchange within 45 days of receiving it. Return shipping reimbursement is not available for this.
One Year Repair Warranty
Unless otherwise noted on the product page, the default product warranty period is one year starting from the date of purchase, during which you are eligible for free repair. Any free repair case needs to be confirmed with the manufacturer via Customer Service. Customers must pay the shipping fees for returning the item back, while we cover the shipping fees to send the repaired item back to the customer. If the buyer has damaged/misused the item(s), it will not be eligible for free repair.
Let's discuss and comment if you have any experience to share.
This article is sponsored by Gearbest