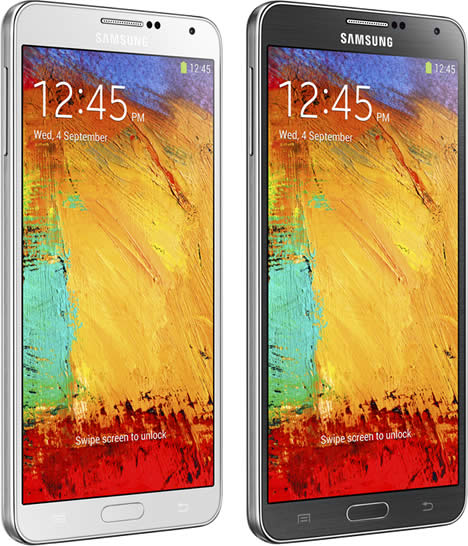 Samsung has introduced the GALAXY Note 3 in Singapore, the latest update to the Note product line. The new Samsung GALAXY Note 3 adds delight to daily tasks and infuses innovative features that help consumers tell the story of their lives.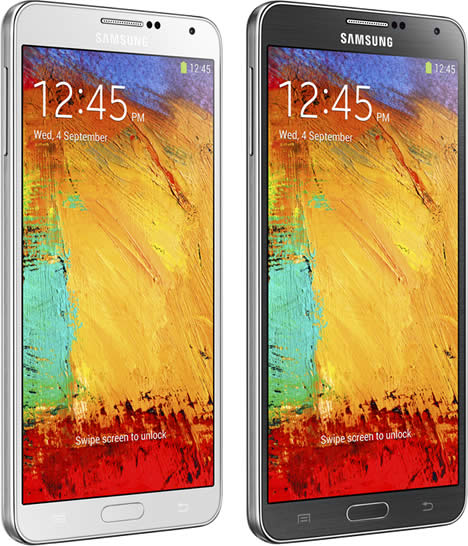 Samsung GALAXY Note 3 delivers a larger and better screen for the best viewing experience and more powerful multitasking, and introduces significant S Pen improvements that make everyday life easier and faster.
GALAXY Note 3 makes your everyday life amazing
The Samsung GALAXY Note 3 is a powerful, original approach that enables users to tell the stories of their lives through dynamic and seamless expressions of their passions across work, play and life experiences. With a simple click of the S Pen button, users can unlock opportunities for self-expression, features that transform everyday activities into extraordinary events and access to new experiences delivered to them on Note 3's larger screen.
"Following the success of the GALAXY Note II LTE, this phone is yet another great proof point of people-inspired innovation which we are eager to share with our consumers in Singapore," said Irene Ng, Vice President, Marketing, Samsung Asia Pte Ltd.
Samsung GALAXY Note 3 comes with a wider (5.7inch) full HD SUPER AMOLED display, yet slimmer (8.3mm) and lighter (168g) hardware design, and more powerful and longer lasting (3,200mAh) battery.
Also, equipped with a 13 megapixel rear camera with Smart Stabilization and high CRI LED flash, Samsung GALAXY Note 3 enables users to crisply capture every visual story in their lives, even in low light and active situations. Samsung GALAXY Note 3 offers the latest LTE technologies – CAT 4 Carrier Aggregation and supports the greatest number of multiple frequencies. Incorporating the industry's largest 3GB RAM, the GALAXY Note 3 also provides faster and more powerful performance.
Balancing GALAXY Note 3's Strength With Artistic Design
In addition to meaningful technological advancements, Samsung GALAXY Note 3 delivers a new premium look and feel. Expanding on the modern Samsung GALAXY design approach, Samsung GALAXY Note 3 adds a soft and textured-touch back cover and delicate stitching.
It also features a serration pattern on the side of the device that evokes a connection to the timeless and enduring strengths of classic notebooks and planners.
Click S Pen To Make Life Easier, Faster And More Exciting
The new S Pen reinvents and modernizes the classic note-taking experience by providing the ability to accomplish everyday tasks with just one click. The advanced S Pen is designed to be fully functional as a communication driver between the phone and the user by creating essential input and control features. It plays an integral role in how users interface with the device, making all daily routines easier.
A simple click of the S Pen button while hovering over the screen introduces users to Air Command, a palette of five powerful features that truly make tasks easier and faster. With the Air Command feature, there is no need to toggle between screens, memorize commands or look up different menus. The Air Command feature provides access to the following key functions:
Action Memo allows users to handwrite a note, and automatically execute a function or convert that handwritten information into formatted content. Action Memo can instantly initiate a call, add to contacts, look up an address on a map, search the web, save a task to a to-do list, and more.
Scrapbooker enables users to organize or track down content and information from various sources including the web, YouTube™ and Gallery in one place so that users can easily look back at collected content all at once. When consumers save content for future use, Scrapbook also collects source material or URLs allowing them to easily refer back to the original source.
The Screen Write feature captures the full screen image of the current page on the device and allows users to write comments or additional information onto the captured image.
S Finder allows users to expansively search for content on their device regardless of the type. By putting in keywords or filters such as date, location, and content type, users can search related documents, events, communication threads, and even the Help page – all in one place. In addition, users can also search for handwritten content in their Notes and memo applications, as well as symbols and formulas.
Pen Window allows users to use the S Pen not only for drawing sketches or writing notes, but now also for opening a small application window for a true multitasking experience. Simply by drawing a window of any size, anywhere on the screen, users can easily and quickly open another application window such as YouTube™, calculator or Browser without pausing current activity on the screen.
For more advanced note-taking, the new S Note presents a comprehensive solution that enables consumers to easily write, organize, edit and browse notes with a user-friendly interface and the Easy Chart feature. The new S Note can also be synced with Evernote or a Samsung account and be enabled for accessing and viewing from different devices.
Furthermore, when a user wants only a certain part of an image to be taken from the web or GALAXY Note 3 content, the advanced new Easy Clip feature allows them to roughly draw around the desired image and then it converts that content into a more precisely cropped image.
Larger Note Screen Delivers Enriched Viewing Experience And Enables You To Do More
The Samsung GALAXY Note 3 delivers a larger screen and the increased size is matched with powerful improvements that allow users to fully utilize the additional screen space. The 5.7-inch Full HD SUPER AMOLED screen provides a stunning and defined video viewing experience for watching Full HD content, distinct clarity for reading and an elegant canvas for content creation.
My Magazine provides a personalized news, social media, entertainment and in-the-moment content experience. Developed through a partnership with Flipboard, it offers an integrated content consuming experience in a modern and dynamic magazine-style layout.
The GALAXY Note 3 enables enhanced multitasking capabilities that allow users to fully utilize the larger screen.
With the Enhanced Multi Window, users can toggle seamlessly between applications without closing the window or opening a new page, allowing for enhanced productivity and collaboration across programs. Consumers can also run one application in two windows at the same time. For instance, users can read the news in one browser while conducting a web search in another, or send an instant message through ChatON to a friend while reading a message from another friend.
In addition, using Drag and Drop mode within the Enhanced Multi Window, users can easily drag and drop content such as a text or image from one window to the other in an instant.
Pen Window from Air Command further enhances multitasking experience by allowing consumers to draw a window on the screen and launching popular applications while continuing current tasks on the GALAXY Note 3.
An improvement to Group Play, video sharing is now available. Originally introduced along with the GALAXY S4 With LTE, Group Play allows users to play the same music, to play games together, and to share documents. It now enables consumers to share videos and play content together with their friends simultaneously. Users can also connect up to five devices alongside each other to create a "big screen" viewing experience, where videos will be enlarged and displayed across the connected devices.
Specially curated content and services for the enriched user experience via GALAXY Lifestyle Pack
The GALAXY Lifestyle Pack will provide a single entry into content and services, which Samsung has made accessible to users so that they can browse through a variety of content for a unique and fun experience on the GALAXY Note 3. These content and services are downloadable from Samsung Apps.
Some of the new content and services include the following:
Angry Birds Star Wars II – This soon-to-be-launched application is the follow-up to the #1 smash hit game, developed based on the Star Wars movie prequels. Samsung users will get complimentary in-app currency valued at $12.50.
Evernote Premium – Evernote Premium allows access to S Note on multiple devices through one Evernote Premium account. It can set reminders, record audio notes and snap photos to help users keep track of their daily activities. Available at launch.
NoteLedge – NoteLedge is a versatile note-taking application that simultaneously supports handwriting, typing, sketching, inserting photos, audio and video recording. It is an ideal tool for users to record their lives by keeping a diary, jotting down ideas, taking notes, composing travel journals, scheduling weekly plans and more. Available at launch.
Animation Desk – Animation Desk allows users to create hand-drawn animations. Its drawing interface resembles the real working environment of a professional animator who completes each frame of an animation on a specially-designed desk. Available from November.
Bloomberg+ – Bloomberg+ is a business and finance application which provides a combined experience of three existing Bloomberg applications in the market (Bloomberg, Bloomberg TV+, Bloomberg Radio+). It will be exclusively available to Samsung users for 18 months (terms and conditions apply). Available at launch.
In addition, consumers who purchase their GALAXY Note 3 from Samsung Experience Stores will get to enjoy the following exclusive content and services, while stocks last:
Mobilecover.sg – Mobilecover insures users' devices against accidental damage such as screen cracks, microphone damage, and even liquid damage. Samsung users who purchase their devices from Samsung Experience Stores can enjoy the first three months of coverage for Mobilecover Essential free. This insurance is brought to users by Mobilecover.sg who has recently launched their device insurance programs in Singapore. The insurance is underwritten by Zurich Insurance. (This is subject to policy terms and conditions; exclusions apply. Please refer to http://www.mobilecover.sg for details).
SPH Magazines – This will provide users with access to over 100 magazines from one of the region's top publishers. Users will also be able to redeem one free digital edition out of 48 titles, including Female, HWM, and Torque.
Samsung KNOX & Find My Mobile
The new GALAXY Note 3 comes with enhanced privacy and security protection provided by Samsung KNOX. Users can activate Samsung KNOX with ease which allows them to run and store security-sensitive applications and data inside a protected execution environment called "container."
The security inside the container is strengthened by system-level protection of Samsung KNOX against malware and phishing attacks as well as hacking attempts on physical devices when devices are stolen or lost. Users may choose to store enterprise applications and data such as corporate email, contacts and calendar and allow the IT department to manage the container through EAS (Exchange ActiveSync Server). These features make the GALAXY Note 3 an ideal device for BYOD (Bring-Your-Own-Device to work).
Furthermore, the GALAXY Note 3 is equipped with an improved Find My Mobile feature that allows users to disable the phone when it is stolen or lost. With the enhanced user authentication, the technology prevents stolen mobile phones from being reset to factory settings, and allows users to remotely track or erase the data from their lost or stolen mobile phones.
Availability
The Samsung GALAXY Note 3 (32GB¹) will be available in Singapore at $1,048 from 28 September 2013, without contract, in Classic White and Jet Black at all telecommunication operators, major consumer electronics stores and Samsung Experience Stores.
Availability of accessories
Accessories compatible with the GALAXY Note 3 include the Flip Wallet which will be available at launch in Jet Black, Classic White, Wild Orange and Indigo Blue at $68.
The GALAXY Note 3 S View cover will be available at launch in Black and White at $88.
The Desktop Dock will be available at $68 and Extra Battery Kit (containing an extra battery and a charger kit) will be available at $78. Both will be available at launch.
Samsung GALAXY Note 3 Specifications
Network
LTE (CAT 4 150/50Mbps) Band 1 (2100MHZ) / Band 3 (1800MHz) / Band 5 (850MHZ) / Band 7 (2600 MHz) / Band 8 (900 MHz) / Band 20 (800 MHz)
3.5G (HSPA+ up to 42.2 Mbps)
3G (850/ 900/ 1900/ 2100MHz)
EDGE/ GPRS Class 33
GSM Quad Band (850/ 900/ 1800/ 1900 MHz)
Processor
2.3 GHz Quad Core Processor
Display
5.7″ 16M colors (1920 x 1080) full touch (C-type) Full HD SUPER AMOLED Screen
OS
Android™ 4.3 (Jelly Bean)
Camera
Main (Rear): 13 Mega-pixel BSI Sensor, Auto Focus camera with Smart Stabilization, LED Flash (High CRI), and Zero Shutter Lag
Sub (Front): 2 Mega-pixel with Smart Stabilization, Full HD recording @30fps
Dual Camera: Dual Shot / Dual Recording/ Dual Video Call
Recording: UHD 30fps, Smooth motion (FHD 60fps), Slow motion (HD 120fps)
Camera Mode: Auto Focus, 4X Digital Zoom, LED Flash, Beauty Face, Best Photo, Best Face, Sound & Shot, Drama Shot, Animated Photo, Golf Shot, Rich Tone (HDR), Eraser Shot, Panorama Shot, Surround Shot, Sports Shot, Share Shot, Buddy Photo Share
Video
Codec: H.264, MPEG-4, H.263, VC-1, WMV7, WMV8, Sorenson Spark, MP43, VP8, HEVC
Recording: Full HD (1920×1080), UHD (3840×2160)
Playback: Full HD (1920×1080)
Audio
Codec: MP3, AAC/AAC+/eAAC+, WMA, AMR-NB/WB, Vorbis, FLAC(*), WAV(*)
(*) Ultra High Quality Audio (~192KHz, 24 bit) support
S Pen Optimized Features
Air Command (Action Memo, Scrapbooker, Screen Write, S Finder, Pen Window)
S Note, Enhanced Multi Window, Easy Clip, Direct Pen Input
Additional Features/Services
Group Play: Share Music, Share Picture, Share Video, Share Document, Play Games
Story Album, S Translator²
Smart Scroll, Smart Stay, Smart Pause, Smart Rotation, Air Gesture, Air View, Pop Up Play, Reading Mode
Samsung Apps, Samsung Hub (Video, Books, Games, Learning), ChatON, LINE, WatchON™
S Voice, S Health, S Beam
Samsung Adapt Display, Samsung Adapt Sound
Auto adjust touch sensitivity (Glove friendly)
Samsung Link, Screen Mirroring
Safety Assistance, Samsung KNOX
My Magazine, Story Album, Flipboard, Trip Advisor, Scrapbook, Sketchbook for GALAXY, Evernote, S Note, S Planner, Voice Recorder, Dropbox, Bloomberg+, Exchange, ActiveSync
Google Mobile Services
Google Play™, Chrome™ Browser/ Android™ Browser, Gmail™, YouTube™, Google Maps™, Google™ Search, Google+™, Google Play™ Music, Google Play™ Games, Google+ Photos™, Google Now™, Hangouts™, Google+ Messenger™
Connectivity
Wi-Fi® 802.11 a/b/g/n/ac (2.4+5GHz)
Wi-Fi Direct™
A-GPS / GLONASS
NFC (supports mobile payment for selected services)
Bluetooth® 4.0
IR LED (Remote Control), MHL 2.0, USB 3.0
Kies and Kies via Wi-Fi™
Sensor
Gesture, Accelerometer, Geo-magnetic, Gyroscope, RGB,
Proximity, Barometer, Temperature & Humidity, Hall Sensor
Memory
32¹GB User memory + microSD slot (up to 64GB)
3GB RAM
Dimension
151.2 x 79.2 x 8.3mm, 168g
Battery
Standard battery, Li-ion 3,200 mAh
1 Actual user-accessible internal storage may differ depending on operating system and other built-in applications.
2 S Translator may require internet access and be subject to data charges depending on usage. Available languages are limited, and actual performance may vary, depending on language spoken, accents, and surrounding environment.
Note: Certain features, services and applications (including 4G LTE) are dependent on network connectivity and may not be available in all coverage areas. Additional data charges may apply. Specifications are accurate as at time of print and are subject to change without prior notice.
Get a FREE American Tourister Caravan 70cm TSA luggage (worth S$260) (with min spend) and 2-years annual fees waiver when you sign up for a HSBC Revolution credit card at www.hsbc.com.sg.