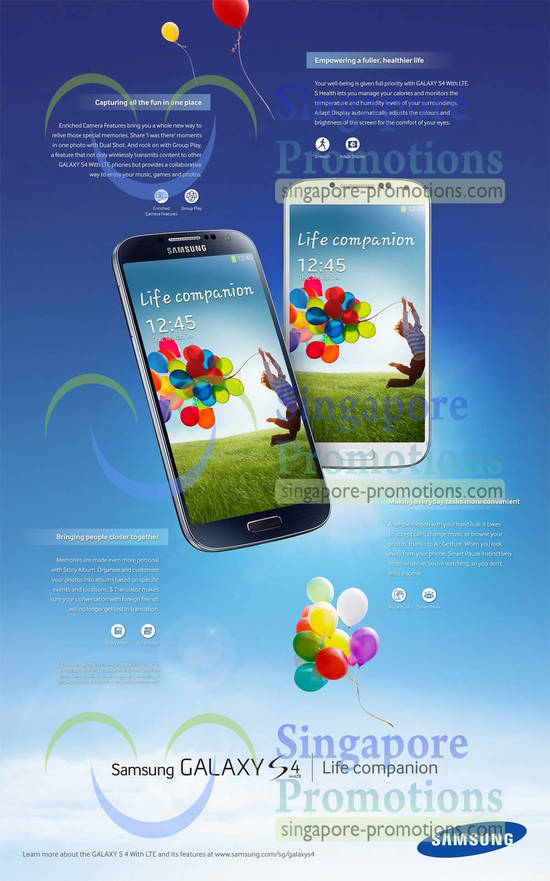 Samsung Singapore has announced the launch of the GALAXY S4 With LTE in Singapore, designed to get you closer to what matters in life and bring your world together.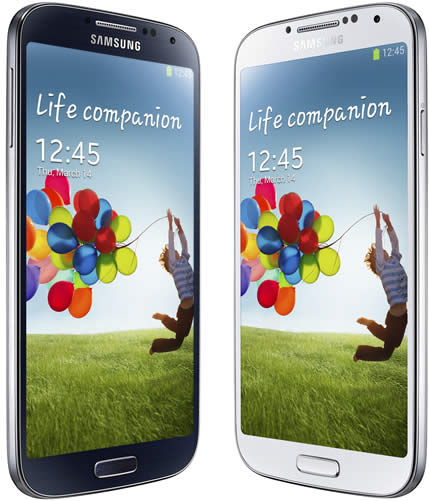 Understanding what matters most to us in our lives, the Samsung GALAXY S4 With LTE was developed to redefine the way we live and to maximize our fulfillment of life. This sleek and innovative smartphone makes every moment of life very meaningful.
It understands the value of relationships, enabling true connections with friends and family. It believes in the importance of an effortless user experience, making your life easy and hassle-free. It empowers your life, helping to take care of your well-being.
Design Features
The Samsung GALAXY S4 With LTE comes in a highly crafted design encompassing a larger screen size and battery, minimized bezel; all housed in a light (130g) and slim (7.9mm) shape. As such, the Samsung GALAXY S4 With LTE is slimmer yet stronger, with less to hold yet more to see.
The high-end look and feel of the GALAXY S4 With LTE is achieved through a number of finishing effects such as a special laser etching on the back cover to create a striking pattern with a sleek metallic finish.
Meaningful Moments – Gives Greater Enjoyment
A rich life is one that's filled with meaningful moments and the GALAXY S4 With LTE captures and shares those special moments. The GALAXY S4 With LTE has the world's first Full HD SUPER AMOLED display, with an ultra sharp pixel density of 441 PPI to present the best viewing experience for users, making it an ideal device for videos and images. The Samsung GALAXY S4 With LTE also utilizes Corning's new Gorilla® Glass 3*, making it a durable travel companion for all of life's adventures.
Equipped with a 13 megapixel rear camera, the GALAXY S4 With LTE boasts a suite of enriched camera features. The 'Dual Shot' function allows simultaneous use of both front and rear cameras. When capturing moments, users can choose from a variety of frame effects which blend the two pictures naturally and also adjust the size of the small picture inside the big one. Users can select eight different ways to combine the two photos taken by the front camera and the rear camera.
The camera functionality extends beyond 'Dual Shot', as the device is also equipped with 12 outstanding shooting modes including 'Drama Shot', which allows you to capture all the action in one continuous time-lapse, and 'Sound & Shot', which uniquely stores sound and voice together as the picture is taken so those special moments are captured in the truest form imaginable, exactly as they happened.
These meaningful moments can also now be automatically stored in a photo album, with the new 'Story Album' function. Photos taken by the GALAXY S4 With LTE are automatically gathered and sorted out according to your timeline, geo-tagging information, or a specific event to create a photo album. These unique story albums can be ordered and delivered as an offline photo album through a new partnership with Blurb*, so you can keep those precious moments safe to look at and share time and time again.
With its 'Group Play' function, users can enjoy music, play games, share pictures and documents with those around them without the need for a Wi-Fi AP or cellular signal. This innovative feature enables users to connect directly with others to share, play and co-create content and entertainment instantly. Its 'Share Music' option allows users to have the same song playing on multiple phones in sync to create the best party atmosphere. Just connect directly to another device to activate 'Group Play (Play Games)' and immerse in competitive or collaborative gaming.
True Connections – Brings People Together
Samsung GALAXY S4 With LTE enables true connections with the people in our lives. It is more than a personal device that can be enjoyed by one user – it makes the most of our relationships, allowing us to easily share and experience many of life's pleasures together with family and friends, wherever you are.
Samsung HomeSync, a home hub solution with a shared storage fit for a family, presents the best entertainment experience on a big screen TV, and a new way of enjoying your HDTV through a familiar and smarter Android user experience. With its 1TB drive, users can sync to multiple devices, providing shared or private storage for eight separate accounts within a family. Each user can upload and download content from multiple devices and instantly share with other family members.
HomeSync brings the best of Android gaming, apps and content direct into your living room. It allows you to stream content from your GALAXY device wirelessly to the TV – letting you watch, see and use all your home videos, photos and apps, at full HD 1080p. HomeSync also enables new ways to interact with your content via the control modes enabled wirelessly on the phone
The GALAXY S4 With LTE brings all people closer together by breaking down language barriers. It makes international travel a joy, with 'S Translator' which provides instant translation, using text or voice translation on applications including email, text message and ChatON. This instant translation is possible both from speech to text and text to speech, and ensures that you can rely on the correct information whilst abroad.
The GALAXY S4 With LTE supports up to six different band sets which allows it to function in most LTE coverage areas as well as enabling global LTE roaming.
Effortless Experience – Makes Life More Convenient
In today's world, we are all looking for smart ways to make life easier and less stressful. The GALAXY S4 With LTE ensures that tasks are effortless with innovative features that detect your face, voice and motions to enable screen control with no need for finger touch activation.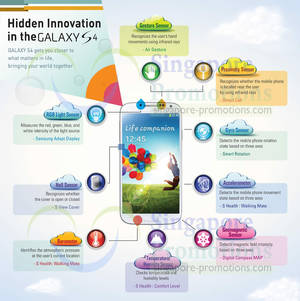 'Smart Pause' enables you to control the screen by where you look. When you are watching a video, the video pauses when you look away then it starts right up again when you look back. 'Smart Scroll' allows you to scroll the browser or emails up and down without touching the screen. It recognizes your face looking at the screen and movement of your wrist, to scroll the pages up and down accordingly.
'Air View' allows users to hover with their fingers to preview the content of an email, S Planner events, image album in gallery or video without having to open it. You can even see a magnified view on the internet browser, or a phone number saved in the speed dial on the keypad. With 'Air Gesture', you can change the music track, scroll up and down a web page, or accept a call with a wave of your hand.
With 'S VoiceTM Drive' you can activate commands via voice control for greater convenience when driving. Once connected with a car Bluetooth, the phone automatically turns into driving mode converting text to speech so you can easily and safely check messages without needing to look at the screen.
'Samsung Optical Reader' makes life yet more effortless, by automatically recognizing text, a business card or QR code information, and providing useful functions such as translation, call, text message and search.
Empowered Living – Takes Care Of Your Health and Quality of Life
The GALAXY S4 With LTE empowers your life by keeping you up-to-date with health and well-being information using the new 'S Health' app. The combination of sensors built within the device systematically and automatically monitors your health, surroundings and so much more to help improve your quality of life. Also, users can easily check their health conditions using food tracker, exercise mate and walking mate to stay fit and healthy.
To further protect your wellbeing, 'Adapt Display' provides an optimal viewing experience, customized for each type of application, and 'Adapt Sound' offers an optimal level and type of sound, personalized for each user, to make the most out of life.
Content & Services
The 'Samsung Hub' will provide a single entry into Samsung's five content services, making it incredibly easy and convenient to use. You can browse through a variety of content across various services, as well as purchase and manage content easily, from a single Samsung Account.
The Samsung Hub features an integrated search — when the user browses for a keyword, the results will show related content from all of the five services at once. Always seeking to provide a unique and fun experience for users, Samsung will also be introducing various promotional events on a regular basis.
'Samsung WatchON' transforms the GALAXY S4 With LTE into a universal remote control, allowing users to search for live TV programs through a guide and then view those selections on their connected Samsung SMART TVs.
The 'Samsung Apps' allows users to browse through rich pool of applicationsthat are device optimized for Samsung Apps and also provide users with popular applications from Google Play. You can enjoy the best apps selected and approved by Samsung, and most popular apps on Google Play.
The 'ChatON' feature for the GALAXY S4 With LTE offers a holistic communication experience by combining fun and creative text messaging with a high quality mVoIP/Video Chatting service. Users can expect to enjoy high quality video and voice chat with up to two friends on a WiFi and mobile network, as well as easily switch from text chat to video/voice chat and vice versa.
For the ultimate sharing experience, the 'Share Screen' feature enables you to share your phone screen and the ability to control this with a friend during a one-to-one chat, without having to download and upload files to their device.
In order to enhance the overall user experience on the GALAXY S4 With LTE, Samsung is also launching a series of exclusive lifestyle and news content applications, which will first be unveiled in the GALAXY S4 With LTE as pre-loaded apps. Some of the existing apps* will come with free subscriptions and new features, available only with the GALAXY S4 With LTE.
*Club 21 – Access style and discover the latest trends featured in more than 200 brands. A secure log-in allows Club 21 card members to access their accounts while on the go, to track their orders. New members can look to sign up to enjoy the full membership's rewards and privileges
herworld PLUS – Get the latest news, views and reviews on Fashion, Shopping, Beauty and more from herworld PLUS, Singapore's go-to website for women
SPH Universal Android Smartphone App – Gain instant access to breaking stories, news updates, lifestyle and entertainment reports on this brand new app
*The Straits Times – Enjoy free subscription for all GALAXY S 4 With LTE users for a limited period, providing access to updated news throughout the day and seven-day archives
Catalog – Receive up-to-the-minute style and pop culture fix 24/7 and while on the go, enabled by CATALOG Magazine, the definitiveshoppingguide for consumers. Swipe, click and tap for insider fashion finds and scoops on the next big talents to watch wherever you are
Nylon – Satisfy craving for all things Korean with NYLON SINGAPORE's on-the-go app, filled with specially curated content on the latest Korean fashion, beauty, music and food
Food &Travel – Check out the best food recommendations and locate the nearest restaurants around. Restaurants are segmented according to cuisine types and features the latest promotions and events, and get first-hand updates on Food & Travel's happenings
Escape – Discover the best cities to visit at a glance and plan an itinerary easily with a list of options to Eat, Sleep, See and Play
Pricing and Availability
The Samsung GALAXY S4 With LTE will be available in Singapore from 27 April 2013, at $998, without contract, in Black Mist and White Frost.
Exclusive GALAXY S4 With LTE accessories which will be available at launch include:
S-View Cover: $98 in black and white
Flip Cover: $68 in black and white
Consumers can now pre-order the GALAXY S4 With LTE at 15 Samsung Experience Stores island-wide by placing a $50 deposit, as well as register their interest online with their mobile operators.
From 27 April 2013 to 12 May 2013, consumers can also look forward to an interactive guided hands-on experience with the GALAXY S4 With LTE at three major roadshows along Orchard Road, namely at Plaza Singapura, Takashimaya and Wisma Atria. Samsung brand ambassadors will be present to share more about the features and consumers can stand to win exclusive premiums by participating in a series of on-site activities.
Consumers who place a pre-order or registered interest with the mobile operators can collect their devices on 27 April 2013 at these roadshows or from their respective mobile operators. Customers will receive a GALAXY S 4 With LTE Limited Edition Accessory Pack (worth $160) consisting of a car charger, desktop dock and HDTV adapter, while stocks last, when they collect their Samsung GALAXY S 4 With LTE.
The Samsung GALAXY S smartphones are among Samsung's most successful, with more than 100 million GALAXY S devices sold globally.
Samsung GALAXY S4 With LTE Singapore Specifications
Network
4G:LTE Band 1 (2100 MHz) / Band 3 (1800MHz) / Band 5 (850 MHz) / Band 7 (2600 MHz) / Band 8 (900 MHz) / Band 20 (800 MHz))
3G: 850 / 900 / 1900 / 2100 MHz
GSM & EDGE Band: Quad Band (850/ 900/ 1800/ 1900 MHz)
Display
5 inch Full HD SUPER AMOLED (1920 x 1080) display, 441 ppi
AP
1.9 GHz Quad-Core Processor
OS
Android 4.2.2 (Jelly Bean)
Camera
Main(Rear): 13 Mega pixel Auto Focus camera with LED Flash & Zero Shutter Lag, BIS
Sub (Front): 2 Mega pixel camera, Full HD recording @30fps with Zero Shutter Lag, BIS
Video
Codec: MPEG4, H.264, H.263, DivX, DivX3.11, VC-1, VP8, WMV7/8
Recording & Playback: Full HD (1080p)
Audio
Codec: MP3, AMR-NB/WB, AAC/AAC+/eAAC+, WMA, OGG, FLAC, AC-3, apt-X
Camera
Features
Dual Shot: Dual Recording, Drama Shot, Sound & Shot, Animated Photo, Eraser, Night, Best Photo, Best Face,Beauty Face, HDR (High Dynamic Range), Panorama, Sports
Additional Features
Group Play: Share Music, Share Picture, Share Document, Play Games
Story Album, S Translator, Optical Reader
Smart Scroll, Smart Pause, Air Gesture, Air View,
Samsung Hub, ChatON (Voice/Video Call, Share screen, 3-way calling)
WatchON
S Travel (Trip Advisor), S VoiceDrive, S Health
Adapt Display, Adapt Sound
Auto adjust touch sensitivity (Glove friendly)
Safety Assistance, Samsung Link, Screen Mirroring
Samsung KNOX (B2B only)
Google Mobile Services
Google Search, Google Maps, Gmail, Google Local
Google Play, Google+, Google+ Messenger, YouTube, Google Talk,
Google Navigation, , Voice Search
Connectivity
WiFi 802.11 a/b/g/n/ac (HT80)
GPS / GLONASS
NFC, BluetoothTM 4.0 (LE)
IR LED (Remote Control), MHL 2.0
Sensor
Accelerometer, RGB light, Geomagnetic, Proximity, Gyro, Barometer
Temperature & Humidity, Gesture
Memory
16GB User memory + microSD slot (up to 64GB)
2GB RAM
Dimension
136.6 x 69.8 x 7.9 mm, 130g
Battery
2,600 mAh
* Samsung GALAXY S4 With LTE uses Corning's new Gorilla® Glass 3 with Native Damage Resistance™. This cover glass, Corning's newest formulation, enables improved damage and scratch resistance and reduced scratch visibility.
* Blurb, the global creative publishing platform, partners with Samsung to power worldwide book and magazine print production and fulfillment within the GALAXY S4 With LTE's new Story Album application. Users of Story Album will now be able to automatically create professional quality print photo books and magazines quickly and seamlessly from their camera phone images.
HomeSync Specifications
Component
Description
CPU
1.7GHz Dual Core
Memory
2GB DDR3 + 8GB eMMC + 1TB HDD
Connectivity
LAN
Gigabit Ethernet
WiFi
802.11 b/g/n 2.4GHz & 5GHz HT40 2×2 MIMO Channel Bonding
Bluetooth
V4.0
Interface
USB 3.0
External USB I/F Connection (x2)
Micro USB
PC Connection 11pin mUSB (x1)
HDMI out
Support (HDMI1.4)
Optical Audio
Audio Amp. Connection
Codec
Video
AVI, WMV/ASF, FLV, MKV, MP4/3GP, WEBM
Audio
MP3, AAC, WMA/ASF, FLAC, OGG, AMR, WAV, 3GA/M4A, MID
DRM
HDCP 1.3, Playready, Widevide, Trustzone
Click on thumbnail(s) to enlarge.
* All functionality, features, specifications and other product information provided in this document including, but not limited to, the benefits, design, pricing, components, performance, availability, and capabilities of the product are subject to change without notice or obligation.
*Google Maps, Google Search, Google Local, Gmail, Google Talk, Google+, Google+ Messenger, Google Play, Google Play Music, YouTube and Android are trademarks of Google Inc.
Get a FREE American Tourister Caravan 70cm TSA luggage (worth S$260) (with min spend of S$600 within a month of Card Account Opening Date) and 2-years annual fees waiver when you sign up for a HSBC Revolution credit card at www.hsbc.com.sg.