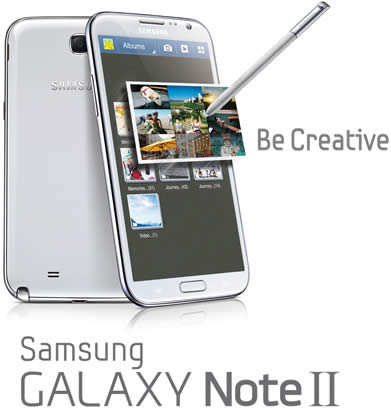 We are now on Telegram
Samsung Singapore has announced the launch of the GALAXY Note II LTE in Singapore. The new Samsung GALAXY Note II LTE represents a whole new level of innovation for the GALAXY Note category, enabling unique experiences in personalised and expressive content creation, making it the ultimate smartphone for on-the-go creativity.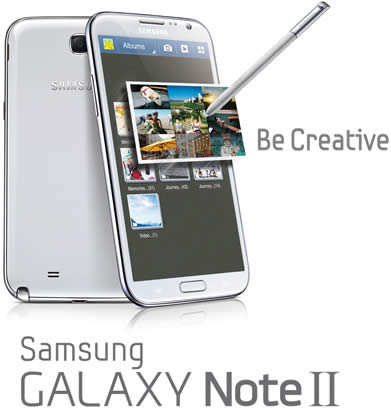 "With a perfect viewing experience and unique and differentiated features, the GALAXY Note II LTE encourages users to 'unleash their inner creativity' by discovering information and capturing ideas faster, express thoughts freely and manage tasks more efficiently. The Samsung GALAXY Note II LTE is the ideal device to empower anyone who wants to be creative, expressive and unique," said Irene Ng, Vice President, Marketing, Samsung Asia Pte Ltd.
Since the first introduction of the GALAXY Note category, Samsung has continued to enhance and expand the GALAXY Note product experience. In May 2012, Samsung introduced 'Premium Suite,' a software upgrade which provided enhanced user experiences. With the Ice Cream Sandwich OS upgrade, Samsung offered innovative new features such as Shape Match and Formula Match, providing a new way for organizing and expressing ideas in their personal and professional life.
Also in August, Samsung expanded the category further with the GALAXY Note 10.1, which has a 10.1-inch large screen, a 'Multi Screen' feature for the ultimate multi-tasking and enhanced features for users' productivity, creativity and learning abilities. With further enhancements, Samsung GALAXY Note II LTE will help users unleash their inner creativity by letting them discover information faster, capture ideas, and express them in a more organized and efficient manner.
Perfect viewing experience
Slimmer than its predecessor, the GALAXY Note II LTE features a 5.5″ (140.9mm) HD SUPER AMOLED screen, providing breathtaking visuals and crystal clear detail. Its 16:9 screen ratio ensures an immersive and enriched cinema-like video viewing experience, perfect for watching HD videos on-the-go. Its larger screen allows users to see content clearly and vividly, with enhanced readability.
Easy multi-tasking
Multi-tasking on the GALAXY Note II LTE is made easier with Air View which lets users hover the S Pen over an email, S Planner, image gallery or video to preview the content without having to open it. The enhanced search and information preview capability allows users to quickly search content without having to go through various screen transitions.
With Pop Up Note, an extension of the Pop Up Play concept where users can open an S Note instantly as a pop-up window anywhere on the large screen, users are now able to take notes with the S Pen during a phone call.
In addition, the device's new gesture pad feature, called Quick Command, lets users quickly activate frequently used apps with the S Pen. The command pad appears when a user just swipes upward on the screen with the S Pen button pressed. Users can quickly send an email, make a call, or search a location as they draw pre-registered marks on the command pad or register a unique mark to allow for quick and easy access.
Sharing of content on the screen is as easy as taking a screenshot on your computer. With the Screen Recorder function, users are now able to share experiences and content on the screen quickly and easily. It allows users to record a whole sequence of actions taken on their screen, for example, a demonstration of how to use an application and then sharing it with friends.
Amazing expression tools – Advanced S Pen & S Note
The new S Pen is longer, thicker and ergonomically designed for the perfect grip and provides a more precise, comfortable, and natural writing and drawing experience.
The S Pen's advanced features also provide enhanced capabilities to capture ideas and inspirations instantly, and to combine handwriting with any digital content directly on the screen. By simply pressing the dedicated S Pen button, the S Pen instantly recognizes that users want to clip or edit the selected content on the screen.
The Easy Clip function allows users to instantly outline and crop any content on the screen in any shape to save, share or paste. Once done cropping, users can freely edit the cropped content by coloring, shading, or with their own personal handwriting.
The Idea Sketch feature allows users to easily add illustrations by handwriting keywords on the S Note and automatically provides illustration images that match the handwritten keywords. Designed to help users express, organize and visualize ideas in a more innovative and creative way, the feature is also customisable and users can add their own illustrations library.
New exclusive content
The GALAXY Note II LTE will feature new apps developed by the local developer community, for exclusive use with the S Pen, to detect handwritten input and maximise the user experience. These apps include both games and productivity tools.
A new suite of lifestyle apps including Fide Fashion Weeks, The Work Files by CATALOG Magazine and PointPal has also been preloaded onto the GALAXY Note II LTE. In addition, a new m-commerce shopping app, Atelier Pour Homme, will be exclusively available for Samsung users to make online purchases of the brand's associated fashion-forward apparels and accessories, including Diamond Walker bespoke shoes designed by internationally renowned designer, Oh Deock Jin.
Powerful performance
Powered by Android™ 4.1.1 Jelly Bean, a 1.6GHz Quad-Core processor and 4G LTE connectivity, the GALAXY Note II LTE delivers easy multitasking, lightning-fast screen transitions, powerful browser performance, and minimal app load time. The GALAXY Note II LTE also features stunning graphical capabilities and an upgraded Google Now service, including new features such as contextual search.
Available in 16 GB with an expandable micro SD memory slot, the GALAXY Note II LTE comes with an 8 megapixel rear-facing and 1.9 megapixel front-facing camera with HD video recording. The camera also includes features such as Buddy Photo Share, Burst Shot and Best Photo, which were introduced on the GALAXY S III earlier in the year.
In addition to that, the GALAXY Note II LTE features a unique camera function called Best Faces. Best Faces allows users to choose the most preferred face or pose of each person from group portrait photos. Users can also personalize photos by leaving handwritten notes on the back of a photo using the S Pen.
With the GALAXY Note II LTE's 3,100mAh battery, users can enjoy multimedia content, remain productive on the go, and capture ideas whenever, wherever.
Samsung GALAXY Note II comes with NFC (Near Field Communication), the fast-growing short-range communication technology that enables a variety of features and services ranging from contactless payments and data exchange to user-customized "smart tags".
With Samsung's groundbreaking NFC-powered solution called TecTiles™, which consists of a dedicated mobile application and programmable NFC tag, users can activate settings and tasks on their phones with just a single tap. For example, users can use TecTiles™ to change phone settings, launch applications or send social network updates in the car, office or at home.
With Samsung TecTiles™, users can create their own personalized "smart stickers" that make everyday life more productive and exciting. Samsung TecTiles™ mobile application for Samsung NOTE II is now available on the SamsungApps store, and TecTiles™ NFC tags will be sold as an accessory across the Southeast Asia region.
The GALAXY Note II LTE comes in Ceramic White or Titan Gray colour options and will be available at $998 (without contract) from 20th October 2012
Click on thumbnails to enlarge
Specifications
Network
4G LTE: 100Mbps/ 50Mbps
Processor
1.6 GHz quad-core processor
Display
5.5″ HD SUPER AMOLED (1,280 x 720)
OS
Android™ 4.1.1 (Jelly Bean)
Camera
Main(Rear): 8 Megapixel Auto Focus Camera with LED Flash
Sub(Front): 1.9 Megapixel Camera
Best Photo, Best Faces, Low light shot,
Video
Codec: MPEG4, H.263, H.264, DivX, 3GP, WMV, AVI, FLV, MKV
Full HD(1080p) Playback & Recording
Audio
Codec: MP3, OGG, WMA, AAC, ACC+, eAAC+, AMR(NB,WB), MIDI, WAV, AC-3
Music Player with SoundAlive
3.5mm Ear Jack
S Pen Optimized Features
S Pen Experience
– S Note, S Planner, Email with hand-writing integration
– S Pen Keeper
– Quick Command, Easy Clip, Photo Note, Paper Artist
Air View
Pop Up Note, Pop Up Play
Shape Match, Formula Match, Idea Sketch
Sharing Features
Samsung AllShare Play & Control
Samsung AllShare Cast
S Beam
Content Features & Services
Samsung Apps
Samsung Kies /Samsung Kies Air
Samsung TouchWiz / Samsung L!ve Panel
Samsung Hub
– Game Hub
– Learning Hub* / Music Hub*
Samsung ChatON mobile communication service
Samsung S Suggest
Smart Stay, Direct Call, Screen Recorder, Quick Glance
Google Search, Google Maps, Gmail, Google Latitude, Google Play Store, Google+, Google+ Messenger, YouTube, Google Talk, Google Places
Available
Enterprise Solutions
(upon request)
On Device Encryption (H/W)
Microsoft Exchange ActiveSync
VPN(F5, Cisco, Juniper)
MDM(Sybase Afaria, MobileIron, SOTI, Good)
CCX
VMware MVP
GPS
A-GPS
Glonass
Connectivity
Bluetooth® v 4.0 (Apt-X Codec support) LE
USB 2.0 Host
WiFi 802.11 a/b/g/n (2.4 & 5 GHz), Wi-Fi HT40
Wi-Fi Direct
mHL
NFC
Sensor
Accelerometer, RGB Light, Digital Compass, Proximity, Gyro, Barometer
Memory
16/32/64GB User memory + 2GB (RAM)
microSD (up to 64GB)
Dimension
80.5 x 151.1 x 9.4 mm, 180 g
Battery
Standard battery, Li-ion 3,100mAh
All functionality, features, specifications and other product information provided in this document including, but not limited to, the benefits, design, pricing, components, performance, availability, and capabilities of the product are subject to change without notice or obligation.
The availability of each Google service may differ by country
Android, Google, Google Search, Google Maps, Gmail, Google Latitude, Google Play Store, Google+, Google+ Messenger, YouTube, Google Talk, Google Places are trademarks of Google Inc.
List of new exclusive apps that leverage unique functionality of the S Pen
Write Your Own Adventure

Allows children to create an electronic "storybook" by typing or drawing on the screen, taking photographs or attaching them from photo album
Recorded story narration and sound effects are available
Layout the elements of story (text boxes, images and sound clips) freely by dragging them or pinching to resize
Add, reorder, or delete pages from book, decorate with pre-designed book covers

Tracing Paper

Users can trace the objects using the S-Pen as line-art images appear and fade to a lighter shade
Drawings can be saved as individual images where colors can be added

Mouse Trap

Stylus is used to guide the mouse through the maze, where traps are allocated in different paths to increase the difficulty of the maze
The player has to collect all the cheese in the maze and reach the exit before the time runs out
Complexity of the maze increases as the game progress

Word Search

Find the words hidden in the grid of letters and circle the correct words with the stylus
Word searches are organised by categories (eg. countries, colours, animals)

Chinese Character Dash

Race against the clock to write Chinese characters using the S Pen
App remembers which characters users had trouble writing and

prioritises them in the next round

Tap to hear the pronunciation of words
Earn points and unlock short animated clips that describe Chinese idiom stories with morals

Spot the Difference

Test the speed and skills to see how fast one can find difference between two pictures, and circle the differences with S Pen

Pizza Factory

Players may design their own pizzas by using the stylus to draw on

pizza templates or drag and drop "pre-made" toppings

Players may learn fractions by dividing the pizza
Decorated pizzas may be saved as individual images and exported for sharing or printing

Cupcake Converter

Fill in measurement for automatic conversion for liquids, weights, temperature and length, themed for baking (especially cupcakes)