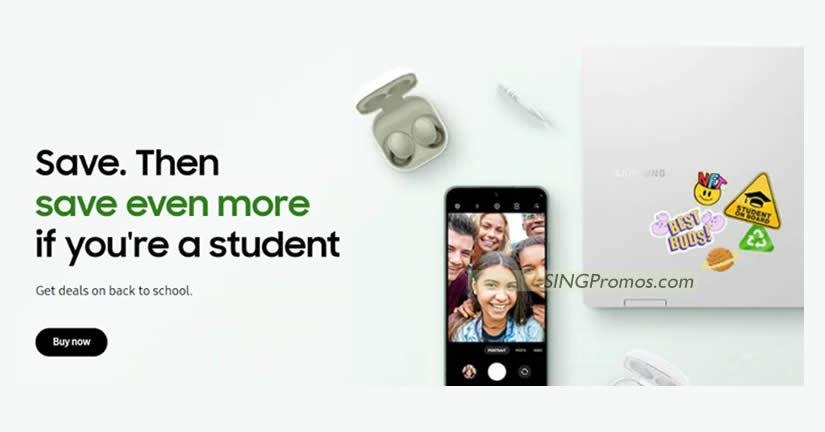 We are now on Telegram
October 2023 offers for Samsung Singapore Education Store for all Students
Enjoy exclusive deals on mobile phones & accessories, home entertainment, home appliances and computing products. Exclusively for students, educators or staff of local educational institutions at www.samsung.com/sg/multistore/samsung_education_sg
Get $20 off your first purchase with a minimum spend of $100.
Check out the offers below
Make learning more fun!
Upgrade your devices with 10% off Galaxy Flip5 | Fold5 series, Galaxy Tab S9, Galaxy Watch6 & 25% off Galaxy S23 series.
Empower you child
Get exclusive student discounts with 25% off Galaxy Tab A series, Galaxy A smartphones, up to 42% off monitors & 45% off memory!
Refresh & Recharge
Take a study break! Get student discounts up to 52% off selected Home Entertainment & Home Appliances.
Limited-time offer for students!
Enjoy 50% off Galaxy Tab S8 series. Get yours now!
Who is eligible to access the Samsung Education Store?
Current or newly-accepted full time or part time students and employees of eligible, accredited educational institutions in Singapore who have a valid email address ending in .edu.sg top-level domain as well as a Samsung Account.
Is there a limit to how many products I can buy?
The Samsung Education Store has been designed to enable eligible students and employees of educational institutions in Singapore to purchase Samsung products for individual use (and not for business or resale purposes). However, there is no limit to how many products you can purchase.
Shop now at www.samsung.com/sg/multistore/samsung_education_sg