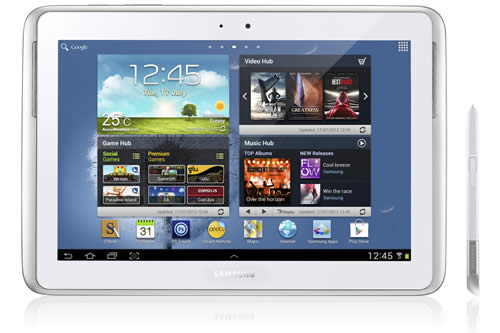 We are now on Telegram
Samsung announced today the launch of the GALAXY Note 10.1 – an extension of the GALAXY Note category – in Singapore. The GALAXY Note 10.1 is outfitted with the functionality and precision of a pen and paper on a 10.1-inch large display, which opens endless possibilities to elevate a user's creativity, productivity, and learning ability.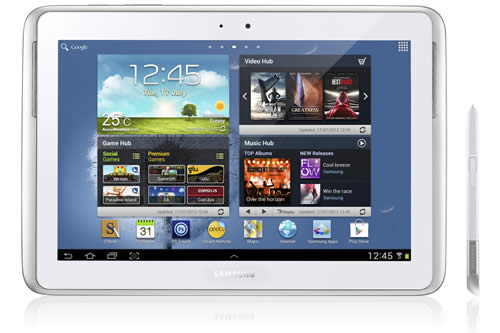 Designed to simplify idea capture, information access, and multi-tasking, the GALAXY Note 10.1 allows users to express their ideas naturally and efficiently.
"GALAXY Note 10.1 expands Samsung's dedication to delivering products to offer a complete mobile experience for creating personalized and expressive content," said Miss Irene Ng, Vice President, Marketing, Samsung Asia Pte Ltd. "History has shown that taking notes, capturing ideas immediately, and sketching to realize them is the most personal and natural method to be productive and creative in their tasks. The advanced technology and features included in GALAXY Note 10.1 give users the power to produce, create and customize communications."
The GALAXY Note 10.1 incorporates key intuitive features and capabilities such as side-by-side multitasking with the 'Multi Screen' on a 10.1-inch large screen; Samsung's unique S Pen experiences, with a variety of S Note templates and productive tools (Shape Match and Formula Match); Learning Hub for accessing educational curricula and Adobe's premium creative application Photoshop® Touch for easy photo editing on-the-go.
With a 1.4GHz quad-core processor and 2 GB RAM, the Galaxy Note 10.1 can handle all the above without missing a beat.
True Multi-Tasking with Multi Screen feature
With its Multi Screen feature, users can effortlessly utilize two different applications side-by-side simultaneously for true and easy multitasking. Users can view Web pages, videos, or launch other applications while writing or sketching ideas with the S Pen on the other half of the screen.
Furthermore, users can freely capture and crop images, and paste them onto the other screen to make personal notes and enhance their creativity, productivity and learning abilities. The Multi Screen feature increases productivity and efficiency while users are enjoying multimedia content. The GALAXY Note 10.1 brings a new culture of creation through the user's own notes, and creates an entirely new experience to improve productivity and enjoyment.
The GALAXY Note 10.1 also offers the Pop Up Play feature first introduced on the GALAXY S III Smartphone. With it, users can play back videos in a floating window that can be overlaid anywhere on the screen, providing a "picture in picture" experience. New for the GALAXY Note 10.1 is the ability to adjust the size of the video window.
In addition, GALAXY Note 10.1 offers a mini-apps tray that can launch a selection of mini-app on top of others apps and freely moved around the screen. These include Alarm, S Note, Music Player, Email, Calculator, World Clock.
S Pen & S Note for Personalized and Organized Note-taking
The GALAXY Note 10.1 redefines productivity with the advanced 6.5 mm S Pen input on a 10.1-inch display.
Featuring the advanced S Pen, GALAXY Note 10.1 is optimized for the creation of personalized and expressive content in the most natural and intuitive way.
The S Pen's feel and functionality are specifically designed for an optimal experience on the 10.1-inch screen. The S Pen is embedded directly in the device and, when removed, automatically launches specially optimized applications, including the preloaded Adobe® Photoshop® Touch, S Note, S Planner, Crayon physics and Polaris™ Office.
In addition, users can easily set their preferred application to be launched instantly. For example, S Note is activated instantly when a user takes the S Pen out from the device. Users can tap the screen twice, while pressing the S Pen button for quick S Note access via the S Note dedicated widget, which can be easily moved anywhere on the display, never hindering or obstructing users' creativity or productivity.
The S Note is a unique tool that gives users the ability to combine notes and sketches with other digital content in ready-to-use templates. Shape Match and Formula Match features help correct and digitize geometric shapes and solve numeric formulas hand-written with the S Pen. S Note is also integrated with knowledge search engines so that users can search, obtain information, and easily drag and drop content onto S Notes without having to switch between screens.
Adobe Photoshop Touch – Edit Photos Like Never Before
Adobe® Photoshop® Touch, normally a SGD 13.49 purchase, is preloaded on the GALAXY Note 10.1. Further, since it is optimized for S Pen, users are able to control brush size and opacity by just adjusting the pressure of the pen on the screen.
"Samsung's GALAXY Note 10.1, with its pressure-sensitive S Pen, truly unleashes the power of Adobe Photoshop Touch and provides a great tool for creative expression," said Vicky Skipp, Managing Director, Adobe Southeast Asia. "More than ever, people in Singapore and around the world want to create, wherever and whenever inspiration strikes. We look forward to seeing what they imagine with the S Pen and Photoshop Touch."
Users can also use popular Photoshop features such as layers, selection tools, adjustments, and filters to create mind-blowing images, or use the high quality GALAXY Note 10.1 camera to fill an area on a layer with the unique camera fill feature. With Photoshop Touch, it is also a snap to add or remove people or objects from a photo, or blend two photos together.
To get users started quickly, in-depth step-by-step tutorials are provided to help users learn techniques the pros use for great-looking results.
Active Learning Experience
The GALAXY Note 10.1 is an ideal learning tool that allows users to take notes directly on an eTextbook while watching lectures, or research the Web while writing an essay at the same time. Samsung Learning Hub service is optimized for GALAXY Note 10.1, allowing users to access extensive multimedia educational content for all ages, accessible up to six devices per user.
The content includes eTextbooks, video lectures, interactive coaching and much more, shareable with multiple Samsung devices. Furthermore, Learning Hub comes with a learning management system providing schedule management and performance & achievement management tool so users of all-age groups can enjoy self-paced learning with their own devices.
In Singapore, Learning Hub will also feature upcoming interesting educational content from local developers – B-Secure Technologies, iQ-Hub, Prep Zone, and Skoolbo– including:
PREPTEST Series: standardized self-assessment modules and admission guidelines for GMAT (Graduate Management Admission Test), SAT (Scholastic Aptitude Test) and more
Mandarin Speaking Skills for Kids: comprises speech interactive exercises to build Mandarin speaking skills for kids from Primary 1 to 6 tailored to the Singapore MOE Curriculum
Learning Hub service will be available in Singapore at the launch of GALAXY Note 10.1 and will be downloadable via Samsung Apps in more than 20 countries by end of 2012. Learning Hub service will be accessible to the user to up to six devices; it is currently available on GALAXY Note, GALAXY S III and of course, GALAXY Note 10.1.
The latest suite of edutainment applications, developed by local app developers, will also be available on the GALAXY Note 10.1 to increase consumer choices in self-learning experiences, whether at home or on-the-go. This includes edutainment e-assessment apps for mathematics and language skills and e-books to improve vocabulary, reading and comprehension skills. Chinese Ink teaches users how to write Chinese characters – a task made easier by the unique S Pen functionality. There is also Skoolbo Core Skills, comprising more than 50,000 questions designed for kids aged between 4-10 years old to improve mathematics and language skills.
Superior Hardware Performance
GALAXY Note 10.1 is designed with advanced hardware technology, including a 1.4GHz quad-core processor and 2GB of internal RAM. Seamless multi-tasking, high-standard graphics, and blazing-fast performance without any lag are essential features of GALAXY Note 10.1. The GALAXY Note 10.1 also includes a 5- megapixel main camera and a 1.9 megapixel front-facing camera.
Several other features have been added to the GALAXY Note 10.1, including Smart Stay, which tracks the user's eye to ensure that the screen is always on while being looked at; and Pop Up Play, which allows users to watch a video anywhere on their screen while simultaneously running other tasks. With AllShareTM Play, users can share content with a large group in real-time by connecting the GALAXY Note 10.1 to Samsung HD TVs, mobile tablets, laptops, and other consumer electronic devices on the same network. With AllShareTM Cast, users can also share and collaborate on documents, presentations, or images without loading the files separately.
The GALAXY Note 10.1 comes in three connectivity options: the WiFi-only version, the WiFi-and-3G HSPA-Plus connectivity version at launch, and WiFi-and-LTE version later this year.
The GALAXY Note 10.1 will be available this Saturday, 25th August. The RRP for the GALAXY Note 10.1 (3G+WiFi/16GB version) is SGD998, while the GALAXY Note 10.1 (WiFi/16GB version) will be SGD798.
Samsung GALAXY Note 10.1 Product Specifications
Network
HSPA 21 Mbps / HSUPA 5.76Mbps
3G Band 850/900/1900/2100 MHz
Quad Band 850/900/1800/1900 MHz
Processor
1.4 GHz quad-core processor
Display
255.8mm (10.1″) WXGA(1280×800) LCD + Digitizer
OS
Android 4.0.4 (Ice Cream Sandwich)
Camera
Main(Rear): 5 Megapixel Auto Focus Camera with LED Flash
Sub(Front): 1.9 Megapixel VT Camera
Video
Codec: MPEG4, H.263, H.264, DivX,
Format: 3GP(MP4), WMV(ASF), AVI
Full HD(1080p) Playback & HD Recording
Audio
Codec: MP3, OGG, WMA, AAC, ACC+, eAAC+, AMR(NB,WB), MIDI, WAV,
AC-3, Flac
Music Player with SoundAlive
3.5mm Ear Jack
S Pen Optimized Features
S Pen Experience (S Note, S Planner, My Story)
(*more S Pen optimized apps are available via Samsung Apps)
Multi Screen
****Adobe® Photoshop® Touch
Shape Match, Formula Match
Polaris™ Office
Sharing Features
Samsung AllShare™ Play / Samsung AllShare™ Cast
Samsung Kies 2.0 /Samsung Kies via Wi-Fi
Content Features & Services
Samsung TouchWiz / Samsung Live Panel
Samsung Apps
Samsung Hub

Music Hub / Game Hub
Learning Hub / Readers Hub

Samsung S Suggest
Samsung ChatON***cross platform messaging service (Android™, web, iOS® software, BlackBerry® software)**
**Google Search, Google Maps, Gmail, Google Latitude
Google Play, Google+, Google+ Messenger
Enterprise Solutions
*****Microsoft® Exchange ActiveSync®
On-Device Encryption
Cisco VPN (Virtual Private Network)
Juniper Junos Pulse VPN
GPS
A-GPS(3G version)
S-GPS(WiFi version)
Glonass
Connectivity
******BluetoothTM v4.0 (Apt-X Codec support)
USB 2.0 Host
Wi-Fi 802.11 a/b/g/n (2.4 & 5 GHz), Wi-Fi Direct, Wi-Fi Channel Bonding
mHL, 3.5mm, IR LED(Smart Remote: Universal Remote Control)
Sensor
Accelerometer, Digital compass, Light, Gyroscope
Memory
16GB User memory + 2GB (RAM)
microSD (up to 32GB)
Dimension
262 x 180 x 8.9 mm, 600g (3G), 597g (WiFi)
Battery
Standard battery, Li-ion 7,000mAh
* All functionality, features, specifications and other product information provided in this document including, but not limited to, the benefits, design, pricing, components, performance, availability, and capabilities of the product are subject to change without notice or obligation.
** Android, Google, Android Beam, Google Search, Google Maps, Gmail, Google Latitude, Google Play Store, Google Play Books, Google Play Movies, Google+ and Google+ are trademarks of Google Inc.
** BlackBerry is a registered trademark of Research In Motion Limited. IOS is a registered trademark of Cisco in the U.S. and other countries and is used under license.
**** Adobe, the Flash logo, Flash and Photoshop are either registered trademarks or trademarks of Adobe Systems Incorporated in the United States and/or other countries.
***** Microsoft and ActiveSync are trademarks of the Microsoft group of companies
****** BluetoothTM is a registered trademark of BluetoothTM SIG, Inc.
Click on thumbnail[s] to enlarge.
(Updated 24 Aug with "24 Aug Samsung GALAXY Note 10.1" image)
(Updated 25 Aug with "25 Aug Best Denki Samsung Galaxy Note 10.1 Offer With Free Gifts" and "25 Aug Samsung Galaxy Note 10.1 Availability Outlets" images)