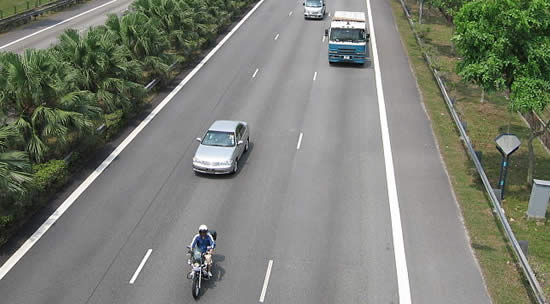 We are now on Telegram
With the upcoming National Day holiday on 9 August 2023 (Wednesday) followed by a school holiday on 10 August 2023 (Thursday), heavy traffic is expected at both Woodlands and Tuas checkpoints during this period.
From 28 June to 3 July, more than 2.2 million travellers, averaging about 367,900 crossings per day, used the land checkpoints. During the recent Hari Raya Haji holiday on 29 June, ICA noted that there were long queues of cars waiting to clear departure coupled with continuous tailbacks from Malaysia. Traveller volume had peaked on 3 July at 408,000 crossings, which exceeded pre-COVID-19 levels.
Travellers departing via the land checkpoints by car are advised to factor in additional waiting time for immigration clearance and to expect waiting times of close to three hours for peak periods over long weekends, similar to pre-COVID-19 days.
Enhancing immigration clearance for those travelling via bus and train
ICA has introduced several initiatives to improve travellers' experience for those travelling via bus at Singapore's land checkpoints. Some of these initiatives include:
Implemented the Automated Clearance Initiative (ACI)[1] at the passenger halls. This has allowed Singapore residents and eligible first-time foreign visitors, including Malaysians, to clear immigration via the automated lanes without the need for prior enrolment.
Installed more automated lanes at the passenger halls. Together with the ACI, this has allowed ICA to make automated clearance the default mode at the passenger halls and increased, clearance throughput for bus passengers.
Worked with partners to increase the frequency of bus services, especially during the peak periods, so as to ensure the safety of travellers and minimise waiting time at the bus boarding bay of Woodlands Checkpoint. This includes implementing a loop system for Causeway Link buses, providing dedicated immigration clearance lane for departing public buses, as well as increasing the frequency of public buses during peak periods.
Additionally, Woodlands Train Checkpoint's immigration clearance process was also enhanced by the newly installed bi-directional self-clearance immigration kiosks, where travellers can enjoy faster and more seamless immigration clearance. These kiosks are currently available for Singapore residents, long-term pass holders, and short-term visitors who had previously enrolled under the ACI.
Things to note for a smoother journey
Before embarking on their journey, motorists are advised to check the traffic situation at the land checkpoints through the Land Transport Authority (LTA)'s One Motoring website or via the Expressway Monitoring & Advisory System installed along the BKE and AYE. Motorists can also get updates through ICA's Facebook and Twitter accounts, as well as local radio broadcasts on Money 89.3, One 91.3, Kiss92, Hao 96.3, UFM 100.3.
ICA works closely with Traffic Police to ensure road discipline at the critical junctions and roads leading to the land checkpoints. Motorists should refrain from queue cutting as it can cause severe congestion and compromise the safety of other motorists. They are advised to observe traffic rules, maintain lane discipline, and cooperate with officers on-site. Errant motorists caught queue cutting will be turned back into Singapore.
ICA seeks travellers' understanding and cooperation to be patient, observe traffic rules, maintain lane discipline, and cooperate with officers on-site when using the land checkpoints.
[1] All short-term visitors, including holders of in-principle approval for long-term pass, are required to submit their Singapore Arrival Card (SGAC) with health declaration within three days prior to their arrival in Singapore. Due to the high volume of traffic and daily commuting for employment and studies, Singapore residents (Singapore citizens, permanent residents and long-term pass holders) are exempted from submitting a health declaration if they are returning to Singapore via the land checkpoints. They will have to do so if they enter Singapore via the sea and air checkpoints. Travellers are encouraged to use the MyICA Mobile app to submit their SGAC to avoid being misled by commercial entities and websites providing such services for a fee. MyICA Mobile app can be downloaded for free from either the App Store (iOS) or Google Play (Android). The eligibility criteria for foreign visitors under ACI can be found on (https://www.ica.gov.sg/enter-depart/for-visitors/ACI).