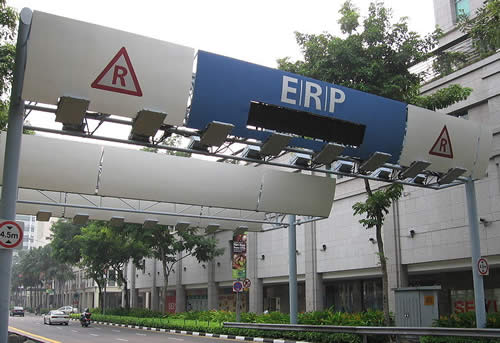 The Land Transport Authority (LTA) has completed its quarterly review of traffic conditions on Electronic Road Pricing (ERP)-priced roads and expressways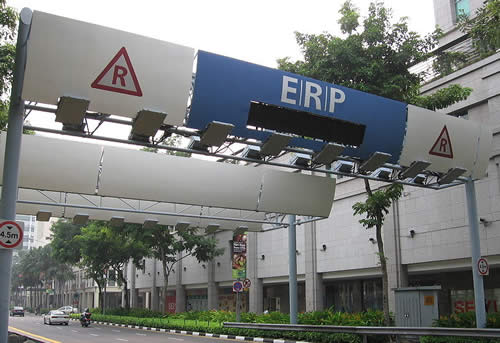 It will be revising the ERP rates at the following locations.
Time period
Current ERP Rates*
Change in Rates*
ERP Rates* w.e.f. 5 May 2014
Bukit Timah Expressway (BKE)
8:30 – 9:00
$2.00
Decrease by $1.00
$1.00
9:00 – 9:30
$1.00
Decrease by $1.00
$0.00
Southbound CTE after Braddell Road & PIE Slip Road into Southbound CTE – Set of 4 gantries
7:30 – 8:00
$5.00
Decrease by $1.00
$4.00
Southbound CTE Slip Road to PIE (Changi)/ Serangoon Road
9:00 – 9:30
$1.00
Increase by $1.00
$2.00
Northbound CTE before PIE
17:30-18:00
$1.00
Increase by $1.00
$2.00
ECP (City) & KPE Slip Rd onto ECP – Set of 2 gantries
7:30 – 8:00
$2.00
Decrease by $1.00
$1.00
8:00 – 8:30
$2.00
Decrease by $1.00
$1.00
8:30 – 9:00
$4.00
Decrease by $1.00
$3.00
ECP Eastbound (before KPE)
19:30 – 20:00
$0.50
Decrease by $0.50
$0.00
MCE westbound before exit to Maxwell Road and on slip road to Marina Coastal Drive – Set of 2 gantries
8:30 – 9:00
$4.00
Decrease by $1.00
$3.00
* ERP rate per Passenger Car Unit (PCU)
The revised rates will apply from Monday, 5 May 2014.
The rates for the other gantries will remain unchanged
Traffic Conditions on AYE
As announced in May 2013, LTA will implement ERP to manage traffic congestion at two stretches of the Ayer Rajah Expressway (AYE) between Jurong Town Hall Road and North Buona Vista Road during the morning and evening peak hours on weekdays.
Please refer to the image below for the locations of the new ERP gantries.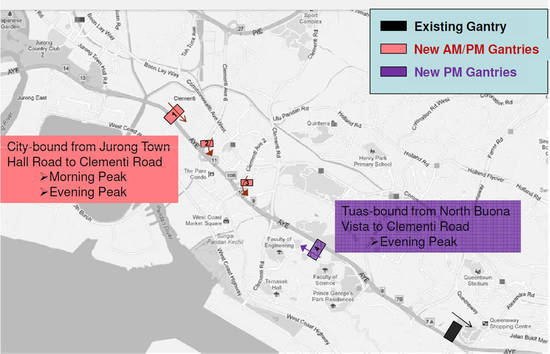 Based on the review of traffic conditions this quarter, the traffic speeds at these two locations have continued to be below the optimal speed range of 45km/h to 65km/h for expressways, during the time periods of 7:30am-9:30am in the morning and 5:30pm-7.30pm in the evening for AYE eastbound towards the city, and during the evening peak period for AYE westbound towards Tuas. During certain periods, speeds have dipped to as low as 32km/h.
Works to construct the ERP gantries are currently ongoing, and gantries will be ready around the middle of 2014. LTA will continue to monitor the traffic conditions and will finalise the operating hours, as well as the ERP rates, for the new gantries after taking into account the latest traffic speeds prior to implementation.
Next ERP Rate Review
The next ERP review will take place in August 2014 for the third quarterly rate review of 2014.
Get $120 cashback when you apply for a Citibank card at www.citibank.com.sg!