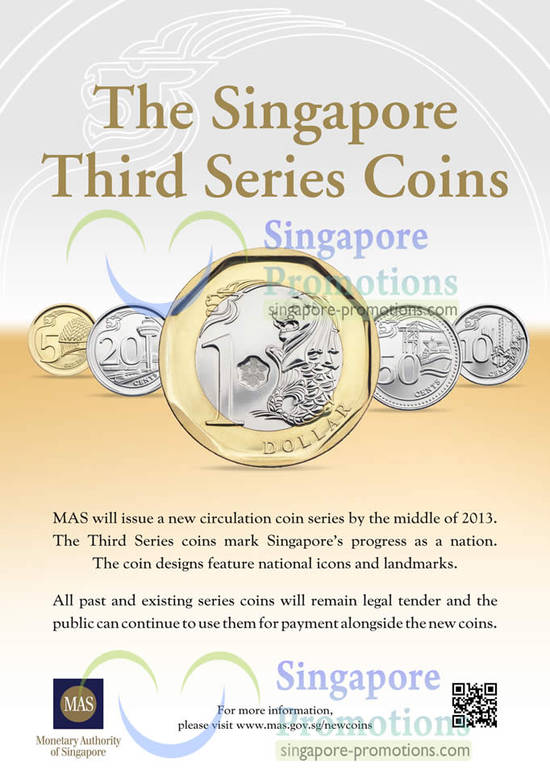 The Monetary Authority of Singapore (MAS) has announced on 21 February 2013 that a new coin series will be issued for circulation by the middle of 2013.
The new Singapore Third Series coins will feature five of Singapore's national icons and landmarks
Merlion, a traditional symbol of Singapore;
Port of Singapore, one of the busiest in the world;
Changi Airport, one of the best airports in the world;
Public Housing, home to more than 80 percent of Singaporeans; and
Esplanade, iconic centre for performing arts in Singapore.
The current Second Series coins were first introduced in 1985 and featured local plants and flowers, depicting Singapore as a garden city.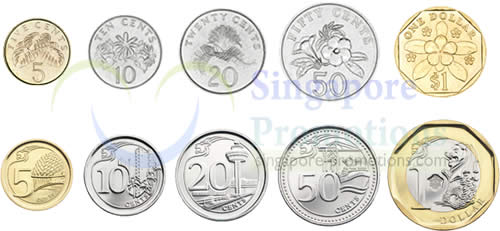 The new coins are made of multi-ply plated steel and are less costly to produce. Each coin denomination has an electro-magnetic signature, which allows vending machines to detect counterfeit and foreign coins. The 1-dollar coin contains additional security features such as its bi-metallic composition and laser mark micro-engraving in the shape of Singapore's national flower, the Vanda Miss Joaquim.
The new coins feature larger denomination numerals for easy identification and features to facilitate identification by the visually-impaired. The coins are progressively sized by denomination, with the 5-cent coin being the smallest and 1-dollar coin being the largest. All past and current series coins will not be demonetised and the public can continue to use them for payment alongside the new coins.
MAS has been working with public transport operators to ensure that coin-operated machines at MRT/LRT stations are calibrated to accept both the current and new series coins before the launch. MAS has also been working with businesses with coin-operated facilities such as vending machine operators and supermarkets to prepare them for the launch.
Click on thumbnails to enlarge
Get $120 cashback when you apply for a Citibank card at www.citibank.com.sg!