With effect from 1 October 2014, local postage rates for letters weighing 20g or less will be adjusted by 4 cents.
The last time postage rates were adjusted was 8 years ago in 2006. Since then, costs have gone up nearly 50% – labour costs have risen about 31%, fuel about 32% and inflation has gone up 26% – yet SingPost has been investing in service to serve Singaporeans better.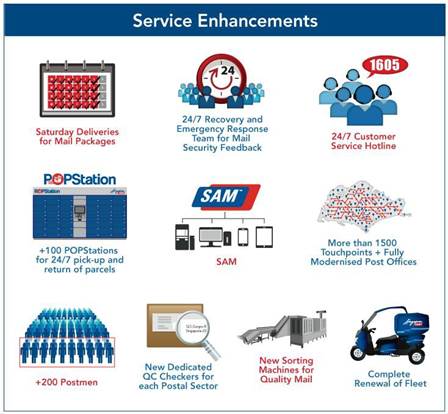 SingPost will also revise its international postage rates to partially offset the increase in postage for outbound mail as a result of Singapore being re-classified twice by international body Universal Postal Union.
These have resulted in SingPost being charged more by other countries for delivering the mail that Singapore customers send to recipients in their countries. Terminal dues for international mail have risen by up to 42.6% and will further increase by an additional 37% by 2017.
New Postage Rates
1) Domestic Postage Rates
Weight Step (up to)
New Postage Rates (existing rates in bracket)
Standard
Non Standard
20g
$0.30 ($0.26)
$0.60 ($0.50) – unchanged for 14 years since 2000
40g
$0.37 ($0.32)
100g
$0.60 ($0.50) – unchanged for 14 years since 2000
$0.90 ($0.80) – unchanged for 14 years since 2000
250g
$0.90 ($0.80) – unchanged for 42 years since 1972
$1.15 ($1.00) – unchanged for 42 years since 1972
500g
$1.15 ($1.00) – unchanged for 42 years since 1972
$1.70 ($1.50) – unchanged for 42 years since 1972
1kg
$2.55 (No change)
$2.55 (No change)
2kg
$3.35 (No change)
$3.35 (No change)
Notes:
Rates inclusive of prevailing GST
Non Standard Mail includes mail containing items, mail in plastic or coloured envelopes, odd shaped mail e.g. round, triangle, multi-sided, etc.
2) International Airmail Postage Rates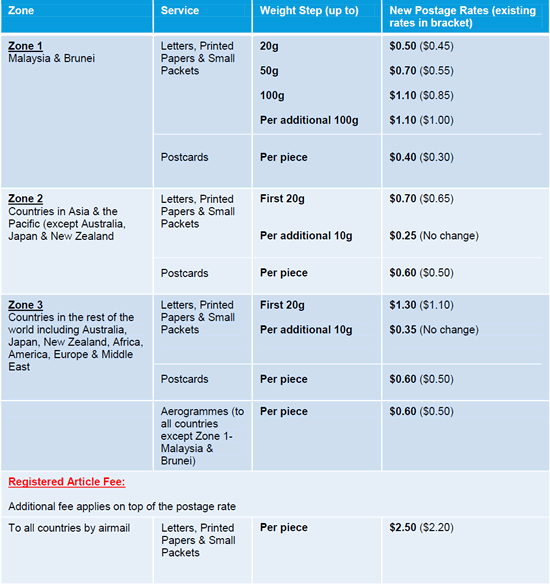 SingPost to adjust rates and to continue to roll out service enhancements, amid challenging postal business environment
SingPost grapples with second year of decline in domestic mail volume and continued rise in operating costs
While global industry players scale back on service in response to declining mail volumes, SingPost is making significant investments in service enhancements including upgrading of postal infrastructure, additional delivery days and modernising of post offices
Dr Wolfgang Baier, Group CEO of SingPost said: "Around the world, postal peers have been hit by the onslaught of the digital era. Here in Singapore, we are seeing domestic mail volumes decline for the second consecutive year. This is further compounded by escalating operating costs, largely driven by manpower costs."
Unlike global trends to reduce mail service spend, SingPost has chosen to invest in its domestic letter mail service despite the volume decline and increasing operating costs.
Added Dr Baier: "We are committed to deliver the best possible service and are investing $100 million into postal and delivery infrastructure, extended operations and people. For instance, the new integrated sorting machines which cost $45 million, will help ensure that Singapore continues to enjoy one of the world's highest mail delivery standards ie 100% delivery by the second business day. As part of our service enhancements, we have extended our operations to 6 delivery days, with Saturdays dedicated to delivering mail packages."
He said: "We want to go beyond providing quality service and also be here for the changing needs of every Singaporean, for instance, by providing 24/7 services and mobile and digital solutions to complement existing solutions."
SingPost's $100 million service improvement plan includes:
Upgraded postal infrastructure for better service
Revamped sorting infrastructure for higher accuracy in mail service
SingPost is in the final stages of the installation of new integrated sorting machines which will increase the automation process, sorting capacity and speed of sorting.
To be fully operational by the end of 2014, the $45 million machines will increase letter sorting capacity by 17% and mechanisation rate to 95%, improving efficiency and accuracy at the same time.
New fleet of three wheelers with bigger carrying capacity
In tandem, SingPost is upgrading postal equipment and tools to facilitate delivery and service to customers including the use of three wheelers with bigger carrying capacity for packages.
The new fleet of three wheelers has a bigger carrying capacity which translates into higher productivity and better service for our staff and customers respectively. SingPost will completely renew its fleet to cater to the demand. These three wheelers which are more stable are also safer for the postmen.
Strengthened postal workforce to improve mail service delivery
More delivery staff – SingPost will hire up to 200 more delivery staff to boost current strength and cater to new housing estates.
Dedicated Quality Control (QC) checkers – SingPost will also recruit dedicated QC checkers for every postal sector to focus on the accuracy of mail delivery by minimising human errors.
Measures to enhance customer satisfaction
Saturday deliveries for mail packages to cater to lifestyle changes – To cater to the new customer demographic of online shoppers, SingPost has put in additional resources and extended its delivery day to Saturday, from 12 July 2014.
24/7 Customer Service hotline
SingPost has also extended its Call Centre service to cater to the lifestyle change, offering customers round-the-clock access.
24/7 Recovery & Emergency Response team to address feedback on mail security
Mail security is of paramount importance to SingPost. It is putting in place a 24/7 Recovery & Emergency Response team on the ground to immediately address feedback on matters related to mail security eg damaged masterdoor.
Modern, efficient post offices with integrated services
The public has access to more than 1,500 touch-points for SingPost's services. To provide an even better customer experience, SingPost is revamping its touch-points including modernising its post offices and other physical touch-points.
Among the improvements for post offices are auto-lobbies in selected post offices allowing 24/7 access to key services, integrating services such as POPStations, ezy2ship which is an online shipping service and SAM for fast purchase of stamps and payments. SingPost already has 5 new concept post offices and will roll out more of such post offices.
Bigger network of POPStations, with new innovations and customer-friendly features
A year ago, SingPost had started rolling out 24/7 POPStations to enable customers to pick up or return parcels through its automated smart parcel locker stations conveniently located around the island. Currently there are 50 such POPStations, which will grow to 100 by the end of the year, giving customers the flexibility, convenience and ease-of-use when receiving and returning parcels.
SingPost will over the next 2 months, roll out new features for POPStations which will further enhance the convenience for customers who shop online or those who are simply receiving or sending parcels.
They will soon be able to post their parcels, return parcels or pay for online purchases via POPStations. A mobile app will be launched too that will enable customers to track the parcels as well as unlock their locker via Bluetooth technology.
Postage rate adjustment after 8 years enables SingPost to invest in postal service and its people
Revenue from postage increase helps fund $100 million investment to provide best possible postal service
Last postage increase was 8 years ago in 2006, with some weight steps unchanged since 1972

Local postage for 1st weight tier (20g) to increase by 4 cents to 30 cents
International postage increase ranges from 5 cents to 25 cents, depending on the zones
International registered mail fee increases from $2.20 to $2.50
For domestic mail, postage for the 1st weight tier of 20g will increase by 4 cents to 30 cents. The current 26 cents has remained unchanged since 2006. The remaining weight tiers including the
250g and 500g weight tiers which have remained unchanged since 1972, will also be adjusted. See Annex for details of new domestic postage rates. For international mail postage, the adjustments will range from 5 cents to 25 cents, depending on the zones. International registered mail fee will increase from $2.20 to $2.50 to partially recover the cost increase in terminal due payments for registered mail. See Annex for details of new international postage rates.
The last time postage rates were increased was in 2006. Since then, fuel prices have gone up 32% and national wages have increased by more than 25%. At the same time, domestic mail volumes have been declining, resulting in loss in economies of scale and reduced labour productivity.
Since 2006, postal peers globally have increased their rates to mitigate their rising operating costs. Some postal organisations have increased their postage rates at least 3 times during this period, with one increasing its postage 9 times or by 70% since 2006. By contrast, Singapore's postage rate for standard letters has remained unchanged for 8 years, with some weight steps remaining unchanged for 42 years.
Said Mr Woo Keng Leong, SingPost's Senior EVP/Head of Postal Services: "SingPost has been absorbing these higher operating costs and inflation for the past 8 years while maintaining its local postage rate. This was possible because of productivity improvements, resource and operations optimisation and maintaining strict discipline in cost management. The rate revision will allow us to catch up with rising operating costs and inflation and ensure a sustainable service as we invest into the future."
For international mail services, the postage adjustment is to partially offset the higher international settlement rates applicable to SingPost since 1 January 2010 due to the change in the terminal dues system which saw Singapore re-classified as "New Target Country" by the Universal Postal Union (UPU). Under the new terminal dues system, SingPost's settlement rates for outbound mail have increased by more than 42% and this is expected to increase year-on-year.
To mitigate impact of new postage rates, SingPost will give out about 10 million stamps to households and rebates to SME franked mail customers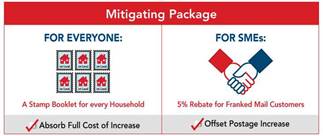 Every household to receive stamp booklet comprising six 1st local stamps, free postage for charity organisations
SME franked mail customers to get 5% rebate
To mitigate the impact of the postage increase, SingPost has put together a package that comprises nearly 10 million free stamps for households and charitable organisations and 5% rebate for franked mail customers.
Absorbing full cost of increase for individuals through free stamp booklets to 1.4 million residential households
Said Mr Woo Keng Leong: "For the average Singaporean who posts about 6 letters per year, the domestic postage rate revision translates into 24 cents more per year or an increase of 2 cents a month. Even so, we will fully absorb the increase for the first year by giving every household a free stamp booklet. In total, we expect to give out about 10 million stamps including to charitable organisations."
Senders using their existing stock of First Local or Second Local stamps for mail in the 20g and 40g weight steps respectively will not be impacted by the increase. Customers who send packages above 500g as well as Smartpac users are also not affected by this postage revision.
Mitigating increase for businesses with 5% rebate
To mitigate the increase for businesses, SingPost will also give a 5% rebate on franked mail for a year from 1 October 2014.
60% of SMEs spend less than $2,000 on postage for domestic mail per year. As an illustration: Company A (an SME that has low postings) that spends about $130 on domestic postage per year will pay about $1 more per month, with the 5% rebate.
Company B (median) that spends an average of $1,200 on domestic postings per year will pay $10 more per month with the 5% rebate.
Committed to accessible and affordable postal services and maintaining high QOS standards
Said Mr Woo: "We are in a people business with the end delivery being heavily dependent on the postmen. To help recruit more postmen and also to retain good postmen, we constantly look for ways to make the job more attractive, for example by increasing salaries and introducing measures such as flexible benefits to enhance job satisfaction."
In 2013, SingPost launched the $10 million SingPost Inclusivity Fund to be disbursed over 5 years, to help its lower income staff and their families cope with the rising cost of living.
Said Mr Thuvinder Singh, General Secretary of the Union of Telecom Employees of Singapore (UTES): "It is commendable that in spite of the declining mail volume, SingPost has gone ahead to launch the SingPost Inclusivity Fund which benefits their low-income staff. As a result, these staff have been given an income increase of 6-7% last year, doubling the usual quantum. We know the struggle of our postal delivery staff and we are mindful that the rate revision will help them the most."
Added Mr Woo: "The revision will enable SingPost to continue to meet stringent, delivery standards and to invest in improving services. Our standards are in fact one of the highest in the world. We will monitor the situation very closely to ensure that postal services remain accessible and affordable to all."
Singapore's postal rates continue to be among the lowest in the world compared to developed countries including *Norway ($2.11 or €1.28), Australia ($0.82 or A$0.70) and Japan ($0.99 or ¥82).
Information and enquiries
For more information and enquiries, the public can refer to the following:
SingPost website, www.singpost.com
SingPost hotline 1605
Rates leaflets and notices at SingPost's post offices
Rates notices on posting boxes islandwide
* Source: Letter prices in Europe, Up-to-date international letter price survey (Mar 2014) shows that Norway's postage is the highest in Europe for standard letters.
Get a FREE American Tourister Caravan 70cm TSA luggage (worth S$260) (with min spend) and 2-years annual fees waiver when you sign up for a HSBC Revolution credit card at www.hsbc.com.sg.