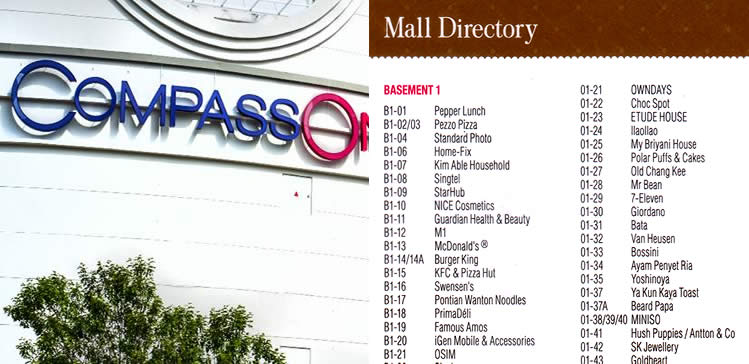 Due to COVID-19, some offers may no longer be valid or temporarily suspended. Please verify the validity (even if it says "ON TODAY" below) before heading down

SINGPromos is now on Telegram. Click here to follow us now
Compass One, the new revamped shopping mall in Sengkang previously known as Compass Point, has announced on their Facebook Page that they will be officially opening from 1 September, 10am
Join them at the concourse area as they open Compass One with Lion Dance performance.
The new-look mall, which will have a larger library on two levels, more educational facilities, larger common areas, improved amenities including a children's wet and dry playground and exciting food and beverage options, has attracted strong interest from retailers who have so far committed to lease 95% of the retail space.
An array of promotions, rewards, games booths and in-mall performances will greet shoppers when the doors open again, reconnecting Sengkang residents with their neighbourhood mall, which has a 13-year history of community support.
New tenants include Challenger, The Coffee Bean & Tea Leaf, Owndays, Royal London Duck, Mavis Tutorial centre, Staiford Learning Centre and Paradise Hotpot.
They will be joined by popular long term tenants POSB, Royal Sporting House, Kiddy Palace, Poh Heng, Starbucks, Pizza Hut, and Popular, along with anchor tenants Cold Storage, Sengkang Public Library and Kopitiam.
Check out the tenants list below.
UPDATE 26 Aug: Check out the official Store/Tenant directory here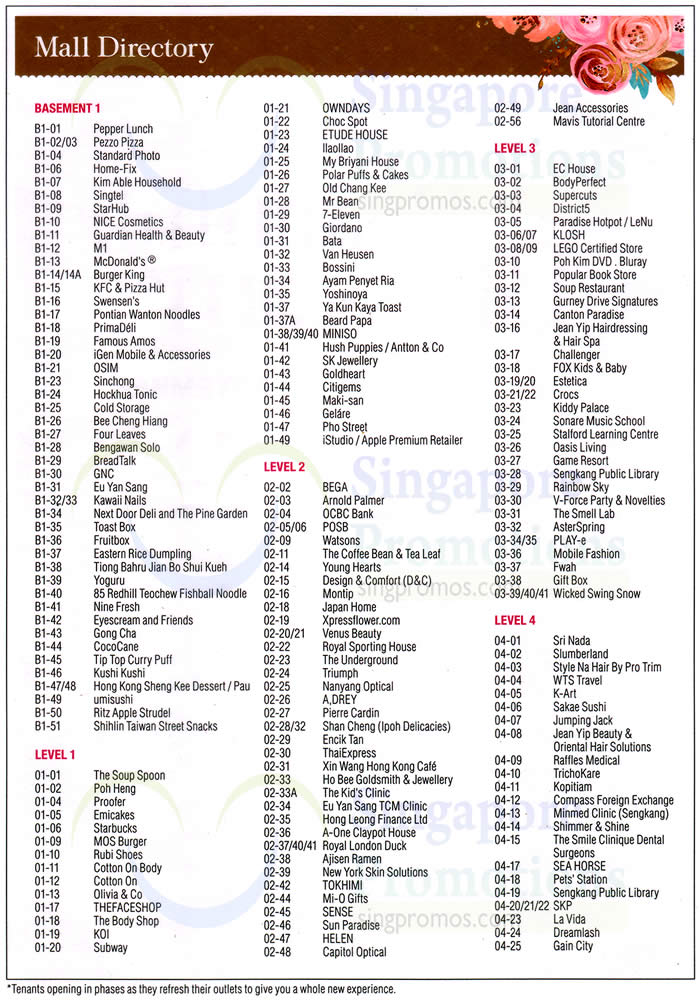 Note: Typographical errors may occur below. Refer to the image above for exact text
BASEMENT 1
B1-01 Pepper Lunch
B1-02/03 Pezzo Pizza
B1-04 Standard Photo
B1-06 Home-Fix
B1-07 Kim Able Household
B1-08 Singtel
B1-09 StarHub
B1-10 NICE Cosmetics
B1 -11 Guardian Health & Beauty
B1-12 M1
B1-13 McDonald's
B1-14/14A Burger King
B1-15 KFC & Pizza Hut
B1-16 Swensen's
B1-17 Pontian Wanton Noodles
B1-18 Prima Deli
B1-19 Famous Amos
B1-20 iGen Mobile & Accessories
B1-21 OSIM
B1-23 Sinchong
B1-24 Hockhua Tonic
B1-25 Cold Storage
B1-26 Bee Cheng Hiang
B1-27 Four Leaves
B1-28 Bengawan Solo
B1-29 BreadTalk
B1-30 GNC
B1-31 Eu Yan Sang
B1-32/33 Kawaii Nails
B1-34 Next Door Deli and The Pine Garden
B1-35 Toast Box
B1-36 Fruitbox
B1-37 Eastern Rice Dumpling
B1-38 Tiong Bahru Jian Bo Shui Kueh
B1-39 Yoguru
B1-40 85 Redhill Teochew Fishball Noodle
B1-41 Nine Fresh
B1 -42 Eyescream and Friends
B1-43 Gong Cha
B1-44 CocoCane
B1-45 Tip Top Curry Puff
B1-46 Kushi Kushi
B1 -47/48 Hong Kong Sheng Kee Dessert / Pau
B1-49 umisushi
B1-50 Ritz Apple Strudel
B1-51 Shihlin Taiwan Street Snacks
LEVEL 1
01-01 The Soup Spoon
01-02 Poh Heng
01-04 Proofer
01-05 Emicakes
01-06 Starbucks
01-09 MOS Burger
01-10 Rubi Shoes
01-11 Cotton On Body
01-12 Cotton On
01-13 Olivia & Co
01-17 THEFACESHOP
01-18 The Body Shop
01-19 KOI
01-20 Subway
01-21 OWNDAYS
01-22 Choc Spot
01-23 ETUDE HOUSE
01-24 llaollao
01-25 My Briyani House
01-26 Polar Puffs & Cakes
01-27 Old Chang Kee
01-28 Mr Bean
01-29 7-Eleven
01-30 Giordano
01-31 Bata
01-32 Van Heusen
01-33 Bossini
01-34 Ayam Penyet Ria
01-35 Yoshinoya
01-37 Ya Kun Kaya Toast
01-37A Beard Papa
01-38/39/40 MINISO
01-41 Hush Puppies/Antton & Co
01-42 SK Jewellery
01-43 Goldheart
01-44 Citigems
01-45 Maki-san
01-46 Gelare
01-47 Pho Street
01-49 iStudio / Apple Premium Retailer
LEVEL 2
02-02 BEGA
02-03 Arnold Palmer
02-04 OCBC Bank
02-05/06 POSB
02-09 Watsons
02-11 The Coffee Bean & Tea Leaf
02-14 Young Hearts
02-15 Design & Comfort (D&C)
02-16 Montip
02-18 Japan Home
02-19 Xpressflower.com
02-20/21 Venus Beauty
02-22 Royal Sporting House
02-23 The Underground
02-24 Triumph
02-25 Nanyang Optical
02-26 A.DREY
02-27 Pierre Cardin
02-28/32 Shan Cheng (Ipoh Delicacies)
02-29 Encik Tan
02-30 ThaiExpress
02-31 Xin Wang Hong Kong Cafe
02-33 Ho Bee Goldsmith & Jewellery
02-33A The Kid's Clinic
02-34 Eu Yan Sang TCM Clinic
02-35 Hong Leong Finance Ltd
02-36 A-One Claypot House
02-37/40/41 Royal London Duck
02-38 Ajisen Ramen
02-39 New York Skin Solutions
02-42 TOKHIMI
02-44 Mi-0 Gifts
02-45 SENSE
02-46 Sun Paradise
02-47 HELEN
02-48 Capitol Optical
02-49 Jean Accessories
02-56 Mavis Tutorial Centre
LEVEL 3
03-01 EC House
03-02 BodyPerfect
03-03 Supercuts
03-04 District5
03-05 Paradise Hotpot / LeNu
03-06/07 KLOSH
03-08/09 LEGO Certified Store
03-10 Poh Kim DVD. Bluray
03-11 Popular Book Store
03-12 Soup Restaurant
03-13 Gurney Drive Signatures
03-14 Canton Paradise
03-16 Jean Yip Hairdressing & Hair Spa
03-17 Challenger
03-18 FOX Kids & Baby
03-19/20 Estetica
03-21/22 Crocs
03-23 Kiddy Palace
03-24 Sonare Music School
03-25 Stalford Learning Centre
03-26 Oasis Living
03-27 Game Resort
03-28 Sengkang Public Library
03-29 Rainbow Sky
03-30 V-Force Party & Novelties
03-31 The Smell Lab
03-32 AsterSpring
03-34/35 PLAY-e
03-36 Mobile Fashion
03-37 Fwah
03-38 Gift Box
03-39/40/41 Wicked Swing Snow
LEVEL 4
04-01 Sri Nada
04-02 Slumberland
04-03 Style Na Hair By Pro Trim
04-04 WTS Travel
04-05 K-Art
04-06 Sakae Sushi
04-07 Jumping Jack
04-08 Jean Yip Beauty & Oriental Hair Solutions
04-09 Raffles Medical
04-10 TrichoKare
04-11 Kopitiam
04-12 Compass Foreign Exchange
04-13 Minmed Clinic (Sengkang)
04-14 Shimmer & Shine
04-15 The Smile Clinique Dental Surgeons
04-17 SEAHORSE
04-18 Pets' Station
04-19 Sengkang Public Library
04-20/21/22 SKP
04-23 La Vida
04-24 Dreamlash
04-25 Gain City
For more info and updates, visit their official Facebook page here