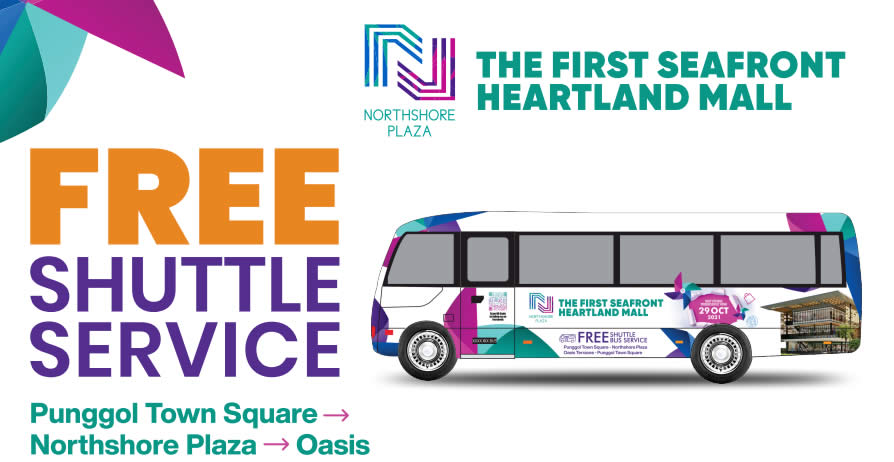 SINGPromos is now on Telegram
Free Shuttle Bus Service to Northshore Plaza from 29 October 2021
Northshore Plaza has opened! Be treated to a wide array of exciting dining and retail options at HDB's latest new generation neighbourhood centre in the heart of Punggol Northshore District.
Immerse yourself in a refreshing seafront shopping experience when more shops at Northshore Plaza II open in 1Q 2022.
Free Shuttle Service
Punggol Town Square —> Northshore Plaza —> Oasis Terraces —> Punggol Town Square
Operating Hours
Monday to Friday (Excluding Public Holiday)
Lunch Hours: (11:30 AM-1:30 PM)
Dinner Hours: (5:30 PM-8:30 PM)
Every Half an Hour During Operating Hours
Note
Shoppers are advised to arrive at the pick-up point at least 5 minutes prior to the estimated pick-up time.
The above estimated timing may vary according to traffic and weather conditions.
Northshore Plaza seeks your understanding to wait for the next bus when the maximum capacity of the bus is reached.
Strictly no standing is allowed on bus.
The management reserves the right to amend the routes and timing without prior notice.
Mondays to Fridays (Bus Arrival Times) (Excluding Public Holiday)
STOP-1
STOP-2
STOP-3
Punggol Town Square

(Next to Vibes Cafe)

Northshore Plaza I

(Level 1 carpark at Blk 407)

Oasis Terraces

(Drop-off point next to McDonald's)

Lunch
Hours
1130 Hrs.
1140 Hrs.
1150 Hrs.
1200 Hrs.
1210 Hrs.
1220 Hrs.
1230 Hrs.
1240 Hrs.
1250 Hrs.
1300 Hrs.
LAST BUS
1310 Hrs.
1320 Hrs.
Dinner
Hours
1730 Hrs.
1740 Hrs.
1750 Hrs.
1800 Hrs.
1810 Hrs.
1820 Hrs.
1830 Hrs.
1840 Hrs.
1850 Hrs.
1900 Hrs.
1910 Hrs.
1920 Hrs.
1930 Hrs.
1940 Hrs.
1950 Hrs.
2000 Hrs.
LAST BUS
2010 Hrs.
2020 Hrs.