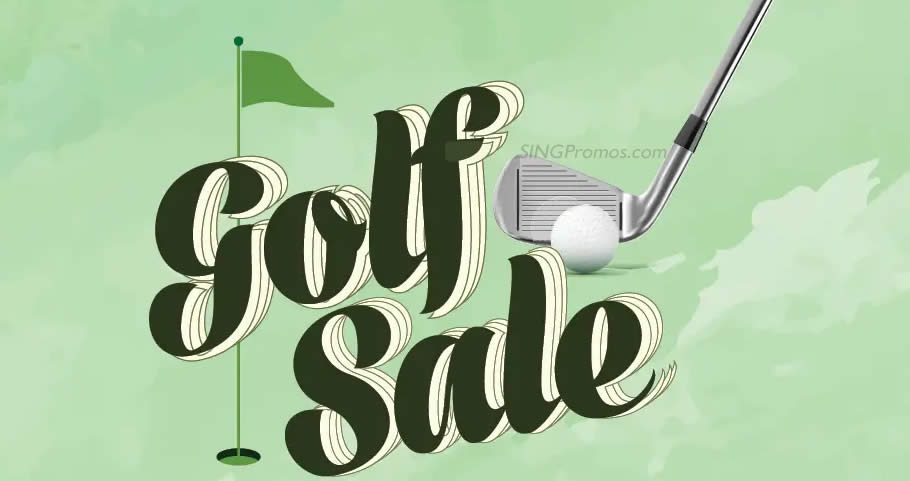 Isetan Golf Sale at Shaw House till 27 Aug 2023
Isetan Scotts
P3W2D
EXPIRED


Uh oh, the event has ended. Don't miss out again, get the latest news via e-mail, Telegram, Instagram, Facebook, Twitter or RSS feed!

We are now on Telegram
For Golf Enthusiasts
Score some hole-in-one deals with Isetan's exclusive Flash Deals at Isetan Scotts Golf Department L3!
Enjoy the amazing discounts on golf club sets and apparel so you can gear up, hit the greens and embrace your inner golfer
But wait! The savings dont stop there! From 4-6 Aug, Isetan Members can enjoy 10% storewide discount* so don't miss out!
Click on images to enlarge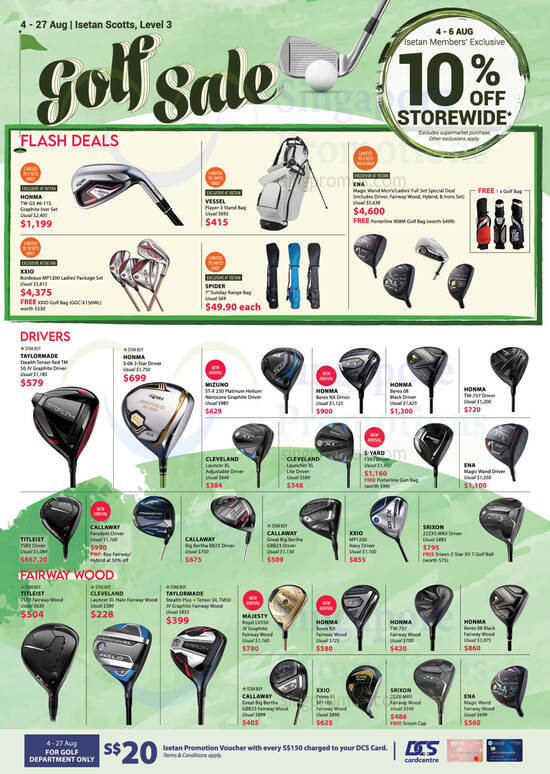 Some of the products listed are
ADIDAS AG Lightweight Stand Bag
CALLAWAY APEX 21/APEX DCB 21/ APEX Black (#6-9,P) 5 pcs Iron Set
CALLAWAY Big Bertha BB23 Driver
CALLAWAY GBB23 Iron Set
CALLAWAY Great Big Bertha GBB23 Driver
CALLAWAY Great Big Bertha GBB23 Fairway Wood
CALLAWAY Great Big Bertha GBB23 Hybrid
CALLAWAY Paradym Driver
CALLAWAY Paradym Iron Set
CALLAWAY Reva 21 Package Set
CALLAWAY Selected Golf Bags
CALLAWAY WG RH Jaws Raw Wedge
CALLAWAY X-Hot 21 Package Set
CLEVELAND CBX ZipCore Women's Graphite Wedge
CLEVELAND CG Junior Set
CLEVELAND Frontline Elite Putter
CLEVELAND Launcer XL Adjustable Driver
CLEVELAND Launcer XL Halo Fairway Wood
CLEVELAND Launcher XL Halo #5 – P Graphite Iron Set
CLEVELAND Launcher XL Lite Driver
CLEVELAND Men's 11-pc Graphite Package Set
CLEVELAND RTX ZipCore Wedge
CLEVELAND RTX-6 ZipCore Wedge
CLEVELAND Smart Sole-4 Wedge
CLEVELAND Women's 10-pc Graphite Package Set
CLEVELAND auncer XL Halo Hybrid
COBRA Snakebite Satin Full Face Versatile K8S Steel Wedge
ENA Magic Wand Driver
ENA Magic Wand Fairway Wood
ENA Magic Wand Hybrid
ENA Magic Wand Iron Set
ENA Magic Wand Men's/Ladies' Full Set Special Deal
FOURTEEN DJ-5 Chrome/Black Head Wedge
FOURTEEN Gelong-D 1X002 Graphite Iron Set
HONMA Beres 08 Black #5- 11AS Iron Set
HONMA Beres 08 Black Driver
HONMA Beres 08 Black Fairway Wood
HONMA Beres NX #6 – 11AS Iron Set
HONMA Beres NX Driver
HONMA Beres NX Fairway Wood
HONMA Beres NX Hybrid
HONMA CB-12203 Pro Caddy Bag
HONMA CB-12206 Caddy Bag
HONMA Ladies' 65th Anniversary Sakura 3-Star Package Set
HONMA PP Series Black Putter
HONMA TW-757 Driver
HONMA TW-757 Fairway Wood
HONMA TW-757 Hybrid
HONMA TW-757P #5 – PA Graphite/Steel Iron Set
HONMA TW-GS #6-11S Graphite Iron Set
HONMA U-06 2-Star Hybrid
HONMAS-06 3-Star Driver
HONMATR-21X #5 – 11 Steel Iron Set
LECOQ SPORTIF 9″ Lightweight Caddie Bag
MAJESTY Royal LV550 JV Graphite Fairway Wood
MAJESTY Royale LV550 JV Graphite #5-9PAS Package Set
MAJESTY RoyaleTL550 Women's JV Graphite #5-9PAS Package Set
MEGA 9″Stand Bag
MEGA Hard Case Travel Bag
MIZUNO EFIL-8 (21) Women's Package Set
MIZUNO MP 223 NS950GH Neo JV Steel #5 – 9P Iron Set
MIZUNO ST-X 230 Platinum Helium Nanocore Graphite Driver
MUNSINGWEAR Selected Caddie 8ags
MiZUNO RV-8 (21) 2W+1H+6I+P+B Package Set
ODYSSEY PT RH OD 28all/Eleven PTSL All Model
Royale LV550 JV Graphite Utility Wood
S-YARD T303 Driver
SPIDER 7″ Sunday Range Bag
SRIXON 22ZX MKII Fairway Wood
SRIXON 22ZX MKII Hybrid
SRIXON 22ZX5 MKII Driver
SRIXON 22ZX5 MKII NSPRO NEO Iron Set
SUN MOUNTAIN H2NO Lite Cart Bag
TAYLORMADE Auth-Tech 9.5″ Cart 8ag
TAYLORMADE Metal 8.5″ Cart 8ag
TAYLORMADE Milled Grind Hi-Toe 2 Raw Steel Wedge
TAYLORMADE Rory K50 Junior Set
TAYLORMADE Spider GT Silver/Black Single Bend Putter
TAYLORMADE Spider GTX 8lack Single 8end Putter
TAYLORMADE Stealth HD KBS Max 80 MT #5 – 9PS Iron Set
TAYLORMADE Stealth Plus + Tensei SIL TM 70 JV Graphite Hybrid
TAYLORMADE Stealth Plus +Tensei SIL TM50 JV Graphite Fairway Wood
TAYLORMADE Stealth Tensei Red TM 50 JV Graphite Driver
TITLEIST Players 4 Stadry Stand Bag
TITLEIST Scotty Cameron Special Select
TITLEIST Scotty Phantom X
TITLEIST Simple Athlete Cart Bag .
TITLEIST T300 Irons Set (Steel)
TITLEIST TSR3 Driver
TITLEIST TSR3 Fairway Wood
TITLEIST TSR3 Hybrid
TITLEIST Vokey Design SM9 Wedges
VESSEL Lux Cart Bag
VESSEL Player IV Stand 8ag
VESSEL Player-3 Stand Bag
XXIO Bordeaux MP1200 Ladies' Package Set
XXIO Ladies Caddie BagGGC-X156WL
XXIO MP1200 Navy Driver
XXIO Prime 11 SP1100 Fairway Wood
XXIO Prime 11 SP1100 Hybrid