With the new, innovative Jabra Sport Pulse Wireless earbuds and Jabra Sport Life App, users can now take their sport and fitness training to the next performance level and get the ultimate wireless workout at the same time.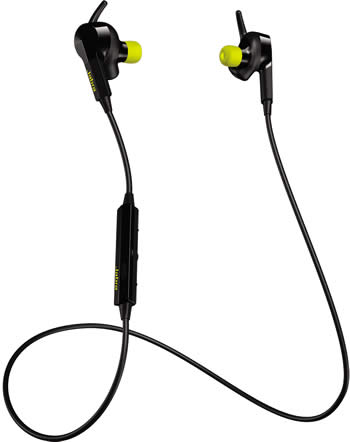 Equipped with advanced in-ear heart rate monitoring technology, Jabra Sport Pulse Wireless (RRP S$298) monitors heart rate continuously as you train, and as you hear your favourite music play in rich, immersive Dolby Digital Plus sound.
Use the intelligent Jabra Sport Life App to access reliable biometric data that helps you track and evaluate your workout. With one touch, users of iOS and Android devices get a clear view of how close they are to meeting their training goals; hear real-time personalised audio coaching, change music or even answer or end calls – all towards achieving the best possible outcome in every workout.
From 1 November, for a recommended retail price of S$298, Jabra Sport Pulse Wireless retails at Apple premium resellers, Challenger, Harvey Norman, Stereo Electronics and other authorised resellers.
Uses your heart rate to ensure you always train in the correct workout zone
Lightweight at 16g, comprising stereo earbuds connected by a neck cord, Jabra Sport Pulse Wireless with its built-in precision in-ear biometric heart rate monitor is the most technologically advanced addition yet in Jabra's wireless sporting family of next-generation intelligent audio solutions. Jabra Sport Pulse Wireless provides up to 4.5 hours of talk/music time and easy pairing via NFC or Bluetooth to all your devices.
Get the ultimate wireless workout with Jabra Sport Pulse Wireless earbuds and the Jabra Sport Life App for an all-in-one training solution, optimised for runners and active sporting individuals so that every training session is the most productive and efficient that it could possibly be.
From a sensor in the left earphone, Jabra Sport Pulse Wireless accurately measures your pulse by detecting the blood flow beneath the skin. Clinical-grade heart rate data is transmitted via Bluetooth v4.0 to provide users with real-time visual insights as well as audio alerts. Users can test their fitness levels and aerobic capacity, adjust heart rate zone training levels to optimise training, and set goals based on distance, time or calories burned.
Enhanced music experience
Get fired up for exercise; listen to your favourite songs the way you want to hear them. The innovative music player included in Jabra Sport Life App delivers the full Dolby Digital sound experience. Create playlists, share music and adjust the graphic equaliser; be motivated by the world-class wireless music performance delivered by powerful, purpose-built speakers.
Free your workout with premium wireless sound and secure fit
Train indoors or outdoors in any conditions. An in-built accelerometer measures distance on the treadmill while the GPS from your paired device accurately maps distance on the trail. Cased in carbon fibre and ruggedized, Jabra Sport Pulse Wireless earbuds are built to US military weather and shock standards.
Ergonomic Audio Response ScienceTM technology ensures an ultra-secure and compact fit. Four different sets of eargels and four sets of earwings are included. Once inserted in the ears, the earbuds "lock" into place and athletes can keep their focus totally on their training, bringing them closer to exceeding their goals.
Already using a fitness app? No problem!
The Jabra Sport Pulse Wireless is compatible with many existing third-party fitness apps, so users won't lose their history. The Jabra Sport Life App takes data direct from the fitness and running applications such as Endomondo and integrates it with its unique, intelligent design.
Not only for serious athletes and runners, Jabra Sport Pulse Wireless can also perform fitness tests for all fitness-oriented users who want to comfortably and conveniently monitor their resting heart rate and past performances during exercise. Users can choose from a range of training programs and workout features, including:
Activity-based training, Pre-defined training programs, Interval training, Zone training, Target pace training
Measure time, consumed calories, distance, speed, pace, heart rate, heart rate zone, work-out start, end and length
Goal achievement notification.
Key features & Specifications
Wireless earbuds with Dolby sound enhancement
Biometric in-ear heart rate monitor
Jabra Sport Life App for integrated training management
Jabra Sport Life App with three sophisticated fitness tests:

Rockport test: measures your VO2 max or aerobic capacity
Orthostatic heart rate test: assesses your training state to avert overtraining
Resting heart rate test: shows your fitness level and cardiovascular health

Control music and calls directly from inline
Speaker:

Size 6 mm
Sensitivity 94 dB SPL with 1mW at 1KHz
Impedance 16 Ohm
Frequency range 20 Hz to 20 kHz

IP55 Certified, drop, strength, dirt, temperature and humidity tested
NFC for easy pairing
Connects to all Bluetooth-ready devices including phones, computers, tablets
Up to 4.5 hours talk/music time, and up to 10 days standby time
4 sets of eargels and 4 sets of earwings
Part of the Jabra Wireless Sporting Family
Jabra Sport Pulse Wireless earbuds continue Jabra's tradition of world-firsts, building on a strong heritage of sound engineering. They're the next generation in Jabra's family of wireless audio solutions for people who are serious about sport, complementing the award-winning Jabra SPORT ACTIVE and SPORT Wireless+ earbuds.
From 1 November, Jabra Sport Pulse Wireless retails at Apple premium resellers, Challenger, Harvey Norman, Stereo Electronics and other authorised resellers for a recommended retail price of S$298.
Get $120 cashback when you apply for a Citibank card at www.citibank.com.sg. Plus get additional welcome vouchers when you apply for a Citibank Rewards Visa Card!