Starhub
P5D
Past Event


Oh no, the event has ended. Don't miss out again, get the latest sales via our newsletter, Facebook, Twitter or RSS feed!
| | | | |
| --- | --- | --- | --- |
| Starts | 5 Feb 2016 (Fri) | Ends | 10 Feb 2016 (Wed) |
| Location | Starhub | | |
Starhub Cable TV will be offering StarHub TV customers a FREE Preview in celebration of Chinese New Year. Enjoy free viewing of over 150 channels from 5 Feb, 12pm to 10 Feb, 12pm!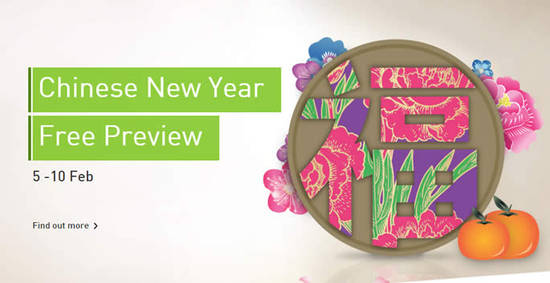 Selected channels will also be available on StarHub Go for those on the move making house visits. During this period, viewers can look forward to an exciting line-up of 'live' shows like Jiangsu Spring Festival and TVB Golden Viva Spectacular 2016, or binge-watch on blockbuster movies such as Ah Boys To Men 3: Frogmen, Big Eyes and Thor: The Dark World.
Share this great piece of news with your friends & family on Facebook
Selected Cable TV channels below and All On Demand channels are not available as part of the CNY Free Preview.
FTV.com (Ch 443)
Red Card Sports Radio (Ch 225)
All Sports Network (Ch 215)
Horse Racing (Ch 288)
KMTV (Ch 846)
Selected StarHub Go channels below and All On Demand channels on StarHub Go are not available as part of the CNY Free Preview.
FTV.com (Ch 443)
Fashion One (Ch 442)
Aniplus HD (529)
Discovery Kids (Ch 308)
CNN Headline News (Ch 712)
Red Card Sports Radio (Ch 225)
All Sports Network (Ch 215)
Zee TV HD (Ch 157)
KMTV (Ch 846)
Key Programme Highlights:
Channel
Title
TX details
VV Drama (StarHub TV Channel 855)

娱家戏剧台(星和视界第855频道)

Lord Of Shanghai 枭雄

主演:黄秋生、黎耀祥、汤镇业、马国明、吴卓羲、胡杏儿、苏玉华、陈炜、唐诗咏

在动荡时期,出身寒微的乔傲天(黄秋生)与流氓头目龚啸山(黎耀祥)联手在上海打出了一片天。然而为了国家民族大义傲天不惜牺牲个人利益,告别爱情,与兄弟决裂,最终血溅上海滩头。

Cast: Anthony Wong, Wayne Lai, Kenneth Tong, Kenneth Ma, Ron Ng, Myolie Wu, Louisa So, Alice Chan, Natalie Tong

In a time of uncertainty, sworn brothers Kiu Ngo Tin (Anthony Wong) and Kung Siu San (Wayne Lai) fight their way to the top of Shanghai. In order to stay atop and protect his people, Ngo Tin has to forsake everything he cares about, including his true love.

Premieres on 4 Feb
Every Mon – Sun at 9pm
E City (StarHub TV Channel 111/825)
MAMA音乐颁奖典礼2015 / 2015 Mnet Asian Music Awards

主持人:Psy
MAMA音乐颁奖典礼再次来到香港举行,包括最佳年度专辑、年度男女歌手、新人奖等11个奖项,这次会花落谁家呢?表演嘉宾阵容强大,他们又会带来什么精彩演出呢?请拭目以待!

Host: Psy
With top idol groups like Big Bang, SNSD and Wonder Girls making their comebacks in 2015, this edition of MAMA is sure to be competitive. Who will be the winners? Stay tuned to 2015 Mnet Asian Music Awards, where Music Makes One!

6/2/2016

7pm

TVB8
Kung Hei Fat Home 家家有喜事

四位時尚美女主持曾華倩、呂慧儀、張美妮及糖妹,每集會為觀眾介紹傳統的過年習俗及賀年食品,讓觀眾更了解農曆新年這個喜慶節日!

With TVB fashion icons as the hosts, the four ladies introduce the Chinese traditional culture to the audience in every episode and let audience to understand more about these festive days!

6 Feb 2016, 8pm

7 Feb 2016, 8pm

10 Feb 2016, 8pm

VVD
Cheese in the Trap 奶酪陷阱

主演:朴海镇、金高恩、徐康俊、李圣经、朴旻智、南柱赫
改编自网络漫画,本剧讲述了甜美微笑背后隐藏着危险本性的完美男生刘正(朴海镇饰),与唯一看穿他真面目的平凡大学生洪雪(金高恩饰)之间发生的一系列浪漫温情神而有秘色彩的故事。

Cast: Park Hae Jin, Kim Go Eun, Seo Kang Joon, Lee Sung Kyung, Park Min Ji, Nam Joo Hyuk
Adapted from a popular webtoon, this drama depicts a romantic and somewhat mysterious relationship between a handsome gentleman Yoo Jung (Park Hae Jin) and a university junior Hong Seol (Kim Go Eun), who is the only person that notices his dark side.

Premieres on 2 Feb at 10pm
E City
2015 韩国电视大奖 Korean Drama Awards 2015

主持人:吳尚津、秀英
一年一度的韩国电视大奖来了!当红偶像金泰希、金秀贤、李钟硕、朴海镇、徐康俊、李泰林、赵秀香等盛装出席。20几个奖项会归属于哪部电视剧?又会有哪一部好评如潮的网络剧获奖呢?

Host: Oh Sang Jin, Choi Soo Young
The annual Korea Drama Awards is back to honour the best dramas of the year. Popular idols such as Kim Tae Hee, Kim Soo Hyun, Lee Jung Suk and Cho Soo Hyang grace the event with dazzling suits and gowns. Stay tuned to see who bags the special Daesang award!

7/2/2016

3pm

E City
吾淑吾食新加坡篇 Eating Well With Madam Wong In Singapore

主持人: 黄淑仪
饮食为健康之本,但都市人暴饮暴食,吃得健康又有滋味是一门学问。爱好钻研烹饪又注重健康养生的主持人黄淑仪,终于来到了新加坡带我们搜罗新鲜结合健康烹调法,送上窝心家常美食。

Host: Gigi Wong
Eating well is essential to health, yet city dwellers adopt poor eating habits due to busy schedules. In this special edition of <Eating Well with Madam Wong>, Gigi visits Singapore and brings you yummy and healthy cooking tips suitable for the local climate.

7/2/2016

5pm

TVBJ (StarHub TV Channel 838)

翡翠卫星台(星和视界第838频道)

TVB Golden Viva Spectacular 2016 (Live) 万千星辉团年饭 (现场直播)
7/2/2016

10.30pm

Star Chinese Movies (StarHub TV Channel 866)

卫视电影台 (星和视界第866频道)

King Of Mahjong (SG) 麻雀王

主演:杜汶澤、李國煌、葉璇、王敏奕
阿發(杜汶澤) 和阿順(李國煌) 都是麻將天尊儒五常的徒弟。阿發在怡保老街角落一間殘舊咖啡店賣釀豆腐,這間小店生意不算很好,但也過得去,最主要是這裡有一群幾十年的老顧客,因此生意無憂。
Starring:Chapman To, Mark Lee, Michelle Ye, Venus Wong
"King of Mahjong" centres on the decade-long feud and eventual reunion of Wong Tin Ba (Mark Lee) and Ah Fatt (Chapman To), two top disciples of the legendary mahjong maestro, Master Ru.

07/02/2016

9.30pm

卫视电影台 (星和视界第866频道)
From Vegas to Macau 2 賭城風雲2

主演:周潤發, 張家輝, 劉嘉玲, 余文樂, 王詩齡
石一堅(周潤發飾演)協助國際刑警大破洗錢集團DOA後,DOA首席會計師小馬(張家輝飾演)盜取集團150億美元潛逃泰國。國際刑警阿樂(余文樂飾演)邀請堅協助捉拿DOA幕後主腦,兩人赴泰國尋找小馬,堅更重遇一生最愛的莫愁(劉嘉玲飾演).
Starring:Chow Yun Fat, Nick Cheung, Carina Lau, Shawn Yue, Angela Wang
After Ken (CHOW Yun Fat) foiling the criminal plans of the international money-laundering syndicate DOA, Interpol Vincent (Shawn YUE) asks for his help in arresting the real mastermind of DOA and looking for DOA's chief accountant Mark (Nick Cheung). However, new complications arise when the love of Ken's life, Molly (Carina LAU) appears.

08/02/2016

9.30pm

E City
梦圆东方-2016东方卫视跨年盛典 Dragon TV 2016 Countdown Show

主持人:程雷、陈蓉、王冠、朱桢、司雯嘉、百克力、优嘉
2016东方卫视跨年盛典邀您同庆!《极限挑战》的"极限男人帮"成员作为两队队长带领众多明星大咖进行PK,敬请期待罗志祥、张艺兴、蔡健雅、古巨基、李宗盛、胡歌等精彩表演。

Host: Cheng Lei, Chen Rong, Wang Guan, Si Wen Jia, Bai Keli, You Jia
Usher in the New Year with Dragon TV Countdown Show! Popular artistes from around the region form two teams and compete with splendid performances. Features Show Lo, Lay Zhang, Tanya Chua, Leo Ku, Jonathan Lee, Hu Ge and more!

8/2/2016

8am

E City
江苏卫视猴年春晚(同步播出)Jiangsu Spring Festival (LIVE)

本届春晚主题为"我们更幸福"。赵雅芝、王祖蓝、李亚男、草蜢等群星联袂出席。敬请期待《戏说乾隆》25年后再度合体,四代女排经典重聚,草蜢唱响《失恋阵线联盟》等环节!

This year's Jiangsu Spring Festival welcomes performances from Angie Chiu, Wong Cho Lam, Li Yanan, Grasshoppers and many more popular artistes! Look forward to an exciting show line-up!

8/2/2016

7:30pm

SCM
Ah Boys To Men 3: Frogmen 新兵正傳3: 蛙人傳

主演: 陳偉恩, 林俊良, 王偉良, 張智揚, 黃愷傑
創下新加坡電影最高票房紀錄的《新兵正傳》系列一眾新兵強勢回歸!
這一次他們被派往新加坡最艱辛的兵種之一:戰鬥蛙人部隊接受訓練,到底是幸運,還是不幸?此系列第3集裡,本地觀眾耳熟能詳的角色通通回營報到!

Starring: Joshua Tan, Maxi Lim, Wang Weiliang, Tosh Zhang, Wesley Wong
Ah Boys to Men 3: Frogmen brings Singapore's favourite recruits back to the days before enlistment in ABTM. Instead of Pulau Tekong, the Ah Boys are posted to the Naval Diving Unit (NDU).

09/02/2016

9.30pm

E City
第25届首尔歌谣大奖 25TH SEOUL MUSIC AWARDS

主持人:Hani、李哈妮、全炫茂
首尔歌谣大奖迎来了第25届!EXO、防弹少年团、BTOB、BoA等明星艺人盛装亮相。今年12个大奖又会花落谁家?最终大赏的奖项又将被哪位艺人摘得?敬请期待吧!

Host: Hani, Honey Lee, Jun Hyun Moo
The 25th Seoul Music Awards is here! Watch your favourite artistes bedazzle the stage and bag home various awards. Stay tuned as this exciting night celebrates some of the best that K-Pop has to offer!

9/2/2016

7:30pm

SCM
Kung Fu Jungle 一個人的武林

主演: 甄子丹、楊采妮、王寶強
武林之奧妙,既分高下,也決生死。
南拳王被殺,殺人犯夏侯武 (甄子丹 飾),斷言不是一般凶案,兇手會繼續按「先練拳次練腿,後擒拿用兵器,由內而外」的次序,對付各派高手。督察陸玄心 (楊采妮 飾) 對破案毫無頭緒,北腿王、擒拿王、兵器王的武術界精英相繼遇害。陸決定對夏即時假釋,以其「武林人士」身份,引出真兇。在一次追捕行動中,夏侯武卻違反假釋令突然失蹤。兩個武藝超凡的殺人犯同時在逃,是敵是友?

Starring: Donnie Yen, Charlie Yeung, Wang Bao Qiang
A vicious killer Fung (Wang Baoqiang) is going round Hong Kong killing top martial arts exponents, leaving a secret weapon called the Eaves Swallow as his calling card. When convicted killer and kung fu expert, Hahou (Donnie Yen) hears of this, he offers to help the police catch the killer, in return for his freedom. With Hahou's help, the police realize from the chronological order of the victims that the killer is targeting his victims, all the top maters in their martial arts style, following a martial code of training. However, they suspect that the two are accomplices and Fung wast he bait to help spring Hahou from jail..

10/02/2016

9.30pm
Other terms and conditions apply.
Event on 5 – 10 Feb 2016. For more info, click here.
Get a FREE American Tourister Caravan 70cm TSA luggage (worth S$260) (with min spend) and 2-years annual fees waiver when you sign up for a HSBC Revolution credit card at www.hsbc.com.sg.