We are now on Telegram
American Tourister presents its new business briefcases – Xtreme-Pro and Maximum-Pro, marrying both durability and ruggedness with a touch of style for every savvy professional on the go.
An ideal choice for savvy business executives, the American Tourister business briefcases complement your wardrobe style and provide unsurpassed protection to laptops while on the go.
The specially designed adjustable laptop sleeves ensure that laptops of varying sizes will fit in snuggly and well protected against hard knocks. Highly practical, busy business executives will appreciate their great packing capacity, ingenious multi-pockets and snug compartments for efficient packing and organization of business essentials, as well as fast access pockets to ensure important items and documents are within swift, convenient reach.
Xtreme-Pro
| | |
| --- | --- |
| | For young professionals who are particular in keeping their laptops and tech-gadgets well-protected in an organized manner, the Xtreme-Pro range of briefcases will be the essential must-haves for business trips or daily commute to work. Made of anti-collision rubber for maximum protection against knocks, it also features an adjustable laptop compartment that accommodates laptop of varying sizes of up to 16.4 inch. |
| | American Tourister Xtreme-Pro exclusively features an iPad pocket, with thoughtful front pockets for easy access of belongings. Available in three sleek compact sizes, the largest briefcase is equipped with expandable zipper that widens up to 20% on the side to increase packing capacity. Made from rugged 1680 denier polyester and trimmed polyvinyl chloride(PVC), the subtle geometric tone-on-tone printed lines on black is designed to add a touch of masculinity to classic style. |
Maximum-Pro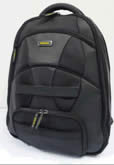 Perhaps for the quintessential corporate executive seeking impeccable style without compromising on functionality, the Maximum-Pro range promises to fulfil one's greatest desire to look sharp and sleek.In durable 1680 denier polyester and PVC, the Maximum-Pro collection comes available in a briefcase or a backpack.
Thoughtfully crafted in sleek details, both briefcase and backpack are equipped with multi-pockets for comprehensive organization of business documents, tech-gadgets and personal items, perfect and efficient for professionals who are always on the move.
The adjustable laptop sleeve accommodates laptop of up to 17 inch and anti-collision rubber ensures maximum protection for the gadget while on the move. Available in black, the sleek streamline silhouette of the Maximum-Pro range is set to portray a tough and stylish persona for the user.
Pricing and availability
Line
Description
Price (SGD)
Maximum-Pro
Briefcase
$80
Backpack
$80
Xtreme-Pro
Briefcase (S)
$70
Briefcase (M)
$80
Briefcase (L) w/expander
$90
The American Tourister Business Collection is available at the following stores and leading department stores:
Suntec City Tower 1 #02-45
Tampines One #02-34/35
American Tourister's Time-Tested Durability
All American Tourister luggages undergo extremely stringent and rigorous quality tests on a continuous basis to ensure that they are in line with the tough guidelines set by the company.
These tests include:
Drop Test – a fully loaded bag is dropped five times at the corners to check its strength
Jerk Test – a loaded bag is given jerks 3,500 times in quick succession to ensure the durability of critical parts like handles;
Lock Test – where the locks are opened and closed 15,000 times in quick succession to ascertain the safety aspects;
Wheel Test – where a loaded bag is made to travel nearly 32 km to establish its sturdiness;
Tumble test – where a loaded bag is tumbled in a big drum 50 times continuously to ensure that it withstands rough handling.