SINGPromos is now on Telegram
American Tourister is delighted to introduce the magical pieces that make up the first Disney Collection by American Tourister as well as the exciting products in the first-ever Marvel Collection by American Tourister.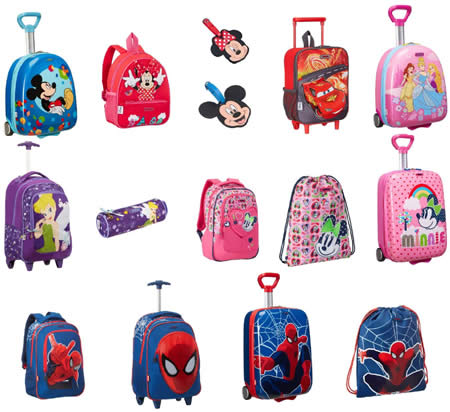 The fun-filled luggage and accessories of the Disney Collection feature favourite Disney characters, from Mickey & Minnie Mouse and Disney Princesses to Disney Fairies and the lovable characters from Disney/Pixar Cars.
Whether you're young or young at heart, the Disney Collection offers something for everyone, no matter where your travels take you.
For the youngest Disney fans, the Disney Collection includes scaled-down backpacks, school trolleys and hard-case upright luggage featuring playful Mickey Mouse, sweet Minnie Mouse, exciting Cars, and a trio of enchanting Disney Princesses: Cinderella, Belle, and Rapunzel. There are also whimsical Mickey and Minnie luggage tags that add a touch of Disney magic to getting around.
In larger sizes, the Disney Collection also includes a backpack, a convertible backpack with wheels, hard-case upright luggage, a handy gym bag and a pencil case starring a butterfly-loving Tinker Bell and a heart-tugging Minnie Mouse.
Showcasing superhero Spider-Man, the first action-packed products in the Marvel Collection are also comprised of a backpack, a convertible wheelie backpack, a gym bag, a pencil case and hard-case upright luggage. All feature Spidey's powerful image and signature red-white-and-blue colour scheme.
Both collections not only celebrate some of the world's most beloved characters from Disney and Marvel, they also exemplify American Tourister's commitment to fun-filled travel and high quality.
All of the backpacks are ergonomically designed with padded shoulder straps and back panels for maximum support as well as sternum straps that help distribute weight evenly. The luggage not only looks sleek, but also has easy-to-use collapsible handles and super-smooth tilt-and-go wheels.
To emphasize fun and a dash of extra magic, the products also have lots of playful details, such as a butterfly medallion and beribboned bell for Tinker Bell, a sleek steering wheel zip pull for Cars, a cool arachnid zip pull for Spider-Man and reflective hearts and lace trim for the Disney Princesses.
To reassure parents and to promote children's safety, all Disney Collection and Marvel Collection products are 100% PVC-free. All products also comply with the EU's Registration, Evaluation, Authorisation and Restriction of Chemicals (REACH) guidelines on the use of chemicals to improve human health and protect the environment.
Created for the young and the young at heart, the Disney Collection and the Marvel Collection by American Tourister let you pack more fun into every adventure.
The Disney Collection and the Marvel Collection come with a limited one-year global warranty for luggage and causal bags (accessories not included.)
The Disney Collection and the Marvel Collection by American Tourister is available at the following stores and leading department stores:
Marina Square #03-110
Seletar Mall #01-01 to 03
Tampines One #02-34/35
Disney Collections for youngest fans (featuring Mickey, Minnie, Cars and Princesses). Available for Cars and Princesses only
Backpack S – $35
School trolley – $TBA
Hard-case upright 45/16 – $90
Mickey and Minnie luggage tags – $16
Disney and Marvel Collections for older fans
Backpack M – $48
Convertible backpack with wheels $95
Hard-case upright 52/18 $105
Gym bag $18
Pencil case $14