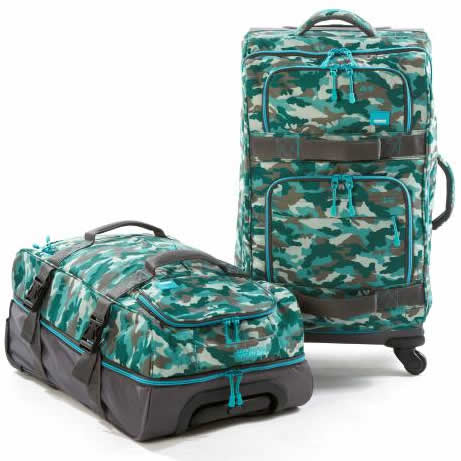 We are now on Telegram
American Tourister gets travellers all ready to explore the world with its adventurous wheeled duffle bags in innovative variety. Introducing American Tourister wheeled duffle bags in varied designs, this collection promises consumers added choices on their shopping list.
Wear it as a backpack on a hike, carry it like a duffel bag through crowded subway stations or wheel it like a suitcase in the airport. Crafted to make travels more than just convenient, these American Tourister duffle bags have all functionalities of a luggage compacted into one, eliminating the nitty-gritty inconveniences to ensure an ultimate hassle-free journey.
Combo Zip-off Wheeled Duffle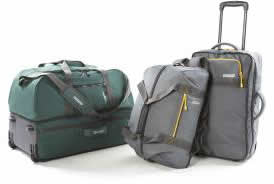 Catering to the ever-changing preferences of consumers, the American Tourister Combo Zip-off Wheeled Duffle brings flexibility to a new level. From a wheeled duffle bag that can be quickly transform into two separate bags – a trolley luggage and a duffle – just in one zip, this superlative designed piece offers optimum functionality and options. This adaptable combination creates multiple ways of carrying a duffle, whether as a carry-on, a backpack with its tucked-away shoulder straps or even a detachable long shoulder strap made available to carry it as a shoulder bag.
For those seeking fun and adventure, the American Tourister Combo Zip-off Wheeled Duffle is easy to pack and its smooth wheels offering increased maneuverability definitely fuels fun to every vacation.
Xplore Drop-Bottom Wheeled Duffle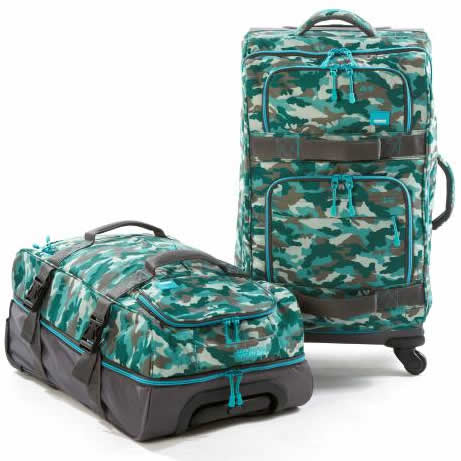 Adding vibrancy to an otherwise functional wheeled duffle, the American Tourister Xplore Drop-Bottom Wheeled Duffle is splashed with a myriad of camouflage patterns in a multitude of colours for a street-style fashion and another in a more conservative colour with yellow seams and zippers for the sporty travellers.
Its ingenious use of space is incorporated with a drop bottom with large capacity yet compressible and flexible for packing. Available in 55cm or 68cm, its functional features calls for effortless usability. Upright with two wheels, a shoes pocket is featured in the 55cm duffle while the 68cm duffle bag is made available as a spinner with four wheels. For the spontaneous traveler, its quick access pockets and push button trolley is designed to give the vivacious jetsetter a greater convenience.
Deliter Multi-pocket Wheeled Duffle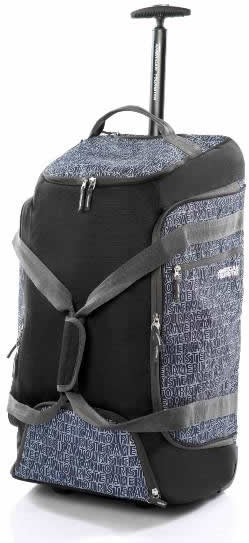 A fusion of artistic prints, lightness and practicality, the American Tourister Deliter Multi-pocket Wheeled Duffle brings a new sense of style to any journey. Available in two different hues, this line of duffle bags is crafted with a creative touch with graphic-alphabets of the brand 'American Tourister' spotted on alternate parts of the bag, adding a vibrantly chic visual in design.
The American Tourister Deliter Multi-pocket Wheeled Duffle is the sum of everything needed to make travel light, comfortable and easy, with its 55cm duffle bag weigh just 2.1kg. Without compromising on functionality, the Deliter range comes complete with multiple organization pocket and interior compartments for convenient storage – incorporating zipped dividers for easy packing and a side-pocket to separate dirty clothing. In addition, its smooth wheels ensure easy manoeuvrability as jet setting is made accessibly with its monotube wheel handle with a coloured push button.
Pricing and availability
Line
Description
Price (SGD)
Combo Zip-off Wheeled Duffle
55 cm
$160
68 cm
$180
Xplore Drop-Bottom Wheeled Duffle
55 cm
$130
68 cm
$150
Deliter Multi-pocket Wheeled Duffle
55 cm
$120
68 cm
$140
The American Tourister Wheeled Duffle Collection is available at the following stores and leading department stores:
Suntec City Tower 1 #02-45
Tampines One #02-34/35
American Tourister's Time-Tested Durability
All American Tourister luggages undergo extremely stringent and rigorous quality tests on a continuous basis to ensure that they are in line with the tough guidelines set by the company.
These tests include:
Drop Test – a fully loaded bag is dropped five times at the corners to check its strength
Jerk Test – a loaded bag is given jerks 3,500 times in quick succession to ensure the durability of critical parts like handles;
Lock Test – where the locks are opened and closed 15,000 times in quick succession to ascertain the safety aspects;
Wheel Test – where a loaded bag is made to travel nearly 32 km to establish its sturdiness;
Tumble test – where a loaded bag is tumbled in a big drum 50 times continuously to ensure that it withstands rough handling.