We are now on Telegram
Get ready to click the play button and play the world with the sleek yet uber-cool new Zavis collection, the latest release by American Tourister.
Its distinctive yet playful zigzag patterned design will fast forward you to fun filled journeys, and be noticed in any vacation crowd.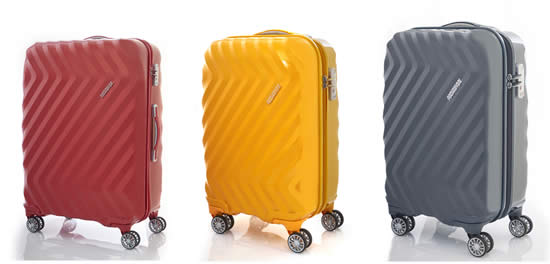 Escape your daily life and let your freewheeling imagination discover the symbol for 'Play' in its wave-like design. Let Zavis lead you on a treasure hunt to find hidden pieces of 'Play' in all your future travels.
Get set for adventure and play the world with Zavis's great design features and three bold new colours. Thrill-seekers can blaze your own trail with Autumn Red. Alternatively, escape your daily grind and get up and glow with Sunset Yellow or prowl the urban jungle with steely Graphite – a perfect fit for every occasion.
Smooth double spinner wheels let Zavis glide across any terrain, ready for any change of direction. No matter where your journey takes you, these durable wheels make travel effortless and carefree.
Zavis's bold statement continues inside each case. Take your pick of two case linings – so bright they'll make you smile every time you travel – yellow for Autumn Red and Sunset Yellow, and blue for Graphite.
Other features include spacious top and bottom shells with maximum space for luggage and shopping sprees. A zipped mesh pocket helps keep your items organized, leaving you more time to enjoy your travels. Colour-matched soft grip handles blend style with maximum comfort, and the sturdy, built-in Transportation Security Administration (TSA) locks deliver peace of mind.
Zavis is available in three sizes of spinner luggage: 55cm, 67cm and 77cm – simply choose a size to match your next adventure. Smaller sizes are perfect for short trips while the 77cm is ideal for the extra space you need for longer journeys. The collection comes with a 3-year worldwide warranty.
The world is a fun-filled playground. Get set to press the play button with Zavis and play the world.
All American Tourister products undergo extremely stringent and rigorous quality tests on a continuous basis to ensure that they are in line with the tough guidelines set by the company.
These tests include:
Drop Test – a fully loaded bag is dropped five times at the corners to check its strength
Jerk Test – a loaded bag is given jerks 3,500 times (Travel) and 6,500 times (Non-Travel) in quick succession to ensure the durability of critical parts like handles and shoulder straps;
Lock Test – where the locks are opened and closed 15,000 times in quick succession to ascertain the safety aspects;
Mileage Test – where a loaded bag is made to travel nearly 24 km to establish its sturdiness;
Tumble test – where a loaded bag is tumbled in a big drum 50 times continuously to ensure that it withstands rough handling.
The American Tourister Zavis Collection will be available at leading department stores and American Tourister stores in October 2015:
Marina Square #03-110
Seletar Mall #01-01 to 03
Tampines One #02-34/35
Pricing and availability:
Spinner 55cm $190
Spinner 67cm $220
Spinner 77cm $240